So Sweet Couture Chocolate Boutique is an artisan chocolatier company specialising in beautiful dairy free, vegan and gluten free chocolate bars and gifts handmade in the heart of Pembrokeshire.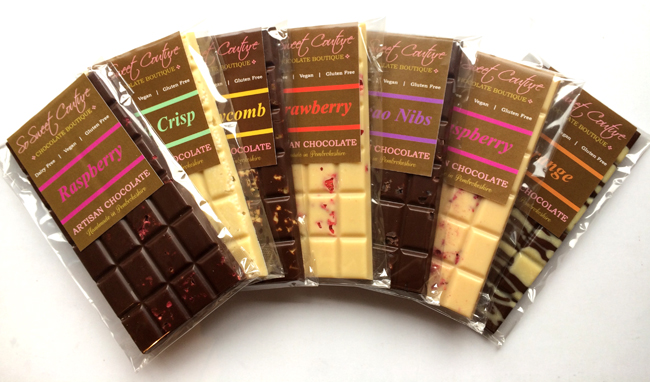 Chloe, the creator of So Sweet Couture was working in fashion in London when she found out she had food allergies, and so she returned home to her family farm in Pembrokeshire to pursue an ambition to set up a chocolate kitchen on the farm to bring her own brand of creativity and passion to her favourite treat, using only the finest organic and fair trade ingredients, natural oils and flavours producing great tasting chocolate made to the highest standards possible that was also completely free – from so that allergies or a lifestyle choice or simply a love of great chocolate, everyone could enjoy a guilt free indulgence with her delicious range of chocolates.
White chocolate bars infused with natural strawberry oil and freeze-dried strawberry crumble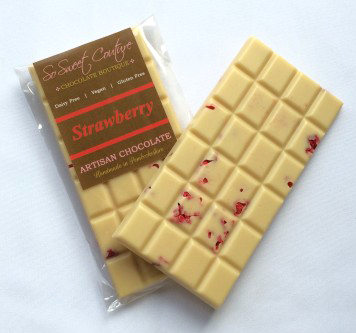 If you're following a dairy-free or vegan diet, then you'll know how tricky it can be to find a good bar of white chocolate, as most tend to be waxy and overly sweet. But now you don't need to look any further than So Sweet Couture to fulfil all of your white chocolate needs! Their white chocolate bars are so sweet, creamy and utterly dreamy, that it's easy to forget that they don't contain any milk. They melt perfectly in the mouth, and the strawberry oil adds the most sublime, fruity flavour to these bars, with the freeze dried strawberries adding just the right amount of tartness that balances perfectly with the sweet white chocolate.
Milk chocolate bars with roasted cacao nibs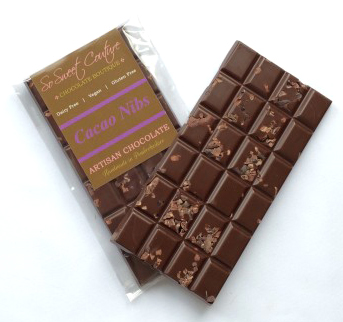 Chocolate chips make most things more delicious, and that's certainly the case with this tasty bar! The chocolate is oh-so rich, and silky smooth, and melts in your mouth in the same way you'd expect from traditional milk-based chocolates, whilst the cacao nibs add a wonderful crunchy element, and an intense chocolate flavour. This bar is perfect for both milk and dark chocolate lovers, as it is the perfect blend of both.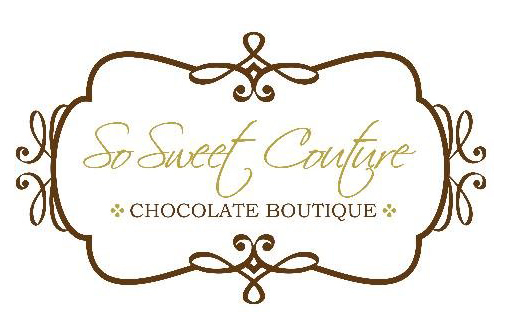 If you want to get your hands on their delicious chocolates, you can purchase from So Sweet Couture at Yumbles. And if you want to get in touch with them, say hello on Facebook, Twitter or Instagram. Alternatively you can send them an email at sosweetcouturechocolate@gmail.com.