Tastesmiths launch Berbere Curry Kit for National Curry Week
Cooking a curry from scratch isn't always easy, as often the recipe calls for a lengthy list of spices that can be tricky to find. But with a pre-measured Tastesmiths kit, curry lovers can whip up authentic-tasting, restaurant-worthy dishes from home with very little fuss and no waste.
And to celebrate National Curry Week (7-12 October) they've added a NEW Berbere Curry kit inspired by the popular spice blend that's a staple in the cuisines of Ethiopia and Eritrea. From a shortlist of four potential new kits, customers were asked to vote for their favourite and the Berbere kit came out firmly on top.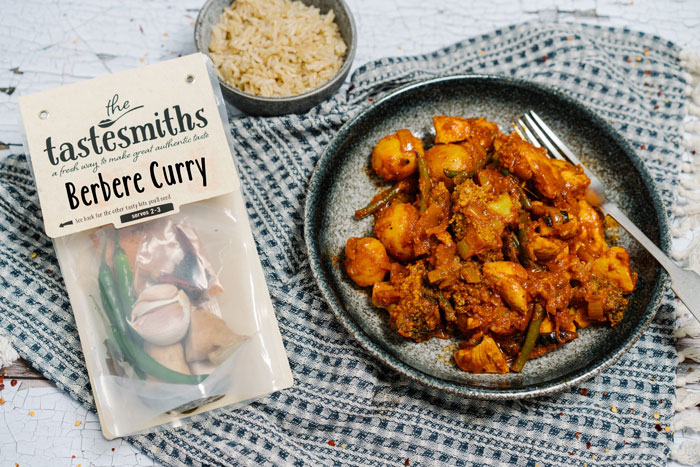 Tastesmiths kits take all the hard work out of sourcing harder to find ingredients and give you perfectly measured amounts required for the recipe, which puts paid to endless spices going stale in the back of the cupboard. Plus, the zip-lock pouches are made from 25% recycled materials and can be reused for storing other spices afterwards, so packaging waste is minimised too.
The new Berbere Curry kit (£3.90) includes fresh ginger and garlic, and a specially created dry Berbere spice mix that includes fenugreek and warming spices cinnamon and allspice. Just like everything else in the Tastesmiths range, the kit contains none of the preservatives or additives found in ready-made, shop-bought sauces. All you need to add is your favourite protein and store cupboard staples like onions, tomatoes and seasoning, for a super-healthy curry in the time it takes you to drive to the takeaway and back.
The kits are all gluten-free and vegetarian / vegan friendly, contain no added salt and most are also fat free (excluding any with coconut and/or nuts). Easy-to-follow instructions include a heat guide so you can temper your meal to suit. All kits have a minimum 18 days' fridge shelf-life or freeze them in their original packaging, then simply take one out when you need it and use the ingredients from frozen. To ensure the freshest ingredients, all kits are made on the day of despatch and sent by First Class post as standard.
The new Berbere Curry kit will be available from www.tastesmiths.com. The complete Tastesmiths range is available from www.tastesmiths.com / Amazon / Boroughbox.
THE TASTESMITHS RANGE
Curry kits: Berbere, Tikka Masala, Rogan Josh, Sri Lankan, Makhani, Persian Khoresh, Korma, Goan, Balti Masala, Madras, Timatar Masala (each £3.90)
Marinades: Tikka, Piri Piri, Jamaican Jerk, Fajita (each £3.20)
Other kits: Tex Mex Chilli Con Carne, Shish Curry (each £3.90)
Sides: Dhal, Onion Bhaji, Fragrant Pilau Rice (each £3)
Tags:
Gluten-Free Products
,
Products