Dairy & gluten-free 'cheesy' bean pasta bake
Sometimes a bit of comfort food is just what you need for dinner, and a times like this this deliciously dairy and gluten-free 'cheesy' bean pasta bake is sure to hit the spot.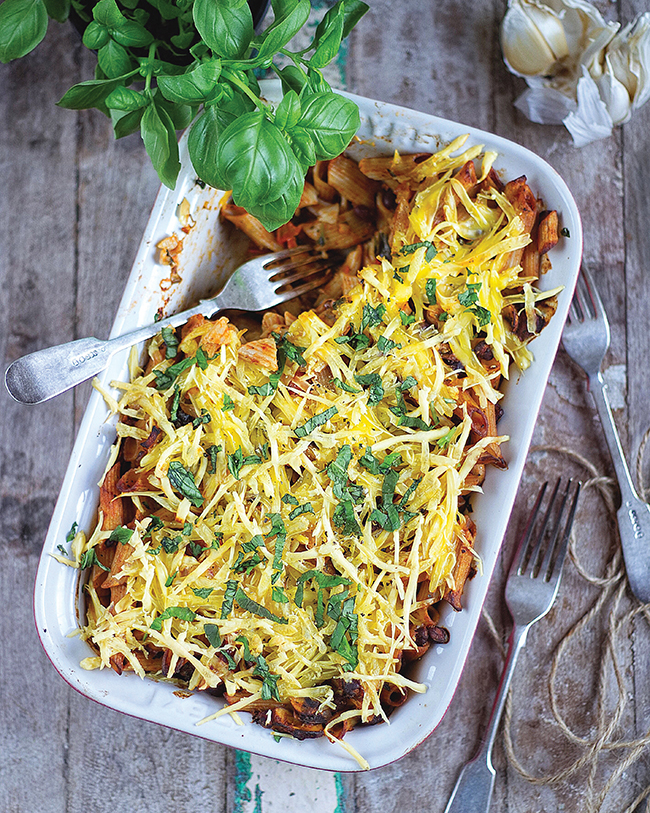 Dairy & gluten-free 'cheesy' bean pasta bake
By James Wythe  (www.healthylivingjames.co.uk)
Serves 4-5 | Prep 15 mins | Cook 30 mins | Calories 603 (per serving)
GF SF DF EF V MF
Ingredients
1 tbsp olive oil
2 large garlic cloves, peeled, crushed
220g (8oz) cherry tomatoes, quartered
200g (7oz) chestnut mushrooms, thinly sliced
½ tsp paprika
1 tsp dried basil
1 tsp dried oregano
a pinch of chilli flakes (optional)
4 tbsp tomato purée
1 tbsp miso paste
2 large handfuls of kale or spinach
400g (14oz) tinned aduki or black beans, drained, rinsed
a handful of fresh basil, chopped
200g (7oz) vegan cheese
500g (1lb 1oz) brown rice pasta
Method
Preheat the oven to 200ºC/Gas Mark 6.

Place the pasta into a pan, bring to the boil and cook as per the packet instructions.
Slice the tomatoes and mushrooms.
Heat a large pan with the olive oil and garlic on a medium heat for a minute until the garlic is sizzling.
Add the tomatoes, mushrooms, paprika, oregano, dried basil and chilli flakes and cook for 5 minutes until they have softened, stirring.
Add the tomato purée, miso paste and mix together. (If you find the mix a little dry, add a couple of tablespoons of the water from the pasta that is boiling).
Add the spinach or kale and allow to wilt. Finally add the beans and fresh basil and stir.
Drain the pasta and place back in the pot you cooked it in, then pour over the sauce. Stir thoroughly.
Place half the pasta mix into an ovenproof dish and grate about one-third of the cheese over the pasta. Continue to add the rest of the pasta and finish by grating the remaining cheese over the top. Bake in the oven for 30 minutes.
---
About the author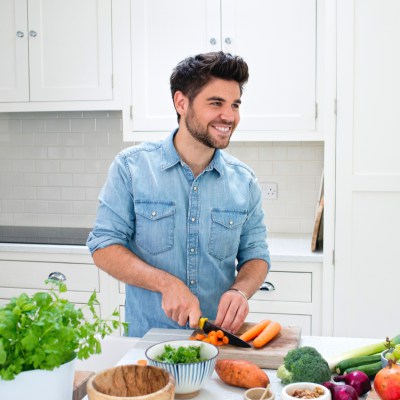 James Wythe is a fully qualified Health Coach and food blogger. He creates gluten, wheat, dairy, egg and refined sugar free foods along with writing articles that will help you become a healthier version of yourself. He wants to inspire and motivate people to live healthier and realise that living healthy isn't as hard or time consuming as you may think. www.healthylivingjames.co.uk.
Instagram | Facebook | Twitter
Tags:
Dairy-Free
,
Dairy-Free Diet
,
Dairy-Free Dinner
,
Dairy-Free Recipes
,
Gluten-Free
,
Gluten-Free Dinner
,
Gluten-Free Recipes
,
Pasta