Gluten and Dairy-Free Chocolate Cake with Salted Caramel Vanilla Icing
This double chocolate cake tastes as devilishly naughty as a sugar and dairy laden chocolate cake, but has none of the nasties! It's vegetarian, totally gluten free and only contains naturally occurring fruit sugars – keeping your body nourished and your taste buds exceptionally happy.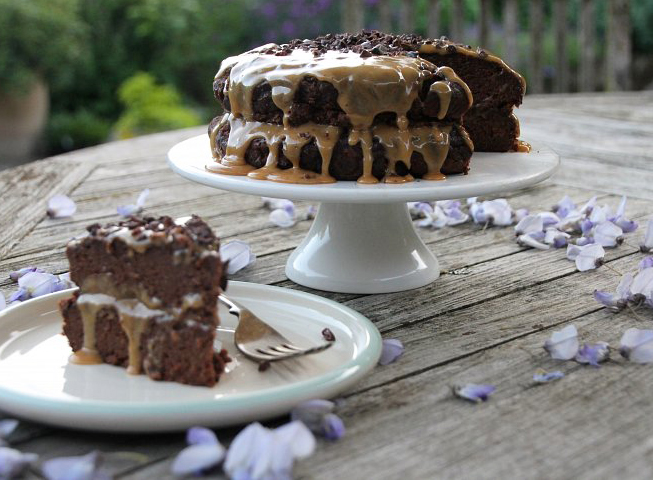 Gluten and Dairy-Free Chocolate Cake with Salted Caramel Vanilla Icing
By Saskia Gregson-Williams (www.naturallysassy.co.uk)
Serves 10 | Prep 10 mins | Cook 60 mins |
GF SF DF V MF
Ingredients
2 x 400g Black Beans
50g of Cacao Powder
500g of Dates
1.5 cup coconut flour
6 eggs (**if vegan see below)
25ml dairy free milk (add an extra 125ml if needed)
75-80ml agave syrup (how sweet you like it)
Salted Caramel Vanilla Frosting:
1 x 170g jar of cashew butter
125ml melted coconut oil
75ml water
1 tsp of pure vanilla extract
80ml agave syrup
** To substitute eggs you'll need to use Chia seeds. Add 150g chia seeds to 500ml of water and let sit for 20 minutes. Then add them to the mixture at the same point as the eggs in the recipe.
Method
Preheat the oven to 180 degrees Celsius. Line two cake tins with parchment paper.
Start by draining the black beans and adding to a saucepan along with the pitted dates. Fill with water, boil to the boil and simmer for 3-5 minutes until the dates are as soft as can be without falling apart.
Drain the beans and dates and add to a blender along with the dairy free milk, agave and cacao powder. Blend until smooth and pour into a large mixing bowl.
Add the whole eggs to a bowl and beat. Slowly fold it into the mixture stirring well. Add the coconut flour and mix really well.
Divide evenly into both tins and place in the oven to bake for 50 minutes, or until you can insert a knife into the cake and it comes out clean.
Whilst the cake bakes we make the icing. Simply blend the coconut oil with the agave syrup, cashew butter, vanilla extract, water and a generous pinch of salt until smooth. Leave on the side to thicken while the cake bakes.
Once the cake is cooked, leave on a cooling rack until cooled. Layer as in the picture with icing sandwiched between the cake and oozing on top. Generously sprinkle some cacao nibs on top for a delicious crunch.
---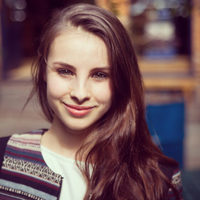 About the author: Saskia is a professional ballet dancer with a passion for healthy eating. Her blog,
Naturally Sassy
, is all about embracing pure, natural whole-foods and making recipes with simple ingredients that really do taste amazing! Keen to show everyone the incredible the effects natural nutrition can have on every aspect of your life, Saskia has published a cookbook, 'Naturally Sassy' packed with 120 recipes for an energised, healthy and happy you.
Tags:
Chocolate
,
Dairy-Free Dessert
,
Dairy-Free Recipes
,
Gluten-Free Dessert
,
Gluten-Free Recipes
,
Sugar-Free Diet
,
Vegan Dessert