Peanut Butter Cups
Why have a Reese's Peanut Butter Cup that's full of sugar, salt and whatever else when you can have these, clean, healthy and absolutely amazing peanut butter cups instead?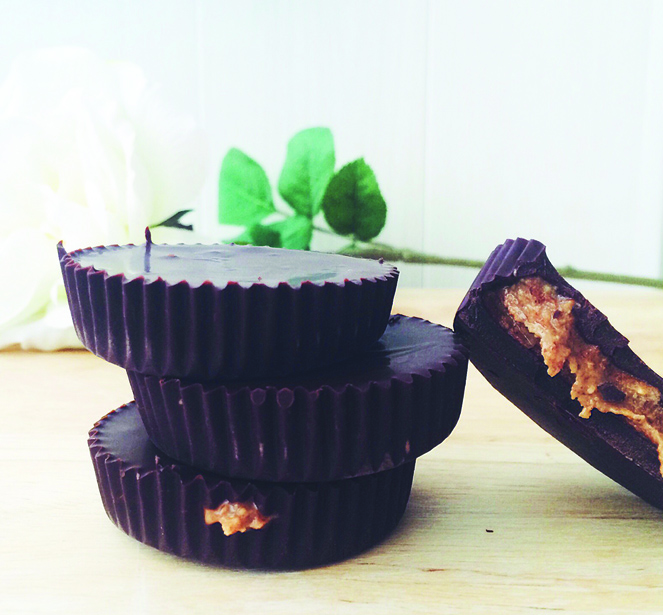 Peanut Butter Cups
By Rianna Crowie (www.lovekensa.wordpress.com)
Serves 4 | Prep 15 mins plus chilling | Cook 5 mins | Calories 207 (per serving)
GF DF V (option) MF
Ingredients:
100g (3½oz) dark chocolate (70%+) or dairy-free substitute if preferred
2 tbsp organic, unsalted peanut butter
1 tbsp coconut oil (optional, or coconut butter if you wish)
Method:
Melt the chocolate in a bowl over a pan of warm water. Place four cupcake cases in a cupcake tin, and spoon 2 teaspoons of the melted chocolate into each case. With a spoon, push the chocolate up the side of the case (about 5mm or a bit less than quarter of an inch). Put in the fridge for 5 minutes until just set.
Mix the peanut butter with the coconut oil (if using) and spoon into the cupcake cases (about 1½ teaspoons in each case) and smooth out.
Pour the remaining chocolate over each cup until covered. Chill in the fridge until set.
Tags:
Chocolate
,
Dairy-Free Dessert
,
Dairy-Free Diet
,
Dairy-Free Recipes
,
Gluten-Free Dessert
,
Gluten-Free Recipes
,
Vegan Dessert