Traditionally, potato dauphinoise is made from dairy cream, however in this tasty version, it's the combination of oat cream, cashews, olive oil and almond milk that give this dairy-free potato dauphinoise its rich creaminess, and the seasonings give it a really nice depth of flavour. Perfect as a side dish for Sunday lunch, or delicious enjoyed as a main with plenty of veggies.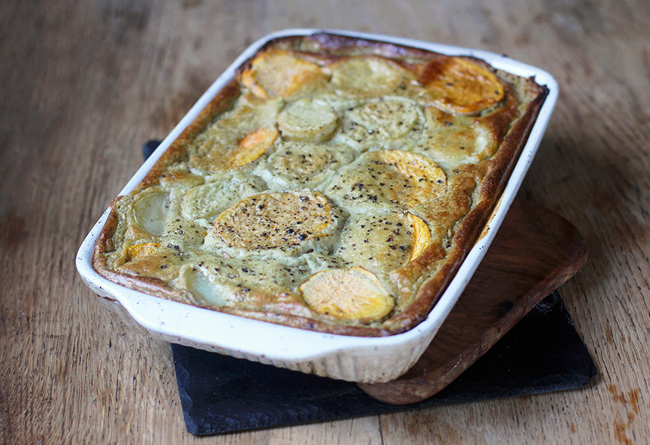 Dairy-Free Potato Dauphinoise
By Harriet Smith (www.harrietemily.com)
GF SF DF EF V MF
Serves 6-8
Ingredients
500g white potatoes
500g sweet potatoes
1 cup (140g) cashews
1 tsp mixed herbs
3 large cloves garlic, crushed
1 tsp salt
Freshly ground black pepper, to taste
Method
Preheat your oven to 200C / 392 F
Firstly, add 1/3 of the cashews, water, vegetable stock, garlic, salt and pepper into a blender, and blend until smooth. Then, add another 1/3 of the cashews and blend again until smooth, followed by the final 1/3 of the cashews, and blend again until smooth. (This just makes it easier for your blender). Then, when this is done and the mixture is smooth, set it aside.
Next, peel the potatoes and thinly slice them into circular shapes. When this is done, add the potato slices into a large oven proof dish, placing them neatly next to each other and then laying them on top of each other.  Then, get the cream mixture and pour it over the potatoes to almost cover them completely.
When this is done, sprinkle the dish with some extra pepper, and add it into the oven and bake for 1 hour – 1 hour 15 minutes, until the potatoes are soft and the cream is golden. Then, when the potatoes have cooked, remove them from the oven and serve.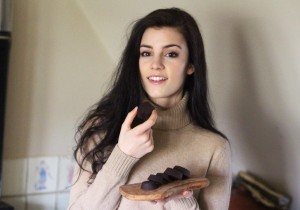 About the author: Harriet has always had a love of food, and has always enjoyed teaching herself new ways of cooking. She decided to focus on creating plant-based food, as it's something she has always been fascinated by, and wanted to eat more of. Harriet love's the creativity behind turning more natural, simpler ingredients into something that can taste complex and delicious. Check out Harriet's blog here, for even more plant-based recipes, and find her on Facebook and Twitter.