Bali Nutra Coconut Syrup
Bali Nutra coconut syrup has just recently launched in the UK, with stockists at Planet Organic, Whole Foods and a number of independent health food stores. It's a natural sweetener and sugar alternative, much like agave and maple syrup, but with more nutritional benefits.
The coconut syrup is free from gluten, preservatives, GMOs and fat. The process of tapping a coconut tree for its sap is also not damaging to the environment, it does not harm the tree or its ability to produce coconuts.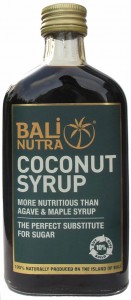 The vitamin-rich syrup is an even healthier sugar alternative to agave and honey, naturally including vitamins B1, B2, B3, B6, and C, potassium, zinc, iron and magnesium. It also has a low GI and a plethora of nutritional benefits.
Coconut syrup is a simple and delicious way to eliminate processed sugars from your diet; add to tea, coffee, on your porridge and so much more, including low-sugar treats.
Find out more about Bali Nutra on their website, you can also find them on Facebook and Twitter.
Tags:
Products