Primal Pantry Bars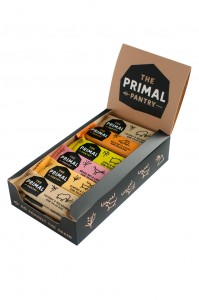 Primal Pantry is a company founded by nutritionist Suzie Walker. producing delicious and nutritious foods, suitable for a Paleo lifestyle. All the products she creates are completely free of grains, dairy, refined sugars and vegetable oils. After starting to make Paleo snack bars in her own kitchen, Suzie was inspired by her client's needs to produce a range of fruit and nut bars made with 100% natural ingredients.
The bars are handmade in the UK, and sourced organically where possibly (organic cherries and coconuts). All products are suitable for vegetarians, vegans, and those leading a Paleo lifestyle.
The range of Primal Bars includes Almond and Cashew, Brazil Nut and Cherry, and Hazelnut and Cocoa. Not only are they great-tasting, they are completely free of any junk and will leave you feeling satisfied.
Discover more about Primal Pantry on their website, Facebook & Twitter.
Comments
Tags:
Products