Roasted Brussels Sprouts with Bacon and Chestnuts
This recipe for roasted brussel sprouts with bacon and chestnuts uses Good Hemp Oil to roast the sprouts which really brings out their delicious nutty flavour. If you are vegetarian you can omit the pancetta from the recipe and it will still be a great side. This is an easy dish to prepare and great for Christmas day when sprouts are usually forgotten about and boiled to within an inch of their lives. After trying this you will never go back to boring old boiled Brussels sprouts again!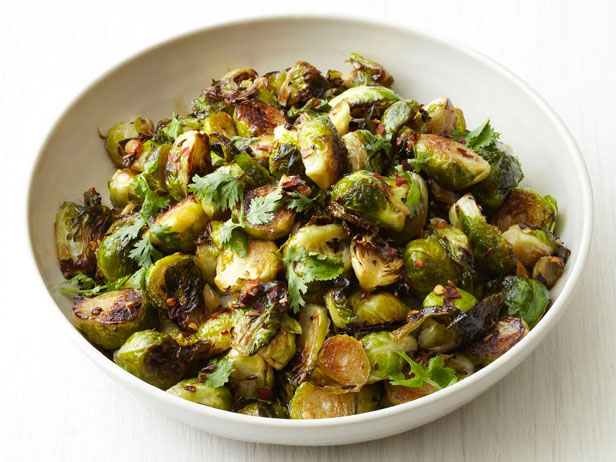 Roasted Brussel Sprouts with Bacon and Chestnuts
Serves 4 | Prep 10 mins | Cook 45 mins |
GF SF DF EF
Ingredients:
4 tbsp Good Hemp Oil
500g brussel sprouts, outer leaves removed
130g smoked pancetta cubes
50g vacuum-packed chestnuts, chopped (or roast your own)
1/2 tsp fennel seeds
Salt and pepper
Method:
Preheat the oven to Gas 8 (230C/450F).
Bring a large pot of water to the boil and cook the brussel sprouts for 5 minutes until tender.
Meanwhile, fry the pancetta in the Good Hemp Oil until crisp. Turn off the heat, add the chestnuts and set aside.
Drain the sprouts and add them to an oven-proof baking dish, then add the pancetta, chestnut and Good Hemp Oil mixture.
Crush the fennel seeds using a pestle and mortar and sprinkle these over the top of the sprouts, stir to combine.
Add salt and pepper and place into the oven to roast for 35 minutes, stirring halfway through.
Serve straightaway in a big festive bowl.
Tags:
Christmas
,
Dairy-Free Recipes
,
Gluten-Free Recipes
,
Paleo Recipes