These crunchy chocolate covered bars are bursting at the seams with delicious seeds, coconut and chocolate!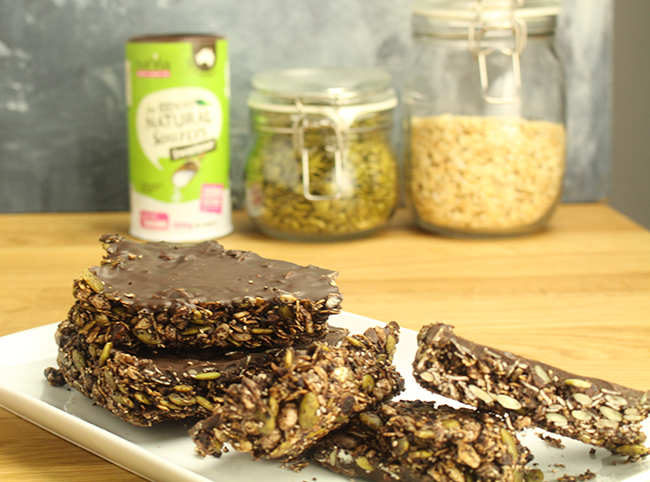 Chocolate crunch bars
Recipe by Natvia (www.natvia.co.uk)
GF SF DF EF V MF
Serves: 12 | Prep time: 10 minutes | Cooking time: 2 hours
Ingredients
1 cup pepitas
¼ cup puffed rice
1 cup oats
¼ cup chia
¼ cup desiccated coconut
¼ cup cacao nibs
¼ cup sunflower seeds
¼ cup Natvia sweetener
½ cup coconut oil
¼ cup raw cacao powder
150g sugar-free dark chocolate
Method
Toss the ingredients, except the Natvia, oil and cacao powder together in a bowl. Set aside.
Heat the Natvia and coconut oil in a saucepan, over medium heat until dissolved and beginning to bubble. Stir in cacao powder until smooth. Pour over the seed mix and stir to coat. Pour into a 20x20cm slice tin, greased and lined with baking paper. Pack firmly and place in refrigerator.
Melt the chocolate in a heat safe bowl over simmering water. Alternatively melt in the microwave. Pour over the top of the slice and then place in the refrigerator to set for.