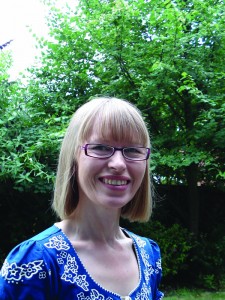 Popular food blogger and recipe writer Vicky Rockliffe talks us through the challenges she faced when she originally decided to adopt a sugar-free diet…
Mother of three Vicky had to change her way of cooking when her son was diagnosed with Crohn's Disease in 2006. Trawling through the internet, she came across The Specific Carbohydrate Diet™. She adopted the thinking and this has since helped to put her son's disease into permanent remission.
When did you first leave out refined sugar from your diet?
It would be about eight years ago when I discovered a diet on the internet which, in a short period of time, managed to heal my son's Crohn's Disease simply by eliminating certain foods. It made me sit up and realise just how damaging certain carbohydrates are to the body. This was a wake-up call and as a family we all started to cut down on sugary and starchy foods.
How did you find the change?
Actually, the change wasn't too much of an impact on our diet. We didn't really consume that much sugar anyway, and because we follow a vegetarian diet we were already quite health conscious. Switching to refi ned sugar-free foods wasn't that difficult, since there are so many alternatives to choose from.
What have been the hardest challenges you've faced not having sugar in your diet?
Eating out is quite a challenge, especially for my son. Eating a starter instead of a dessert is usually the best way to avoid temptation. I do like organic chocolate and I haven't entirely given that up, but the brand I buy uses organic unrefined sugar so the occasional treat isn't that bad!
Have you noticed any positive effects from giving up refined sugar?
Giving up sugar as well as all grain and starchy vegetables put my son's illness into permanent remission, so that's a pretty huge positive effect. As well as giving up refined sugar, I've also given up gluten containing grains. I've seen some very positive effects on my health. I've written more about this on my blog.
What advice do you have for people new to a refined sugar diet?
I think the most important piece of advice is to empty your cupboards and freezer of all the processed sugary foods, since if the stuff you crave isn't within easy reach you'll have to choose healthier options.
What do you think of the natural sweeteners on the market such as xylitol and stevia?
I personally haven't used them, so I really can't comment! I know quite a few bloggers who bake with xylitol and stevia with some very successful results.
What ingredient could you not live without?
Carrots! I use carrots in virtually every meal I prepare and coming in a close second is the onion. My late grandmother advised me to eat a carrot and onion every day and I think this advice stuck! Before I've even decided what I'm making, the carrots and onions are on the chopping board.
What tips do you have for adapting a 'normal' cake recipe to make it work with natural alternatives?
For me, it's all about trial and error! I'm extremely proud of the plain sponge cake recipe I developed on my blog, which uses ground almonds in place of the flour and honey in place of the sugar. Since I also had to make it dairy-free, I used extra-virgin olive oil in place of butter. After a few attempts, the recipe was perfect. I also created a very popular gingerbread man recipe using date paste as well as honey. I actually tend to use unrefined organic sugar or organic coconut sugar in special cakes since we don't eat them very often, but fruit purées can work well in other recipes such as muffins and breads.
Are you particularly inspired by any chefs, authors, nutritionists or dieticians?
The book written about The Specific Carbohydrate Diet™, Breaking the Vicious Cycle by Elaine Gottschall, became my bible for about a year and this had a huge impact on our life and the way we began to eat. But I am also inspired by the huge number of food bloggers who develop the most amazing food recipes. Many of my favourite blogs are written by people who have given up certain foods and managed to heal conditions for which they have been told there is no cure, like in our case. I am totally amazed by the power of food. To quote Hippocrates, 'Let food be thy medicine and medicine be thy food'.
Do you receive a lot of feedback about your blog from your readers and how easy is it to get a blog up and running?
I often receive comments, queries and emails about my recipes, but I also receive questions from people thinking about starting The Specific Carbohydrate Diet™. It's such a bonus when I receive positive feedback and to know that people from all over the world are making my food. It really does make it so worthwhile. It is very easy to get a blog up and running using one of the popular blogging platforms. The only other thing that's needed is the passion to write.
Find out more about Vicky, and keep up to date with her blog and recipes, head over to her blog. You can also visit her on Twitter and Facebook.