Tips for Sugar-Free Baking
Need some tips for sugar-free baking? Bake healthier, sugar-free treats with this simple guide that helps you choose the right sugar replacements for your cooking – plus try a delicious Chocolate Courgette Cake recipe for a tasty introduction to baking sugar-free!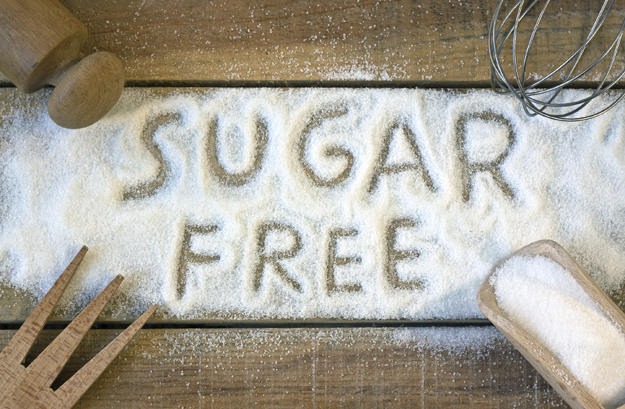 Tips for sugar-free baking

It's not been great news for those of us with a sweet tooth recently as the World Health Organisation has said we should dramatically cut down on the amount of sugar we have in our diets.
This doesn't have to spell the end to sweet treats however, as there are various sugar alternatives available – but how good are they for us and how well do they perform in baking? We spent a few days in the kitchen trying to find out…
Fructose (fruit sugar)
Lo down: A natural alternative that has the same number of calories as sugar, but has a lower Glycaemic Index, meaning it is less likely to cause the energy highs and lows you get with sugar. It does still have a negative impact on your teeth however and it is thought it may be more readily converted to fat in the body than regular sugar.
In baking: Fructose comes in a granulated form similar to sugar and performed quite well in baking, but it is sweeter than sugar and so we had to adjust recipes to counter this, using around a third less than we would have sugar.
Artificial sweeteners – brands include Canderel, Splenda, Sweetex and Hermesetas.
Lo down: Different artificial sweeteners use different chemical ingredients to produce their taste, including aspartame, sucralose, sucralose and acesulfame K. These sweeteners all share similar qualities in that they are hundreds of times sweeter than sugar and have very little, if any, calories.
In baking: Because these sweeteners are so sweet, and tend to be more powdery than sugar, they didn't perform well at all in baking. Some brands do make baking mixes, but the ones we used tended to leave a bitter aftertaste in baked goods.
Stevia – brands include Truvia, Natvia and Canderel Green.
Lo down: Stevia is a plant extract that, like artificial sweeteners, is hundreds of times sweeter than sugar and doesn't have any calories. The stevia products available in the UK generally contain very little actual stevia, but mix it with a bulking agent to make it look more like sugar.
In baking: You need special conversion charts to cook with stevia products, and like with the artificial sweeteners there was a slightly bitter aftertaste in baked goods.
Xylitol – brands include Total Sweet
Lo down: Another plant extract, but xylitol has the same sweetness as sugar. It has 40% less calories than sugar a very low GI value and helps protect teeth. It doesn't feed yeast, however, so can't be used for making bread.
In baking: This was our favourite of the sugar alternatives (see below for the Courgette Cake recipe). You don't need to adjust any recipes to use it and cakes exactly as they would if made from sugar.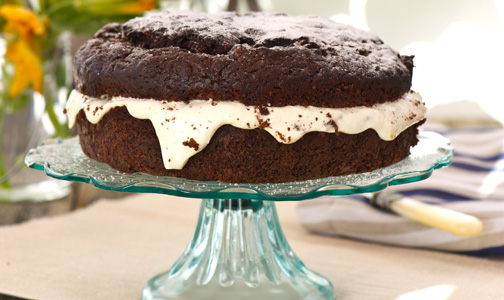 Recipe for No Added Sugar Chocolate Courgette Cake
Serves 10
Ingredients
200g (7oz) plain flour
1/2 tsp bicarbonate of soda
1 tsp baking powder
1/2 tsp salt
100g (4oz) Total Sweet
2 medium free-range eggs
180ml (6fl oz) mild or medium olive oil
170g (6oz) good quality dark chocolate
225g (8oz) courgettes, grated
55g (2oz) walnuts, finely chopped
For the cream cheese frosting
250g (9oz) low-fat cream cheese
1/2 tsp vanilla extract
1 tbsp Total Sweet
Method
1 Preheat the oven to 180°C/350°F/gas mark 3. Line a 20cm (8in) loose-bottomed cake tin with baking paper and grease the sides.
2 Sift the flour, bicarbonate of soda, baking powder and salt into a bowl. Stir in the Total Sweet.
3 In a separate bowl, beat the eggs into the oil. Melt the chocolate over a bain marie or in the microwave.
4 Stir the eggs and oil into the dry ingredients, then mix in the melted chocolate, grated courgettes and nuts.
5 Pour the mixture into the prepared cake tin and bake for 25-30 minutes or until the cake is well risen, firm to the touch and a skewer comes out clean. Allow to cool on a wire rack before icing.
6 To make the cream cheese frosting, mix together the cream cheese, vanilla extract and Total Sweet until smooth, then spread on the cake. Store in an airtight container in the fridge.
Tags:
Sugar-Free Diet