Agave Yoghurt Cupcakes with Vegan Honeycomb
A delicate moist cupcake, topped with light fluffy, tangy frosting with a final garnish of vegan honeycomb to make one heck of a vegan cupcake!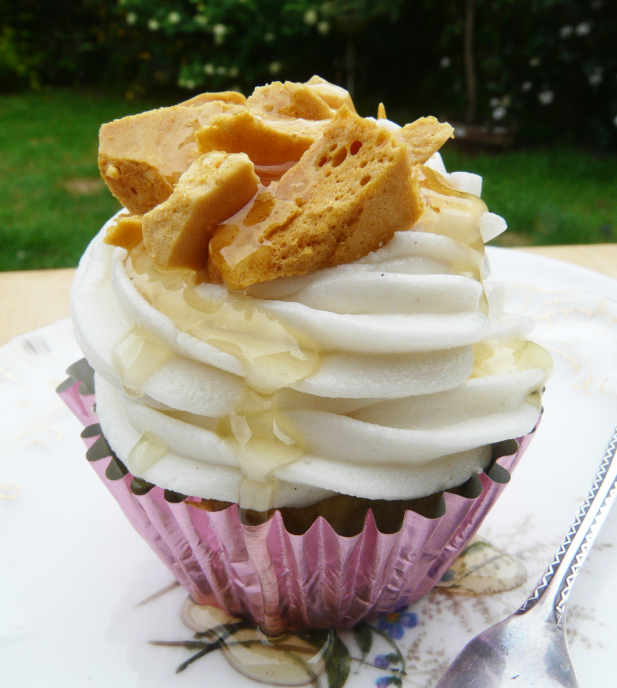 Agave Yoghurt Cupcakes with Vegan Honeycomb
By Alexander Willow-Harvey (www.invegetableswetrust.com)
DF EF V MF
Ingredients:
For the cup cakes:
1/3 cup rapeseed oil/ canola oil
1/3 cup agave syrup
1 cup plain vegan yogurt
1 tsp vanilla extract
3 tbsp ground flaxseed
1/3 cup soy milk
2 cups plain white flour
1 1/2 tsp baking powder
Pinch o' salt
For the frosting:
1/2 cup vegetable shortening
1 1/2 cups icing sugar
1/2 tsp vanilla extract
2 tbsp soy yogurt
2 tbsp agave
For the vegan honeycomb:
1/2 cup unrefined golden caster sugar
1/4 cup agave syrup
1 1/2 tsp baking soda
Method:
The cupcakes:
Preheat the oven to 190c/375f and line a 12 hole cupcake tray with liners.
Mix the oil, the agave, yogurt, flaxseed and soy milk together in a mixing bowl and sift in the dry ingredients.
Spoon evenly between the cupcake cases and bake for about 20-25 minutes.
Remove from the oven and allow to cool in the tray on a wire rack. Allow to cool completely before icing.
For the frosting:
Beat the shortening with a fork until softened.
Beat in the yogurt and agave  until light and fluffy, now slowly mix in the icing sugar until you get a nice pipable consistency.
Pipe, or spread on top of the fully cooled cupcakes.
For the honeycomb:
Line a baking sheet with good greaseproof paper (the reusable stuff is good for this kinda thing) and set aside.
Stir the syrup and sugar together in a saucepan before placing on the hob, heat until the sugar melts and starts bubbling (do not stir once the pans on the heat!). Let bubble until the mix starts turning a darker golden colour, remove from the heat and whisk in the baking soda super quick.
Pour out onto the prepared baking sheet and allow to cool for about 20 minutes, before bashing with a rolling-pin and breaking into little pieces. Use to top the cupcakes.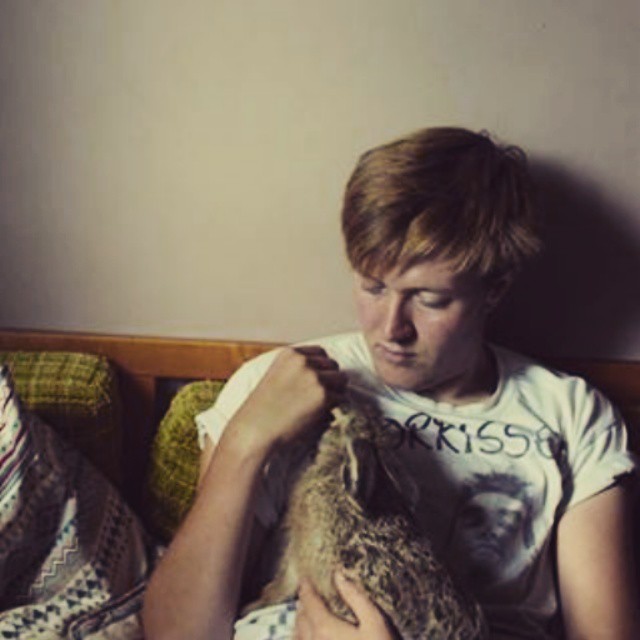 About the author: Alexander lives by the sea in England, and is the son of both a baker and a chef. Growing up, many of his happy memories were food related, but he never really explored cooking by himself until he became vegan. He wants to show people  how to eat tasty, healthy and nutritious food, and how to make vegetables incredibly tasty! For more inspiring vegan recipes, please visit Alexander's website, www.invegetableswetrust.com.
Tags:
Cupcakes
,
Dairy-Free Dessert
,
Dairy-Free Recipes
,
Vegan
,
Vegan Dessert
,
Vegan Recipes