Bounty Bars
These healthy vegan Bounty bars are simple to make, but almost impossible to resist!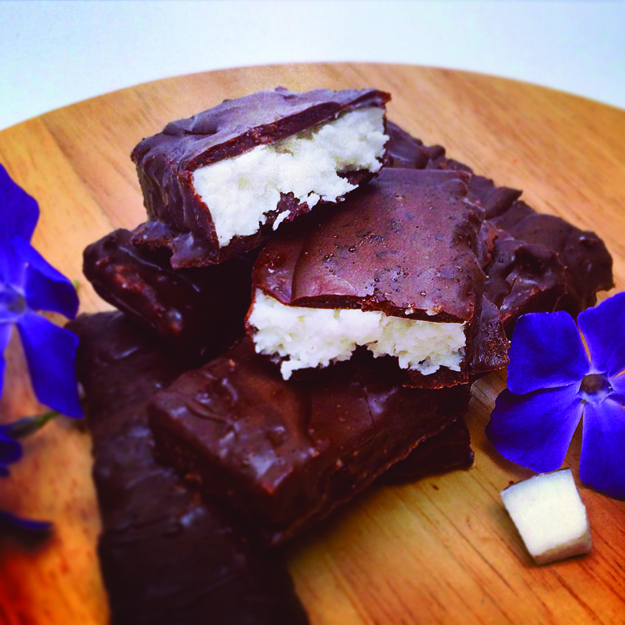 Bounty Bars
By Molly Buszard (www.mollybhealthy.com)
Makes 10-12 | Prep 15 mins plus 2-3 hrs for freezing | Cook none | Calories 370 (per bar)
Ingredients
For the filling:
225ml (8fl oz) coconut milk
4 tbsp maple syrup, or rice malt syrup
3 tbsp coconut oil
200g (7oz) desiccated coconut
A pinch of salt
For the chocolate:
225ml (8fl oz) coconut oil
60g (2¼oz) cacao powder
2 tbsp maple syrup, or rice malt syrup
Method
In a saucepan on a low heat, add all the filling ingredients and combine. The sugars from the syrups should start to bubble up, which helps the filling hold together.
Pour into a clingfilm lined tray. Make sure the mixture is evenly spread out and compact, so the bars hold together. Pop in the freezer for 2 hours.
For the coating, mix all the ingredients together on a low heat, then set aside. Allow the chocolate to cool and thicken to give the bars a nice coating. Remove the coconut filling from the freezer and chop into bars.
Dip the bounty bars into the chocolate, coating them completely, then place them on greaseproof paper to dry. They should harden pretty quickly once the warm chocolate hits the cold coconut. Pop into the fridge or freezer so that they completely set.
Tags:
Chocolate
,
Dairy-Free
,
Dairy-Free Dessert
,
Egg-Free
,
Gluten-Free
,
Gluten-Free Baking
,
Gluten-Free Dessert
,
Recipe
,
Sugar-Free Dessert
,
Vegan
,
Vegan and Gluten Free
,
Vegan Dessert