'Butter' Eggplant Curry
This comforting bowl is essentially a vegan version of butter chicken, and if you're feeling fancy you can use seitan pieces or tofu as a replacement for the aubergine/eggplant if you wish, or even cooked sweet potatoes. The sauce is rich and creamy and would be heavenly paired with vegan naan breads.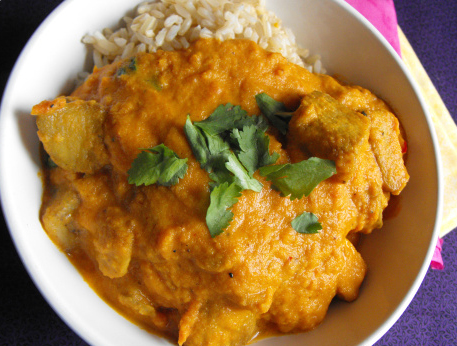 'Butter' Eggplant Curry
By Alexander Willow-Harvey (www.invegetableswetrust.com)
GF DF EF V MF
Ingredients

2 large eggplants/ aubergines, peeled and diced
2 tbsp oil for roasting
1/4 cup vegan margarine
1 large onion, diced
1 tbsp minced ginger
1 minced red chilli
3 cloves garlic, minced
2 very large tomatoes, roughly chopped
2 tbsp tomato purée
1 bay leaf
3 cloves
1/2 tsp cinnamon
1/2 tsp turmeric
1 tsp cumin
1 tsp gram masala
1 cup canned coconut milk
1 tbsp brown sugar
1 tsp ancho powder/ mango powder
Fresh coriander/ cilantro leaves for garnish
Method
Combine the diced egg-plant with a little oil and 1/4 tsp salt in a roasting tray and roast in the oven for about 20-25 minutes at 200c/400f until soft and tender.
Whilst the aubergine is cooking, melt the margarine in a pan set on a medium heat, and add the onions. Fry for about four minutes then add the chilli  ginger and the garlic and fry for a few minutes until fragrant.
Add the tomatoes, bay leaf and cloves. Cook for about 3-4 minutes, now remove the bay leaf and cloves and purée the mixture in a food processor.
Return it to the pan and stir in turmeric, cinnamon, gram masala and cumin. Now stir through the tomato paste and coconut milk, let cook for about 10 minutes gently before adding the eggplant, ancho powder and brown sugar. Cook for a further 5 minutes, serve and garnish with cilantro.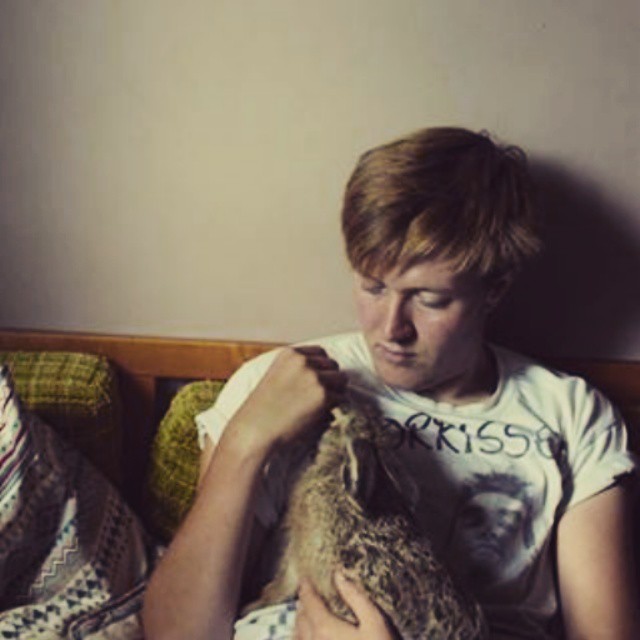 About the author: Alexander lives by the sea in England, and is the son of both a baker and a chef. Growing up, many of his happy memories were food related, but he never really explored cooking by himself until he became vegan. He wants to show people  how to eat tasty, healthy and nutritious food, and how to make vegetables incredibly tasty! For more inspiring vegan recipes, please visit Alexander's website, www.invegetableswetrust.com.
Tags:
Curry
,
Dairy-Free Dinner
,
Gluten-Free Dinner
,
Indian Food
,
Paleo Dinner
,
Sugar-Free Dinner
,
Vegan
,
Vegan and Gluten Free
,
Vegan Diet
,
Vegan Dinner
,
Vegan Recipes