Coconut Frosted Doughnuts
These baked coconut frosted doughnuts, topped with fragrant toasted coconut are not too different to a sticky bun, and if you choose to fry them they are pure doughnuty bliss!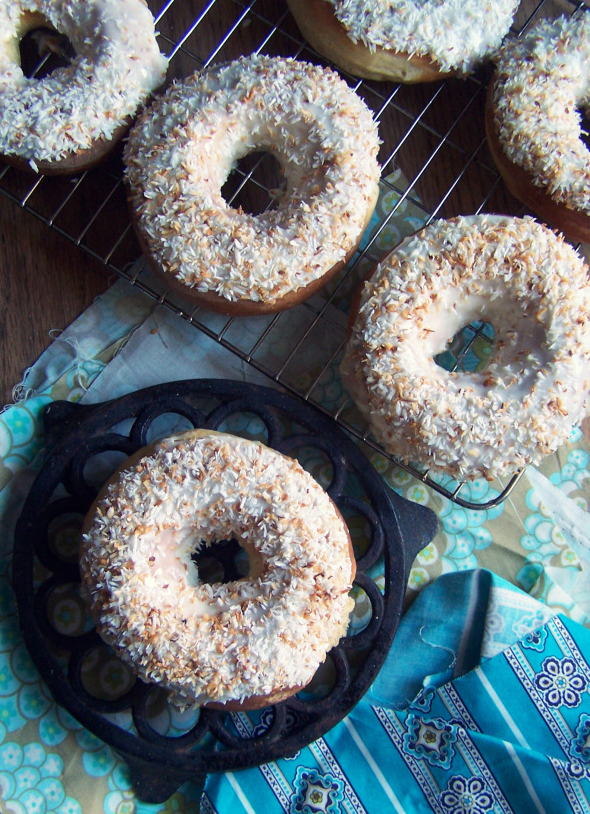 Coconut Frosted Doughnuts
By Alexander Willow-Harvey (www.invegetableswetrust.com)
Serves 6 | Prep 30 mins (plus 3 hours for proving the dough) | Cook 13-18 mins |
DF EF V MF
Ingredients:
3 1/2 – 4 cups plain flour
1 1/3 cup vegan mylk
scant 1/3 cup vegan marg
1/4 cup unrefined golden caster sugar
1 tbsp active dried yeast (or double the amount of fresh yeast)
1/2 tsp fine sea salt
Frosting:
Up to 2 cups sifted icing sugar
3 tbsp soy milk (or other vegan mylk)
1 tsp vanilla
1 tsp agave syrup (optional, makes it nice and glossy!)
1/2 cup of dessicated coconut
1/2 cup toasted dessicated coconut
Method:
Grab a sauce pan and gently heat the vegan mylk and marg together until the marg is melted, dissolve the sugar into the liquids, remove from heat and allow to cool until the mix is tepid.
Whisk in the yeast and add to the flour. Part mix then add the salt.
Knead a little in the bowl to bring the dough together then transfer to a floured surface and knead for about 8-10 minutes, until smooth and elastic, adding more flour as needed.
Grease a bowl with vegetable oil and toss the dough gently in the oil to coat, cover with cling film and leave somewhere warm for about 1-2 hrs until slightly more than doubled in size.
Punch the dough down, knead for a minute and roll to about 1/3 inch think and cut out doughnut shapes with a doughnut cutter or one large cookie cutter and small one. Transfer to baking sheets lined with parchment paper and loosely cover and leave to rise back up for 30 mins- 1hr, until the dough has doubled back up.  Either bake for approx  13-18 mins in a 220c/430f oven or fry in oil that is 160c/325f for a few minutes each side. The doughnuts should be puffed and golden.
Allow to cool completely ready for icing. Simply whisk half of the icing sugar with the rest of the ingredients and then slowly whisk in the rest of the icing sugar as needed to form a thick sticky icing that doesn't drip everywhere. Place into a large shallow bowl, in another shallow bowl mix together the toasted and un-toasted coconut.
Dip the top of the doughnut into the frosting, then straight into the coconut and pop back on a cooling rack, repeat until all the doughnuts are frosted!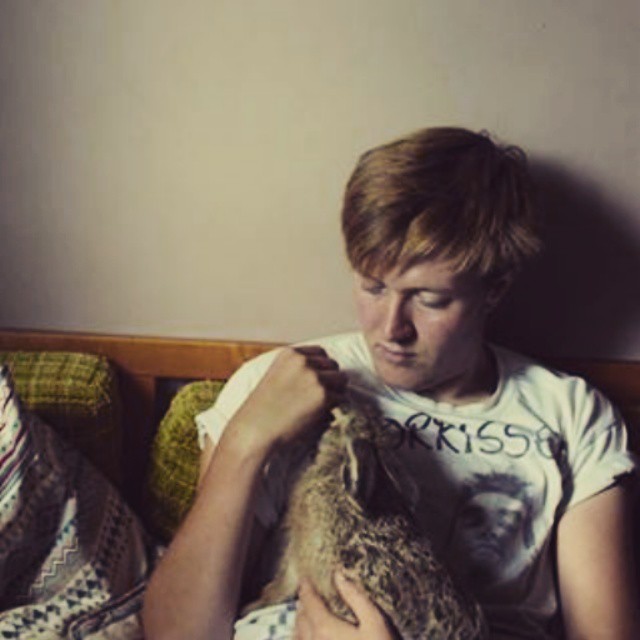 About the author: Alexander lives by the sea in England, and is the son of both a baker and a chef. Growing up, many of his happy memories were food related, but he never really explored cooking by himself until he became vegan. He wants to show people  how to eat tasty, healthy and nutritious food, and how to make vegetables incredibly tasty! For more inspiring vegan recipes, please visit Alexander's website, www.invegetableswetrust.com.
Tags:
Dairy-Free Dessert
,
Dairy-Free Recipes
,
Vegan Dessert
,
Vegan Recipes