Fig and Limoncello Panna Cotta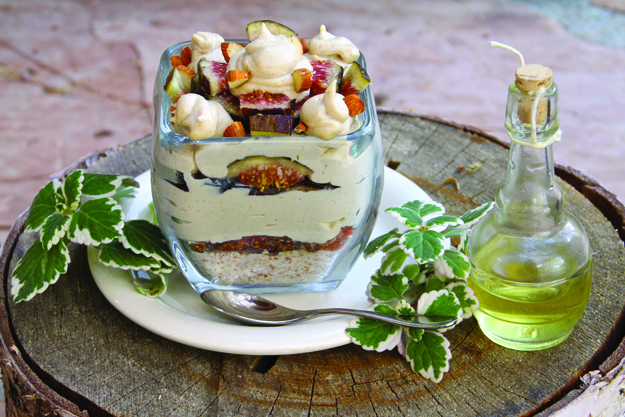 By Ambra Torelli (www.littlebitesofbeauty.com)
Makes 4-6 | Prep 20 mins plus 1½ hrs for chilling
Cook none | Calories 393 (per serving)
Ingredients
FOR THE CREAM
150g (5½oz) raw cashew nuts, soaked
Pulp of a young coconut
2 tbsp Limoncello
4 dates
3 ripe figs10 tbsp coconut water
1 tbsp vanilla extract
FOR THE CRUST
75g (1¾oz) raw almonds
3 dates
2 tbsp Limoncello
Method
1 For the crust, coarsely blend the dates and almonds together. Add the Limoncello, mix well and press into the base of four glass dessert glasses.
2 Slice 1½ figs to create the first layer over the crust.
3 For the cream, blend the cashews, dates, vanilla, coconut pulp and water in a high speed blender until smooth and creamy. Lastly, add the Limoncello.
4 Spread the first layer of cream over the figs, cover with more fruit, another layer of cream, then the
remaining figs.
5 To decorate, fill a pastry bag with the remaining cream and add tufts of panna cotta. Sprinkle some crushed almonds and more pieces of figs on top of your dessert and store in the freezer for at least 1½ hours before serving.
TIP If you don't have Limoncello, you can replace it with some Cointreau and give your treat an orange tang!