Herb Cashew Cream Cheese
This wonderful cashew cream cheese is so deliciously creamy and spreadable, and packed full of delicious herbs that packs a powerful flavour punch!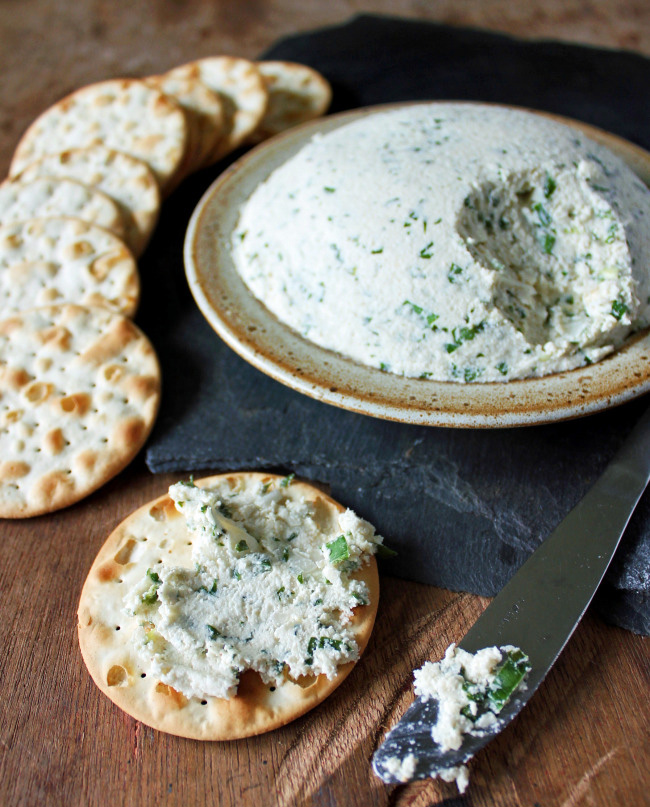 Herb Cashew Cream Cheese
By Alexander Willow-Harvey (www.invegetableswetrust.com)
Serves 6 | Prep 50 hours (for soaking cashews and allowing cheese to set)| Cook none |
GF SF DF EF V MF
Ingredients:
1 1/2 cups raw cashews, chopped in half if whole cashews (soaked overnight)
4 tbsp cider vinegar
2 tbsp lemon juice
1 tsp lemon zest
3 tbsp water, plus water to soak the cashews
3 spring onions, diced
2 tbsp chopped chives
3 tbsp chopped flat leaf parsley
A good pinch o' sea salt
A good pinch o' fresh ground black pepper
Method: 
Soak the cashews in water in the fridge overnight, or up to 24 hours. In the morning drain and rinse the cashews and add to a blender/ food processor with the cider vinegar, lemon juice and water, blend until smooth as possible adding up too another 2 tbsp of water if necessary.
Transfer the cashew purée to a mixing bowl and fold in the remaining ingredients.
Line a small 6″ sieve with cheese cloth and place the sieve over a bowl.
Add in the cashew mixture, smooth out the top and carefully fold over the sides of the cheese cloth.
Leave on the side for about two hours and discard the liquid that has drained out into the bowl.
Place in the fridge overnight to allow even more water to drain and the cream cheese to firm up.
After allowing to sit overnight, carefully unfold the cheese cloth and turn the cashew cream cheese dome out onto a plate. Serve with crackers or crostini.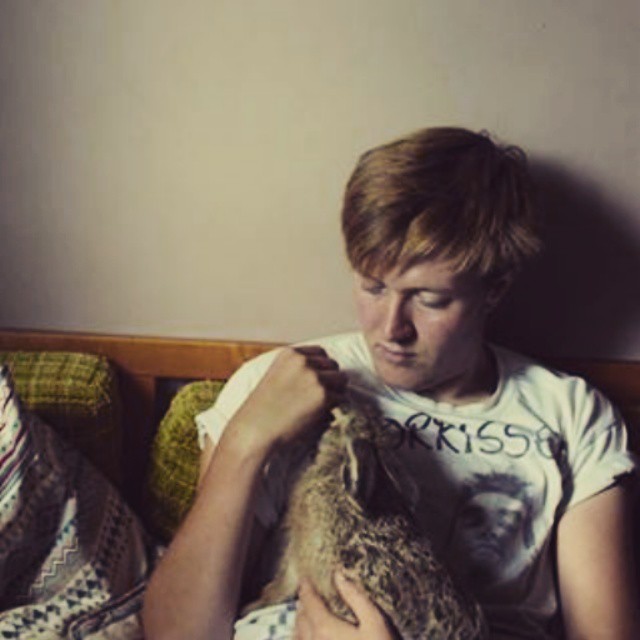 About the author: Alexander lives by the sea in England, and is the son of both a baker and a chef. Growing up, many of his happy memories were food related, but he never really explored cooking by himself until he became vegan. He wants to show people  how to eat tasty, healthy and nutritious food, and how to make vegetables incredibly tasty! For more inspiring vegan recipes, please visit Alexander's website, www.invegetableswetrust.com.
Comments
Tags:
Cheese
,
Dairy-Free Diet
,
Dairy-Free Lunch
,
Dairy-Free Recipes
,
Gluten-Free Lunch
,
Sugar-Free Lunch
,
Vegan
,
Vegan and Gluten Free
,
Vegan Cheese
,
Vegan Diet
,
Vegan Lunch
,
Vegan Recipes