Mini Cheese and Chive Vegan Quiche
Perfect for picnics or a light lunch, this delicious little 'cheese' and chive vegan quiche might be small in size, but it's positively bursting with flavour!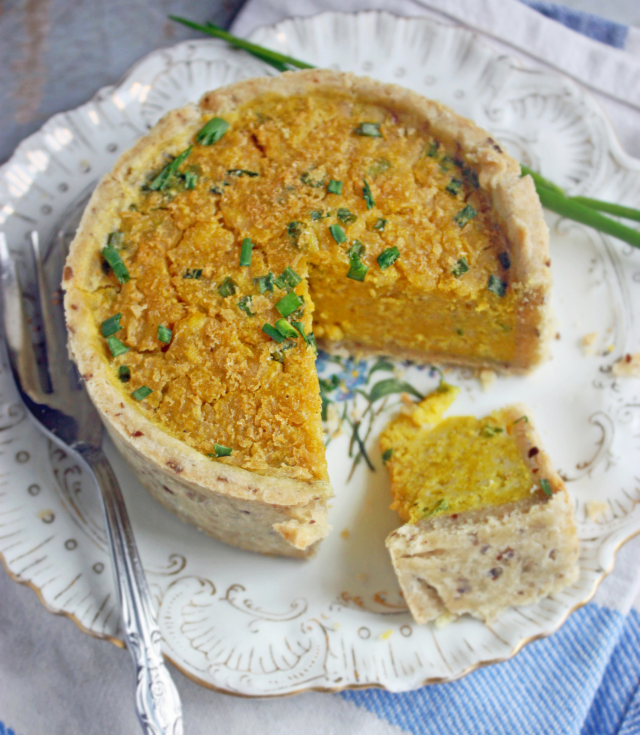 Mini Cheese and Chive Vegan Quiche
By Alexander Willow-Harvey (www.invegetableswetrust.com)
Serves 1 | Prep 40 mins | Cook 30 mins |
SF DF EF V MF
Ingredients:
Pastry:
1/2 cup plain flour
1 tbsp ground flax seed
1/4 cup diced, chilled vegetable shortening or "baking block"
Pinch o' salt

Filling:

1 cup grated vegan cheese, like vegusto
4 tbsp gram flour
2 tsp nutritional yeast
1/3 cup unsweetened almond milk
1/4 tsp salt
Pinch o' fresh ground black pepper
1/4 tsp turmeric
1/4 tsp cumin
1 tbsp fresh chopped chives, extra for garnish
1 tbsp olive oil
Method:
Make the pastry by combining the salt, flax and flour in a mixing bowl and rubbing in the fat. Then carefully stir in a little ice-cold water, 1 tbsp at a time, until you have a firm but roll-able dough.
Grease a 4″ mini spring form cake pan. Roll the dough into about a 6″ circle and press neatly into the cake pan, letting the excess hang over the top. Don't trim the excess away just yet, cover and let sit in the fridge for about half an hour, then trim off the excess with a knife.
Preheat the oven to 200c/400f.
Pierce the base of the tart shell with a fork, line the inside with baking parchment and fill the tart shell with baking beans. Blind bake for 10 minutes.
Prepare the filling by whisking together the gram flour, almond milk, salt, pepper, turmeric, cumin, chives and olive oil.
Remove the baking beads and layer the cheese and filling mix into the pastry shell.
Bake for 20 minutes in the tin, then carefully remove from the pan and bake on a baking sheet for an extra 10 minutes to make the crust nice and crisp. Cool slightly before slicing and serving.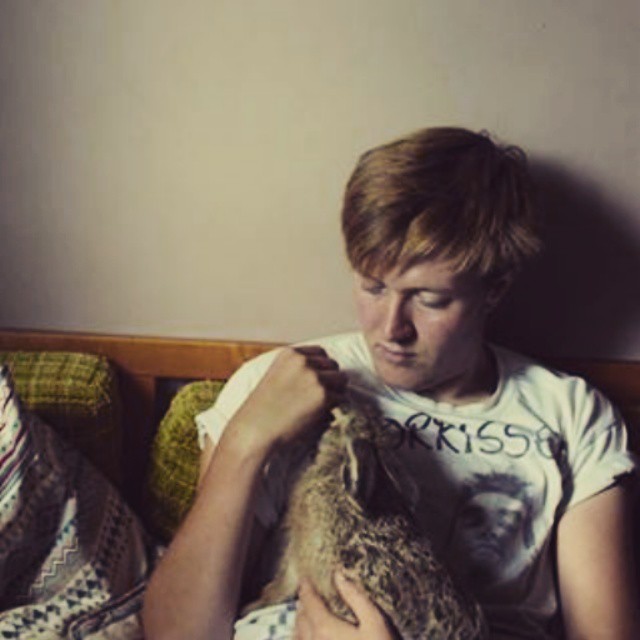 About the author: Alexander lives by the sea in England, and is the son of both a baker and a chef. Growing up, many of his happy memories were food related, but he never really explored cooking by himself until he became vegan. He wants to show people  how to eat tasty, healthy and nutritious food, and how to make vegetables incredibly tasty! For more inspiring vegan recipes, please visit Alexander's website, www.invegetableswetrust.com.
Tags:
Cheese
,
Dairy-Free Lunch
,
Sugar-Free Lunch
,
Vegan
,
Vegan Cheese
,
Vegan Lunch
,
Vegan Recipes