Moo Free have delicious organic, vegan chocolate Easter eggs. They come in three flavours – original organic chocolate, easter bunnycomb, and cheeky orange.
Moo Free use rice milk instead of cow's milk, creating chocolate with a delicious sweet taste without the need for the involvement of cows. All of the chocolate products in their range are gluten-free, lactose-free, casein-free, egg-free, and suitable for vegetarians and vegans.
The chocolates are also produced in accordance with fair trade standards, meaning that the farms who produce the ingredients are treated fairly. It also means the ingredients have not been exposed to any nasty chemicals, ensuring consumers a great tasting chocolate every time.
Moo Free have one numerous awards for their delicious chocolates, including Best Brand for Free-From Chocolates at the Foods You Can Free From Food People's Choice Awards 2014.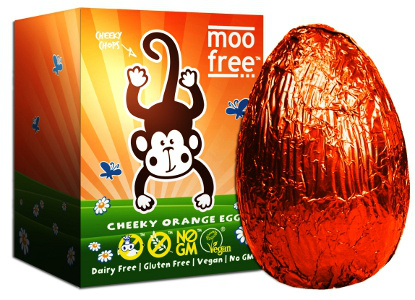 Find out more on the Moo Free website, check them out on Facebook, or say hello on Twitter.