Peanut Butter Caramel Shortbread
Crumbly, buttery shortbread, topped with peanut butter caramel, peanuts and a thick layer of dark chocolate- what's not to love about these delicious bars?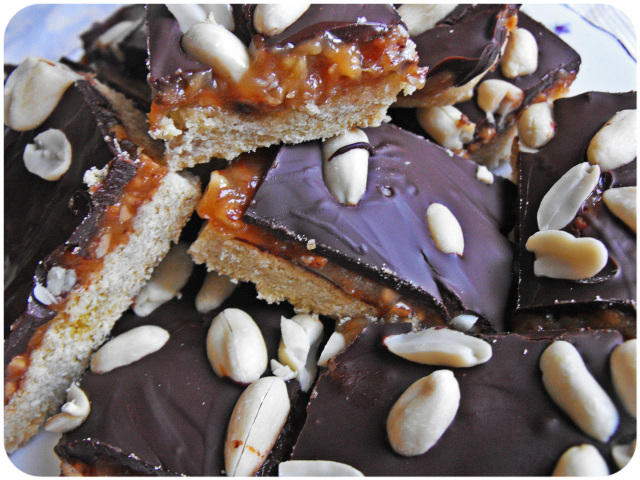 Peanut Butter Caramel Shortbread
By Alexander Willow-Harvey (www.invegetableswetrust.com)
Serves 10 | Prep 20 mins | Cook 40 mins |
DF EF V MF
Ingredients:
2 cups plain flour
3/4 cup granulated sugar
1 cup of vegan margarine
1 tsp vanila extract
1 cup crunchy peanut butter
6-8 tbsps almond/soy milk
6 tbsps confectioners/icing sugar
1/3 cup skinned peanuts
1x 200g bar of quality vegan dark chocolate
Method:
Preheat the oven to 325f/160c.
Mix the granulated sugar with the flour and rub in the margarine and vanilla with your fingers, until its evenly distributed throughout.
Press the crumb mix into a 13″x 9″ baking tray and bake for about 30-35 minutes until the edges start to turn golden.
Remove from the oven and leave to cool in the tin.
To make the peanut butter layer, cream the peanut butter with the vegan milk and vanilla extract. then cream in the confectioners sugar 1 tbsp at a time until you get a nice glossy caramel looking mixture.
Spread over the cooled shortbread.
Now for the final layer, melt the chocolate gently in the microwave for 30 seconds then give it a stir, repeat until fully melted, then spread on top and sprinkle with peanuts.
Cool completely before slicing and serving.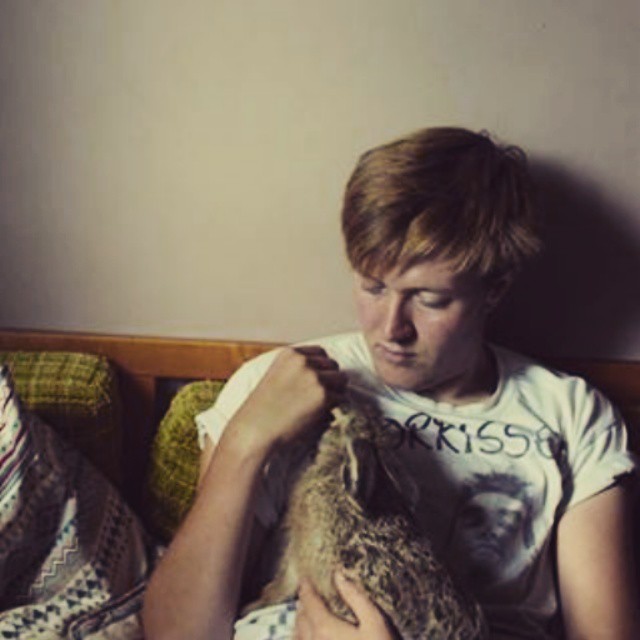 About the author: Alexander lives by the sea in England, and is the son of both a baker and a chef. Growing up, many of his happy memories were food related, but he never really explored cooking by himself until he became vegan. He wants to show people  how to eat tasty, healthy and nutritious food, and how to make vegetables incredibly tasty! For more inspiring vegan recipes, please visit Alexander's website, www.invegetableswetrust.com.
Tags:
Dairy-Free Dessert
,
Dairy-Free Recipes
,
Vegan Dessert
,
Vegan Recipes