Peanut-Butter Coconut Cookie Dough Truffles
Fancy a no-bake sweet treat this weekend? Check out these delicious truffles with peanut butter and coconut…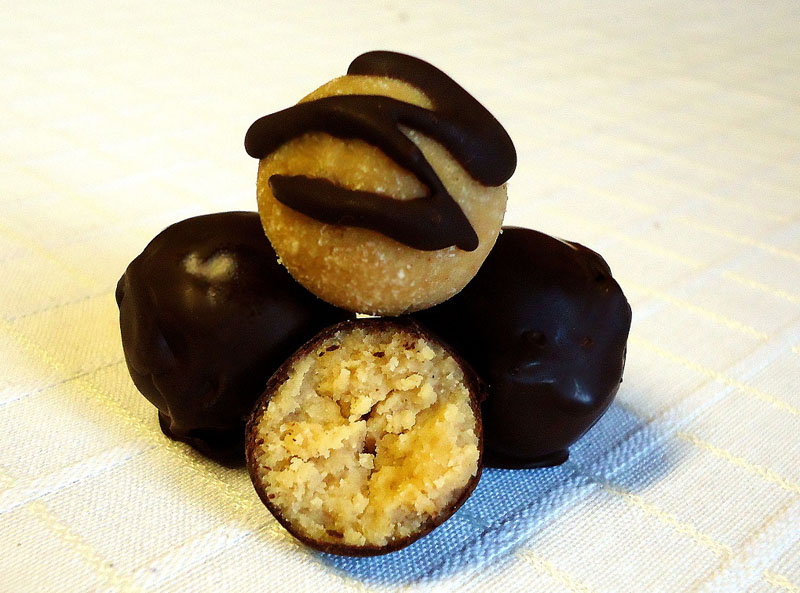 By Michelle of Gluten Free and All Things Nice.
Who doesn't love cookie dough?? There's a reason people eat it raw. It's good. Damned good.
But this is better.
Why? This one's got peanut butter. And chocolate. But! – no gluten. Or refined sugar. Or anything "funny" actually.
It's so easy, too! It takes 5 minutes to make – and just 30 minutes chilling time – you'll be cookie dough happy in no time!
This recipe is gluten-free, dairy-free, refined sugar-free and vegan.
Ingredients | Makes about 14 truffles
40g (2 Tbsp + 2 tsp) peanut butter*
28g (1/4 cup) Coconut flour
10 packets Truvia or sugar of choice*
75ml (5 Tbsp) milk of choice
1/2 tsp vanilla extract
1/4 tsp salt (omit if your nut butter contains salt)
For the chocolate coating:
50g dark chocolate (I used 80% cacao solids – you can use whatever brand you like! Use dairy free/sugar free etc as required)
Method:
In a medium sized bowl, mix the peanut butter, milk, sweetener of choice and vanilla.
In a small bowl, mix together the coconut flour and salt (if using).
Gradually add the dry ingredients to the wet and stir really, really well. It will thicken in a flash. Coconut flour is EXTREMELY hygroscopic (there's a fun word!). If using liquid sweetener, you may need to add a tad more flour. Do this now!
When all is mixed up good, it should look like a dough ball. There is no way I can explain this any further than simply "dough ball". This is exactly what my sister called it when she saw me making it. (I quote "Is that a dough ball?". Fun story, eh?)
Break off pieces of the dough (you'll make about 14 normal sized "truffles") and roll into smaller balls.
Place on a plate and store in the fridge to firm, this won't take long – about 10 minutes.
Meanwhile, melt the chocolate….
Place the chocolate in a small bowl and microwave on low until melted. These are complicated instructions, aren't they?
Alternatively, melt in a small bowl over a saucepan of boiling water (this way is actually better, but it doesn't really matter…!)
Assembly – you have some choices here!
You can make a drizzle:
Melt in 1 Tbsp peanut butter per 25g chocolate used and drizzle on top of each truffle.
Or simply drizzle melted chocolate on each cookie dough ball.
You can make a chocolate coating:
Line a large plate with tinfoil or parchment paper
Dip the cookie dough balls into the chocolate and quickly place on the plate to harden.
Tip: Use a fork or a toothpick to pick up each truffle and dip in chocolate – stops your fingers getting all messy. And less waste of chocolate. I do not waste anything chocolate!
Leave to harden fully in the fridge, about 1 hour max. You can put them in the freezer, so they cool faster (for you impatient peeps).
Enjoy 🙂
PS: These are AAAAAAAHMAZING broken up and eaten with ice cream (or even frozen Greek yogurt!) – The coconut flour and peanut butter are high enough in fat that they don't turn rock hard. You've made gluten free cookie dough ice cream!
Notes:
*You may of course use any nut butter you want, even coconut butter.
*You'll need the equivalent of about 40g sugar – this is about 3 tablespoons. Stevia extract will work in a pinch (about 1/4 tsp). Sugar should work, too – you may need more milk. Honey, Agave and Maple syrup all work, just decrease milk accordingly.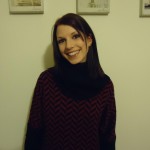 About the author:
Michelle is a foodie blogger and scientist from Ireland. She is passionate about free-from friendly cooking, and mostly eats gluten-free, and creates recipes with options for free-from sugar, dairy and eggs. Besides baking, Michelle loves chocolate, and of course, science. You can visit her blog, and also find her on Pinterest and Twitter.
Get some baking inspiration with our gluten-free recipes.
Tags:
Chocolate
,
Cookies
,
Dairy-Free
,
Dairy-Free Dessert
,
Egg-Free
,
Gluten-Free
,
Gluten-Free Baking
,
Gluten-Free Dessert
,
Nuts
,
Paleo Dessert
,
Recipes
,
Vegan
,
Vegan and Gluten Free
,
Vegan Dessert