Raw Blackberry Lemon Lavender Cheesecake
If you are keen to keep away from the oven this summer and want a delicious, fruity dessert then have a look at this beautiful gluten-free, sugar-free, dairy-free, vegetarian and vegan cheesecake….it's almost too beautiful to eat!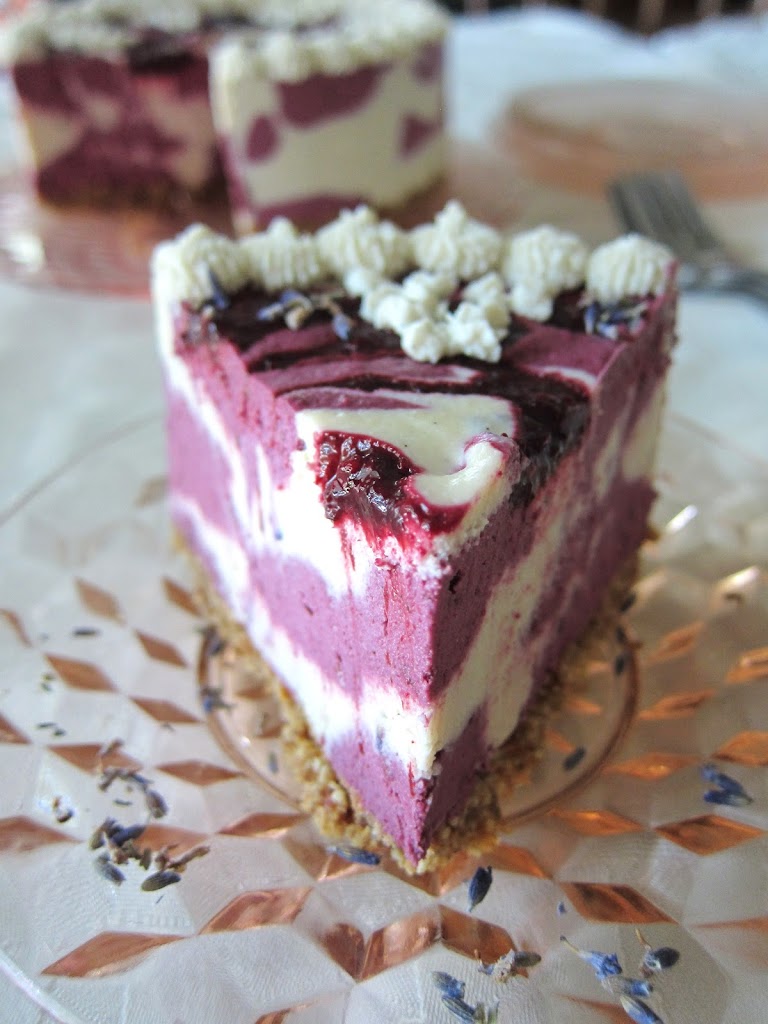 By Amy of Fragrant Vanilla
As I have mentioned in a few posts previous to this one, it has been very warm in Minnesota this week.  It is already 91 today and climbing!  So I made it my goal to not use the oven this weekend and prepare only food that didn't need to be heated trying to keep the house cool and save money on air conditioning.  This was not going to keep me from having delicious desserts however.  I NEED my dessert.  
I decided to make another raw cheesecake.  I know, I am a bit obsessed, but if you have ever made one you know why…they are so increadibly good!  I had blackberries and lemons and so I thought a blackberry lemon lavender cheesecake would be perfect.  I was amazed at how vibrantly purple the blackberries made the filling, it was quite beautiful. 
Almost too pretty to eat, but that never stops me. It was heavenly, the silky smooth luscious filling with the tart blackberries and lemon, the sweet vanilla and the nutty crust! I was almost tempted not to share but I am not that selfish.
I used to think it was not possible to make a cake without heating the oven and boy, was I wrong!
This recipe is gluten-free, dairy-free, refined sugar-free, vegetarian and vegan.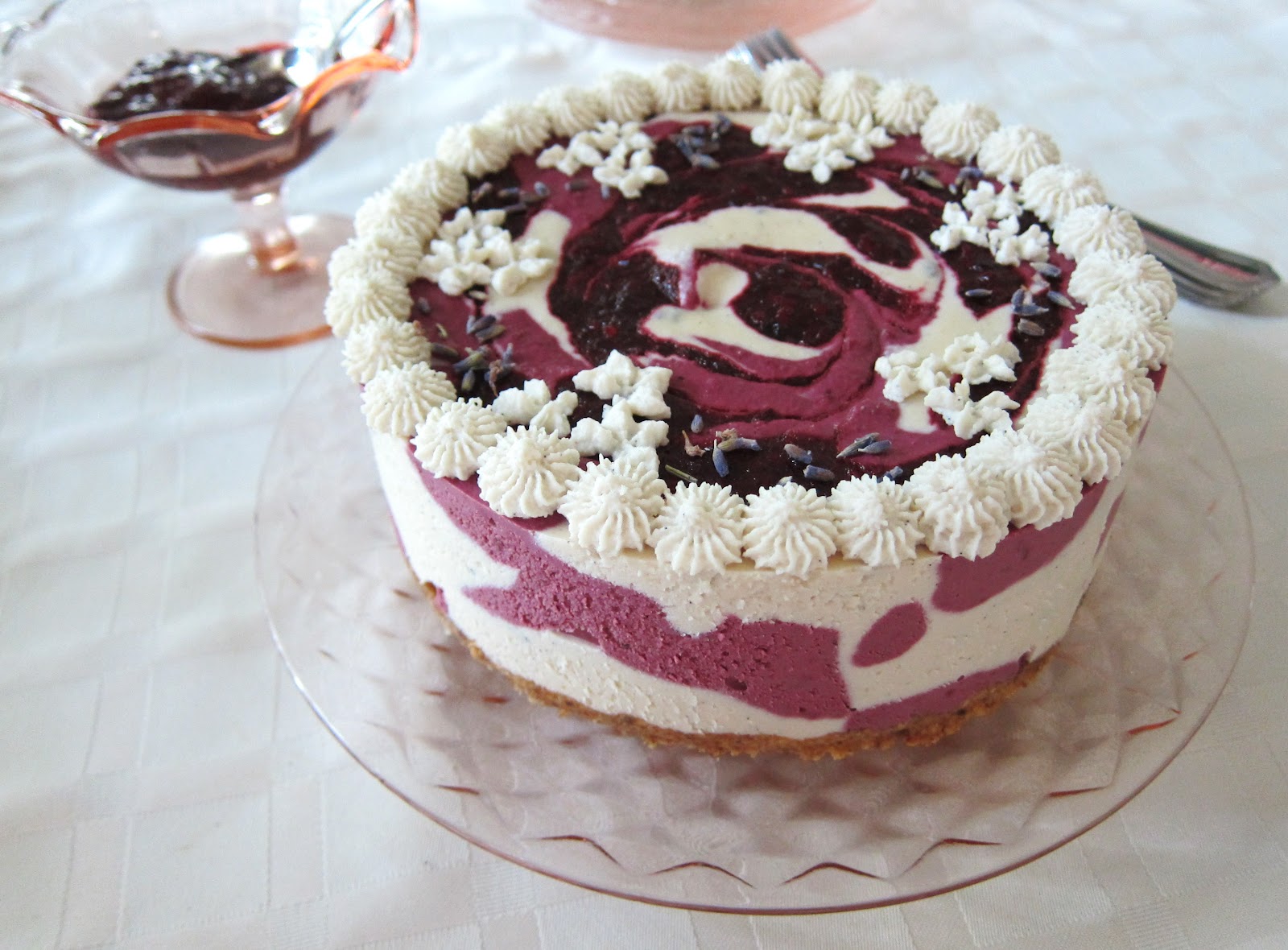 Ingredients | Makes one 6 inch cake
Crust:
2/3 cup hazelnuts
2/3 cup finely shredded coconut
1/3 cup sprouted, dehydrated buckwheat groats (or additional coconut)
1/8 teaspoon sea salt
3 soft medjool dates, pitted and chopped
Filling:
2 1/2 cups raw cashews (soaked at least 4 hours, but preferably soaked overnight)
1 cup young coconut meat (or 1 cup soaked cashews if unavailible)
1/2 cup lemon juice
2 Tbsp lemon zest
1/3 cup plus 3 Tbsp raw coconut nectar or agave nectar
1/2 teaspoon sea salt
1 Tbsp pure vanilla extract and seeds from half a vanilla bean (other half reserved for topping)
1/2 cup plus 1 Tbsp coconut oil (warmed to liquid)
2 Tbsp organic dried lavender flowers
1 cup fresh organic blackberries
Blackberry puree:
1/4 cup organic blackberries
1 Tbsp organic coconut nectar or agave nectar
Cream Topping:
3/4 cup raw cashew pieces (soaked at least 4 hours, but preferably soaked overnight)
1/4 cup coconut water
1 cup fresh young coconut meat* (or additional soaked cashews if not available)
3 Tbsp raw coconut nectar or agave syrup
1 teaspoon vanilla and seeds of half a vanilla bean (the other half of the one you used for the filling)
1/4 cup raw coconut oil (warmed to liquid)
Method:
To prepare the crust, spray a 6 inch spring form pan with coconut oil spray or grease with coconut oil. Process hazelnuts, coconut, buckwheat and sea salt in a food processor until the it is fine crumbs, then add the dates and process until the mixture holds together when squeezed between your fingers. Firmly press crust into the bottom of prepared pan.
Set aside.
To make filling, drain cashews and combine them with coconut, lemon juice, and zest, agave nectar, sea salt and vanilla in a food processor and blend until smooth and creamy. With the motor running, slowly add the coconut oil in a thin stream to emulsify (if you get small chunks the mixture was too cold or the coconut oil was too cold, and if this happens, remove a small portion of the filling, warm it slightly and return it to the bowl.  It should emulsify).
Remove the filling from the food processor, stir in lavender and divide evenly between 2 bowls.
Place half back into the food processor and add 1 cup blackberries. Puree until smooth and scrape back in the bowl.
For the blackberry puree, using an immersion blender (or you can rinse out the food processor) combine the 1/4 cup blackberries and 1 Tbsp agave nectar and puree until smooth.
Drop the filling alternating between the vanilla and blackberry in about 3 tbspful amounts over crust in pan, until all is used up, sort of in a checkerboard fashion. Tap on the counter to level (keeping pan level).
Drop some of the puree in teaspoonful amounts over the top of the cake (reserving some for serving) and swirl with a knife to create marbling.
Place in the freezer until it is set, 6 hours about. After that store in the fridge until ready to top.
To make topping, drain cashews and blend all ingredients until smooth in a food processor, and set in the freezer about 30 minutes until a frosting consistency. Place in a pastry bag and pipe decoratively on top of the cheesecake. Store in the fridge when not enjoying.
I have had a few comments from readers regarding opening young coconuts. If you do not know how to open a young coconut to get the water and meat out, here is a page that was helpful to me on learning how to open them: http://www.youngcoconuts.com/open.html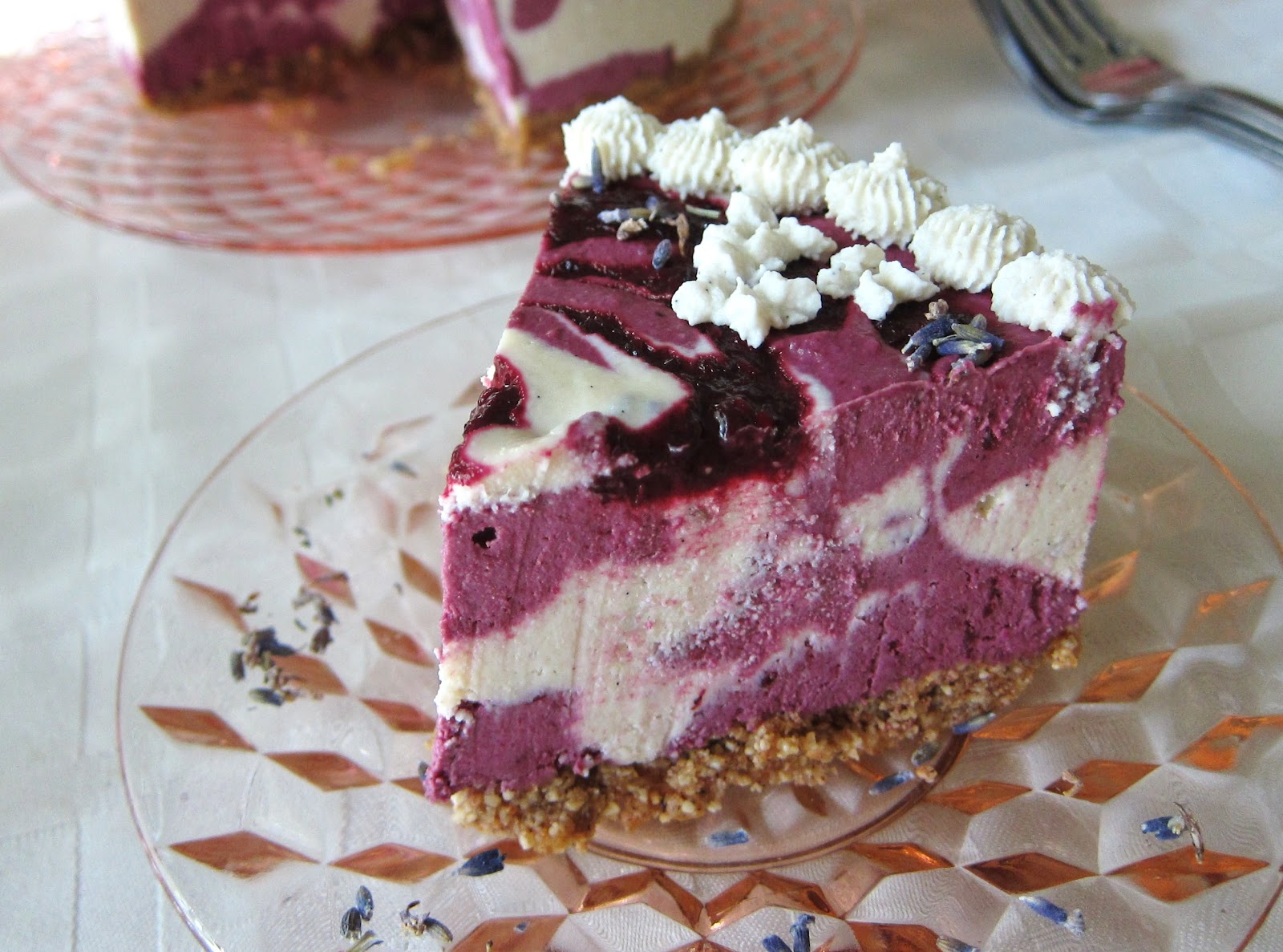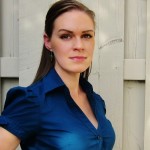 About the author: Amy lives in Minnesota and runs her blog Fragrant Vanilla Cake, which features mostly raw, vegan recipes. She especially likes creating cakes and desserts, but you'll find the occasional savoury dish too. Aside from her passion for creating new and delicious recipes, Amy also loves running and has a degree in studio art – her artistic mind is clear in the beautiful food creations she makes. You can visit her Facebook page, and follow her on Twitter.
Check out more of our vegan recipe inspiration, refined sugar-free recipes and gluten-free recipe ideas. For even more free-from recipes, grab a copy of the magazine!
Tags:
Cheesecake
,
Dairy-Free
,
Dairy-Free Dessert
,
Egg-Free
,
Gluten-Free
,
Gluten-Free Dessert
,
Paleo Dessert
,
Recipes
,
Sugar-Free Dessert
,
Vegan
,
Vegan and Gluten Free
,
Vegan Dessert
,
Vegetarian