Spicy Quinoa Burgers with Avocado Aioli
These quinoa burgers are nice and spicy (and can also be made gluten-free), and are complemented by the cooling avocado aioli.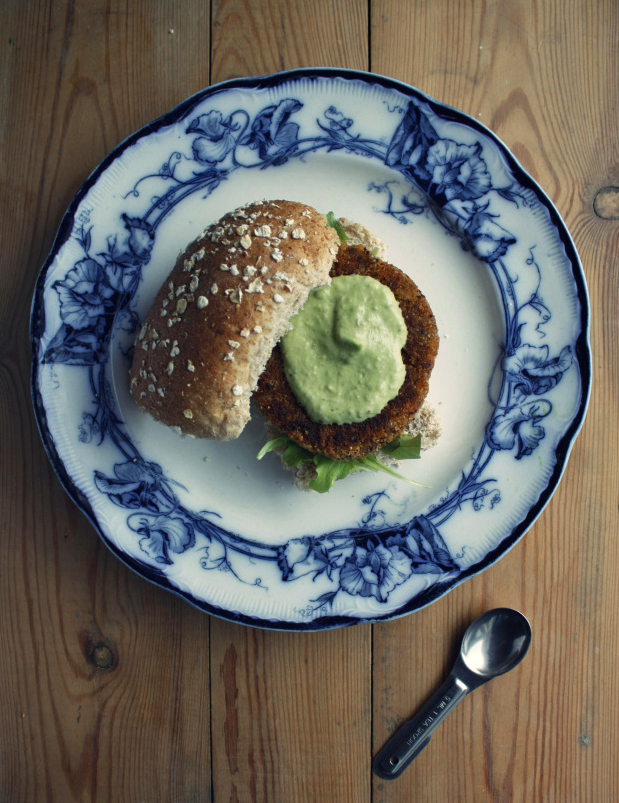 Spicy Quinoa Burgers with Avocado Aioli
By Alexander Willow-Harvey (www.invegetableswetrust.com)
Serves 4 | Prep 10 mins | Cook 30 mins |
DF EF V MF
Ingredients
1/2 cup quinoa
1 cup low sodium faux chicken broth (If gluten free, get gluten free broth)
2 tbsp ground flaxseed
2 tbsp water
1/2 onion, finely diced
2 cloves garlic, minced
1 tsp chopped red chilli
1/2 tbsp tomato paste
1 tsp sweet paprika
1/2 tsp cumin
1/2 cup plain flour (gram works well too)
Pinch o' sea salt
Fresh ground black pepper
1/4 cup golden breadcrumbs (can use gluten free breadcrumbs)
Oil for frying
For the aioli:
1/4 cup vegan mayo
the flesh from 1 ripe avocado
1 tbsp lemon juice
salt and fresh ground pepper
1 small clove of garlic
Method
Rinse the quinoa then chuck in a pan with the stock, bring to the boil then reduce to a simmer and cook for 20 minutes.
Mix the flaxseed with the water in a mixing bowl, drain the quinoa, then add this to the bowl as well.
Fry the onion in a little oil until translucent, add the garlic and chilli and fry until fragrant.
Add the spices and tomato paste to the pan, toss about for approx 1 minute and add to the mixing bowl.
Mix the contents of the bowl together with the flour, and a little salt and pepper, using a wooden spoon.
Using damp hands, shape into four burger patties, sprinkle a plate with bread crumbs and gently press the burger into the bread crumbs, flip and press in the over side to coat.
Fry the burgers in a little oil (chilli oil if you like hot food) and serve in a bun with the avocado aioli and a little lettuce.
To make the aioli, just blend the ingredients together in a food processor.
---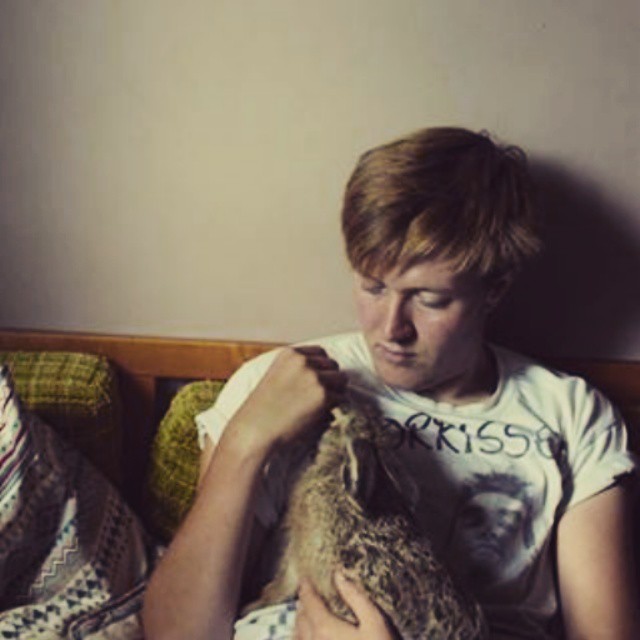 Alexander lives by the sea in England, and is the son of both a baker and a chef. Growing up, many of his happy memories were food related, but he never really explored cooking by himself until he became vegan. He wants to show people how to eat tasty, healthy and nutritious food, and how to make vegetables incredibly tasty! For more inspiring vegan recipes, please visit Alexander's website, www.invegetableswetrust.com.
Tags:
Avocado
,
Burgers
,
Dairy-Free Recipes
,
Egg-Free
,
Paleo Recipes
,
Vegan Recipes