Ultimate Vegan Pizza Recipe Round-Up
Pizza is the star of the fast-food world, and it's many people's go-to meal when they fancy a little slice of happiness on a Friday night. It's also the one dish that many people think that those on a vegan or dairy-free diet miss out on due to it's cheesey toppings. But as we all know, that couldn't be further from the truth! Feast your eyes on these awesome vegan pizza recipes, from margherita pizzas with melty vegan mozzarella to deep dish Chicago style pizza pies, and have yourself a deliciously dairy-free pizza party! 
A delicious pizza margherita, with homemade tomato sauce and homemade vegan mozzarella that is just as tasty as any non-vegan pizza you may have had. In fact, you can hardly even tell it's vegan (whatever that means!).

This 10-ingredient pizza is perfect for a late-summer dinner. The butternut squash sauce adds a colorful, savory-sweet base, while broccolini, chickpeas, and onion add texture, fiber, and protein. A healthy, plant-based meal the whole family will enjoy.

What if we told you this delicious, flavourful, spicy, cheezy, crispy-based pizza was only 180 calories, low in fat and 2 of your '5 a day'? Well, it is! The base is simply a low-fat tortilla wrap (you can buy low-fat shop-bought ones or make your own gluten-free ones). It's topped with spicy arrabiata sauce mixed with some nutritional yeast (optional, for a cheesey flavour), a selection of Mediterranean chopped veg and garlic, lightly fried with water or a low-cal olive oil spray and some fresh basil.

This vegan falafel pizza is made with spicy harissa-spiked tomato sauce, roasty-toasty onions and bell peppers, and creamy tahini sauce. Each slice is kind of like a little falafel sandwich, all bready with tahini sauce, veggies and falafel patties piled on top, but eating it with a fork, all sloppy pizza style, makes it super fun!

This beetroot pizza crust is thin and crumbly on the edges, and resembles a pie crust in both taste and texture. It goes amazingly well together with the creamy tomato sauce, marinated beetroot and almond feta. The creamy tomato sauce on top of this pizza is no ordinary tomato sauce. It's a blend of cashew cream with tomato purée and some spices, which gives this pizza so much depth of flavour!

This sun-dried tomato pizza with mustard veggies is the perfect, healthy way to indulge at the weekend, with none of the guilt!

Sweet potatoes were steamed, mashed, and mixed into the most delicious plant-based pizza crust imaginable for this delicious recipe! Simply top with homemade pizza sauce, vegan parmesan, artichokes, cherry tomatoes, and basil for a truly special meal!

Finally a vegan and gluten-free pizza that doesn't taste like cardboard! This easy BBQ chickpea pizza is loaded with layers of flavour and topped with a simple vegan ranch dressing you'll want to put on everything. Three cheers for pizza night!

This spelt-based pizza with spinach pesto and cashew cheese is the ultimate vegan comfort food. The delicious spinach pesto adds lots of flavour and vibrant colour, and you can of course customise your pizza with your favourite toppings.

This vegan pizza is made with a garlic-herb crust, simple tomato sauce, TONS of sauteed veggies and vegan parmesan cheese. With a thin crust, and tons of flavour, this tasty dish is ridiculously satisfying!

If a deep dish pizza  had a baby with a quiche, they would make this beauty! With an amazing sweet potato  crust filled with pizza tomato sauce, a 'ricotta' and kale filling, roasted Mediterranean veggies and a cheesy tahini sauce, this is one unique and tasty creation.


A quinoa crust pizza is topped with superseed pesto, arugula, cherry tomatoes, and pepitas. This pizza is clean, packed with flavor, and pretty to look at.

Not only is this pizza vegan, it's also gluten-free too, which means it can be enjoyed by all, no matter what your dietary requirements! And the fresh green pesto sauce makes this dish both comforting, but also light and summery at the same time. Yummy!

We love the hearty flavours from the super healthy and delicious toppings of spinach pesto with roast butternut squash, onions and rosemary in this tasty little pizza. And these chickpea flour bases would also be delicious with a more traditional tomato sauce and lots of veggies, other pesto combinations, hummus, fresh tomatoes and olives or mushrooms fried in olive oil and lots of garlic!


This tasty recipe swaps the french style pastry dough for my healthier whole grain alternative, but using the french style of toppings – In this way you still get the satisfaction of doughy pizzas – but you have the perfect marriage between healthy and tasty!

This vegan buffalo chickpea pizza with white garlic sauce and celery ranch dressing packs a ton of flavor and takes minutes to put together, so you'll be on your way to pizza-perfection in no time at all!

This little pizza is super tasty and satisfying and can be made in minutes.! The base is a protein packed gram flour flatbread base which is naturally gluten free as its made from chickpeas, which is topped with hummus, avocado for some good fats and just deliciousness, cherry tomatoes and some charred asparagus for a light, summery dish.

Pepperoni pizza seems to be consistently near the top of lists of people's favourite comfort foods. And it's understandable – take a crust, throw pepperoni and cheese on top, bake, done. So simple. However what can you do when you want it meatless and dairy-free? Having a good vegan cheese is one thing. The other is how to capture the pepperoni style? This recipe manages to do both of those perfectly…

This pizza's got it all: Pineapple added for sweetness. Carrots for colour. Bean sprouts for crunch. And, green onions for a hit of freshness. And the spicy peanut sauce makes this one irresistible dish!

What does this pizza taste like?  It tastes like Italian summer in your mouth!  Or at least what we imagine Italian summer tastes like.  The crunchy yet chewy crust topped with tomato sauce, thinly sliced tomatoes, vegan mozzarella and fresh from the garden basil pesto….mhmmm.  It is creamy, chewy, fresh, and most of all….delicious!

Italian meets Mexican in this spicy vegan pizza. With a homemade pizza crust, topped with mashed avocado, capsicum, onion, olives, tomato, kidney beans, chilli, and a hot chilli cheezy sauce, this pizza certainly packs a punch!

There's not many veggies we love more than roasted brussels sprouts.  Except for maybe roasted brussels sprouts on pizza! It's also a great way to show brussels sprout haters the light!

Amaranth flatbread with fig, sweet corn, shallot cream sauce, and a little basil for good measure! This is the perfect pizza to make on a warm summers evening, as it tastes even more delicious when cooked on a grill for that lovely, smokey flavour.

Fluffy whole wheat pizza dough, speckled with hemp and ground flax seeds makes up the base of this rustic earthy pizza. Topped with a rich, creamy, homemade lemon garlic cashew ricotta mingles with bold spicy green pesto sauce, humble sliced red tomato, some red pepper flakes, lemon slices, extra virgin olive oil and sliced shiitake mushrooms. This is one pizza-party you definitely don't want to miss!

25. Mediterranean Pumpkin Pizza by Healthier Steps
This Mediterranean pumpkin pizza captures the flavours of the Mediterranean, with a nob to delicious Autumn flavours too. With lots of fresh, juicy tomatoes, olives, artichoke hearts, pumpkin seed pesto, basil on top of a pumpkin flavoured quinoa crust, this pizza certainly packs a punch! 


This one is the ultimate fall pizza! A creamy pumpkin sauce makes the perfect base for this pizza, which is then topped with roasted zucchini, caramelized onions and sprinkled with fresh oregano. You won't miss the cheese at all because it's so creamy and delicious.

27. Garlic Alfredo Pizza by The Vegan 8
3 words. Garlic Alfredo pizza. This pizza is so easy to whip up! You can make it really fast by making the sauce the day before you want to make pizza. It's as simple as making a sauce and pizza crust and joining the two for an incredibly, delicious pizza. 


Is it pizza for breakfast or breakfast-topped pizza for lunch? No matter what it is.. it's amazing! This one's topped it with tofu scramble, mushrooms, veggie sausage, tomato sauce and vegan cheese shreds, so now you can enjoy your favourite meal at breakfast too!

29. Pepperoni White Bean Pizza by Strength and Sunshine

This pizza combines a few of our favorite things. Pepperoni-esque marinated roasted mushrooms and eggplant, olives, onions, white beans, and of course, the glorious red stuff.


30. Spicy Chipotle Pizza by Vegan Family Recipes

A mexican inspired veggie packed vegan pizza with a homemade whole wheat crust and a spicy chipotle sauce, which proves that vegan pizzas are anything but boring!


Bright colours, easy to make and reminiscent of those big pizza parties we enjoyed as teens. The base is crispy and has a wonderful bite to it. And it's loaded with veggies which makes it a super healthy party food for ANY time of the day. Win win!

This pizza is the last word in comfort food, and is perfect for when you can't decide whether you want to pig out on pizzas or tacos! With this tasty little recipe, you can indulge in both of your favourite take-away dishes in one tasty, healthier dish!

This cauliflower crust pizza is topped with healthy and delicious vegetables like roasted garlic, caramelized onions, fresh spinach and tomatoes. It's gluten free, dairy free and vegan, so go ahead and grab another slice!

This pizza has a fabulous Mexican flare, and is a topped with red enchilada sauce, a healthy dose of greens and fresh tomatoes, frozen corn, black olives, and everyones favourite fruit, avocados! Ay Caramba!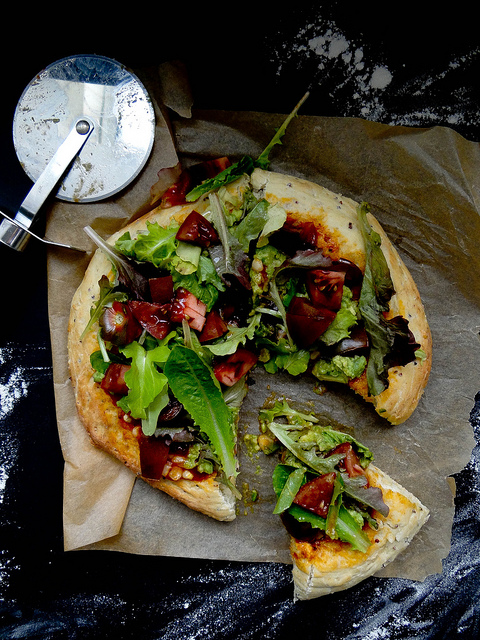 And if you're as big a fan of pizza as we are, then why not eat it for dessert too with this amazing sweet-dessert pizza recipe!
This tasty treat is kinda like a mega giant cookie… with benefits. And it can be made and ready to eat from scratch within 40 mins. Warm, gooey, comforting, sweet, delicious. Did we mention your house will smell AMAZING as it bakes?!

Comments
Tags:
Dairy-Free Dinner
,
Guides
,
Vegan
,
Vegan Diet
,
Vegan Dinner
,
Vegan Pizza
,
Vegan Recipes