These wickedly tasty vegan apple cinnamon cupcakes are made with applesauce and chopped apples which is a lovely combination when paired with cinnamon. Topped with caramel buttercream with a drizzle of caramel sauce and you've a rich, truly indulgent cake.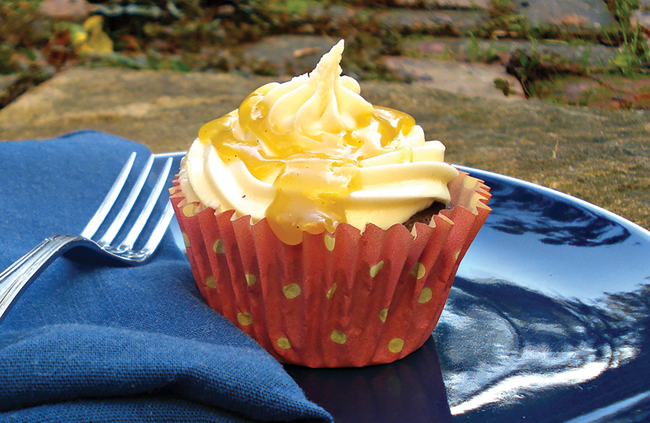 Vegan apple cinnamon cupcakes
By Ali White (www.allergymums.co.uk)    
Makes 12 | Prep 25 mins plus chilling | Cook 17-20 mins | Calories 346 (per cupcake)
Ingredients
6 tbsp dairy-free margarine
70g (2½oz) light brown sugar
1 tsp baking powder
1 tsp bicarbonate of soda
1½ tsp vanilla extract
1 tsp apple cider vinegar
225g (8oz) plain flour
60g (2oz) apple sauce
115ml (4fl oz) apple juice
½ tsp cinnamon
1 Bramely apple, finely chopped
For the buttercream frosting
115g (4oz) dairy-free margarine
300g (10½oz) icing sugar
55g (2oz) caramel sauce (see below)
For the caramel sauce – Makes 450g (1lb)
115g (4oz) dairy-free margarine
225g (8oz) caster sugar
300g (10fl oz) coconut cream
115g (4oz) golden syrup
½ tsp vanilla extract
Method
Preheat the oven to 170℃/Gas Mark 3. Line the holes of a 12-hole muffin tin with paper cases. Cream together the sugar and margarine until smooth. Sift in the flour, bicarbonate of soda, baking powder and cinnamon. Add the apple cider vinegar, vanilla, apple sauce and apple juice, then mix into a smooth batter. Stir in the chopped apples.
Fill the paper cases about two-thirds full with the mixture, then bake in the oven for 17-20 minutes, or until a skewer inserted into the centre comes out clean. Cool for 5 minutes in the tin, then transfer to a wire rack to cool completely.
For the caramel sauce, in a heavy-bottomed pan, heat the sugar, syrup and margarine over a medium heat. As the mixture starts to warm, stir to make sure nothing sticks to the bottom of the pan. Bring the mixture to a rolling boil, but make sure it doesn't boil over. The mixture will start to thicken (keep giving it a good stir). You need to keep an eye on the temperature to make sure it doesn't get too hot.  So check often. You should aim for 110℃/230

º

F to achieve a nice sauce. Remove from the heat and add the coconut cream and vanilla. Whisk, place back on the heat and bring back to the boil for 1-2 minutes. Take off the heat when you reach 110℃/230

º

F. If it's a bit thin, keep it on the heat for a minute or two more. Pour the sauce into a container to cool down.
For the frosting, beat the margarine until fluffy. Add the sugar, a cup at a time, and beat for a few minutes. You should have a lovely fluffy icing. Pipe the icing onto the cupcakes and drizzle with caramel sauce. Eat straight away.
TIP
You can store the excess caramel sauce in the fridge for future use – over dairy-free ice cream is delicious!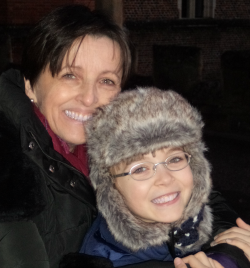 About the author: Ali White launched Allergy Mums to provide support and advice to Mum's (and Dad's!) dealing with allergies.  Her website is filled with practical support such as recipes, where to buy stuff, restaurant reviews as well as emotional support.