Vegan White Chocolate, Coffee and Macadamia Nut Blondies
Transform cannellini beans into not so naughty but very nice sweet treats with these vegan white chocolate, coffee and macadamia nut blondies.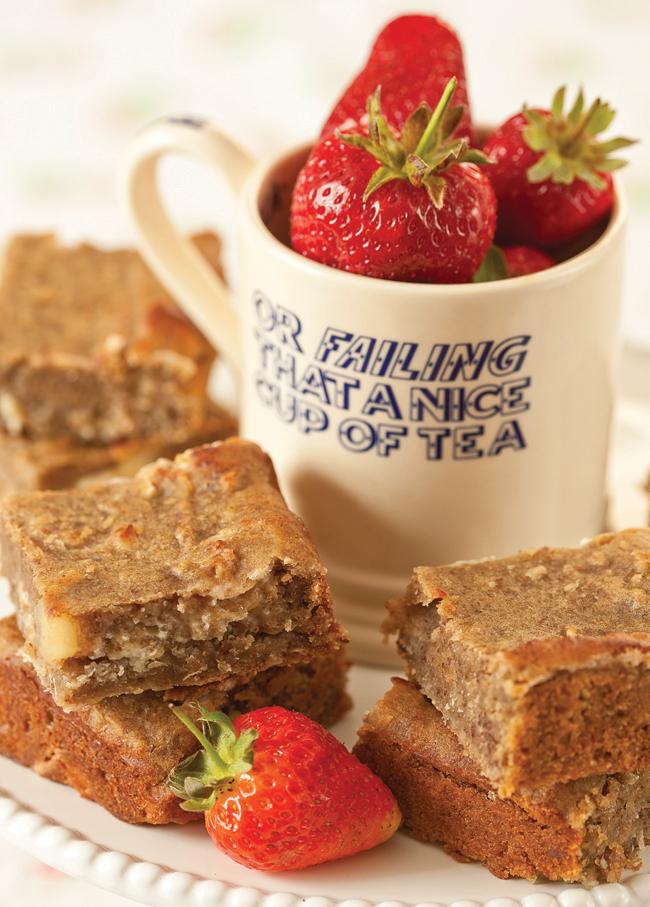 Vegan White Chocolate, Coffee and Macadamia Nut Blondies
Serves 16 | Prep 25 mins | Cook 35-40 mins |
GF DF EF V MF
Ingredients:
2x 225g can cannellini beans, drained and rinsed
100ml rapeseed oil
225g caster sugar
50ml agave syrup
100ml soya milk
1 tsp vanilla extract
1/2 tsp salt
3 tbsp golden flax seeds, milled
1 tbsp instant espresso coffee
125g plain flour
200g vegan white chocolate, broken into chunks
100g macadamia nuts
Method:
Preheat the oven to 170˚C/150˚C fan/gas mark 3. Grease and line the base and sides of a 23cm square baking tin with baking paper.
Blend the cannellini beans, rapeseed oil, sugar and agave syrup in a food processer until the mixture is smooth. Add the soya milk, vanilla extract, salt, milled flax seeds and instant espresso and blend until well combined.
Transfer the mixture into a large mixing bowl, add the flour and stir until fully incorporated. Fold in the white chocolate and macadamia nuts. Pour the mixture into the prepared baking tin and level the top.
Bake in the middle of the oven for approx 35-40 mins – the blondies stay light in colour so if you like a browned crust we recommend a short burst under the grill but keep an eye on them, you don't want to burn these pale beauties! Leave to cool completely in the tin then remove from the tin and cut into portions.
TIP:
* Blondies can be stored in an airtight container in the fridge for 3-4 days. You can warm them in a microwave or oven before serving.
* Vegan white chocolate is available in all good health food stores or online at www.veganstore.co.uk
Tags:
Brownies
,
Chocolate
,
Dairy-Free Dessert
,
Gluten-Free Dessert
,
Vegan and Gluten Free
,
Vegan Dessert
,
Vegan Diet
,
Vegan Recipes