In the kitchen with… Annelie Whitfield
Author, naturopath, herbalist, TV presenter and former stunt girl Annelie Whitfield shows us how living by an invigorating raw diet can be life changing…
A raw diet means something different to everyone as it has become another 'diet'. I choose to eat a diet that includes a great deal of raw fruit and vegetables that are seasonal and organic. I also like to include a good amount of sprouts, nuts, seeds, sea vegetable and fermented foods like Saukekraut, or drinks like Kombucha or Kefir.
What led you to the raw diet?
After I had my first baby I felt really tired with all the night time waking, so I decided to add more minerals to my diet to conquer all my deficiencies brought on by exhaustion – nutritionally dense raw foods did the trick.
What are the chief benefits you have found since going 'raw'?
There is no question that for me raw foods have  protected my skin from the sun and pretty much kept my body firm and youthful. I am renowned for my boundless energy.
What advice could you give those looking to go 'raw'?
Take it really slow and do not get caught up in the diet aspect of it all. It's all about bringing more nutrient-dense foods into your diet, not cutting out all cooked foods. The idea is to concentrate on adding the freshest and most organic seasonal produce available to where you live into your existing diet. Once you start to saturate your body with clean organic raw fruit, veggies, nuts, seeds and sea vegetables, you will then start to naturally ease off previously eaten foods as you will no longer want them.
The raw diet may be seen by some to be restrictive, is this the case?
Every kind of 'diet' is restrictive, however eating raw food should be about making it part of 'how you eat', not 'only what you eat'. I only ever recommend being restrictive with foods that no longer serve your health, like everything processed or commercial animal products.
In the 9-5 life of most of us, how easy is the diet to follow and are the ingredients easy to find?
Eating a mostly raw diet is pretty easy as long as you know what you like and how to prepare a selection of dishes. Making  chia puddings with fruit, nuts and nut milk for breakfast and a superfood salad with avocado and fruits for lunch is very easy. Just make sure you prepare everything the night before. It's a much cheaper and more delicious way to eat if you take these kinds of meals to work.
How do you find eating out at restaurants? Has it become more accessible over the years? 
Eating out at restaurants is always a challenge if you like to eat high vibration foods – it's not really about raw, but about finding a place that has conscious food. I will always choose a seasonal dish over an out-of-season salad plate, which will no doubt leave me feeling starving.
What changes would you like to see to the national food conscious?
I would like people to climb out of the 'diet dogma' and into 'eating in accordance with nature'. We need to improve a relationship with food and stop thinking about how it might make us look on the outside, but how it makes us feel on the inside. Food is there to nourish us – is this food going to keep us well or make us sick? Where did this food come from? How was it made? etc, etc… let's be more conscious about how we eat.
Nature has played a huge part in your life – where next?
Back to the UK I think – I love England and I would like to start growing my own food here, heading back to Costa Rica for 2 months of the year so I can eat papayas and drink coconut water every day!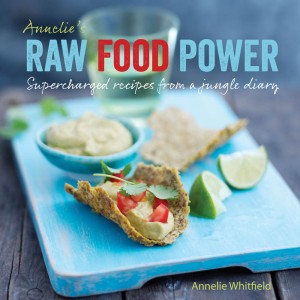 Annelie's Raw Food Power by Annelie Whitfield is published by Ivy Press. (RRP £12.99)
Tags:
Interviews