In the kitchen with…Deborah Thackeray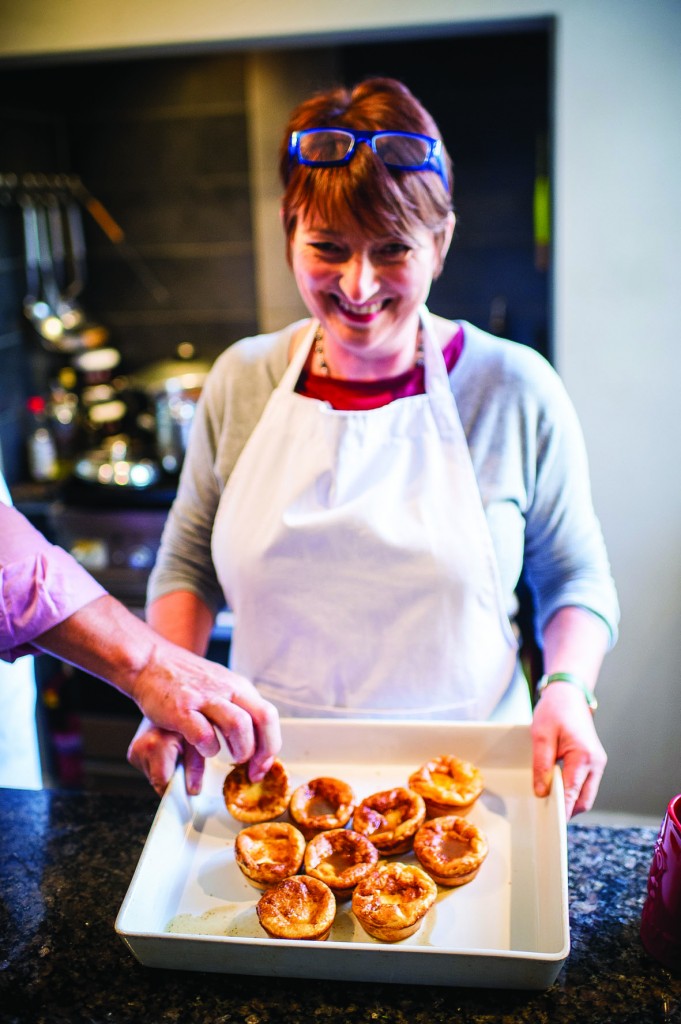 Nutritionist Deborah talks about why she took up the gluten-free diet and the courses and advice she offers to help others with gluten-free living.
Deborah Thackeray is a nutritionist, teacher and writer. She is particularly obsessed with gluten-free, but adores food in general. Her nutritional therapy practice is in North Yorkshire where she lives with her husband. She also has an allotment and grows her own fresh produce.
Why did you adopt a gluten-free diet?
I suspected that my husband was sensitive to gluten about three years ago. He was constantly exhausted and unwell so I tried a gluten-free diet for him. He was better within a couple of days. But about a year later, with worsening symptoms again, he was diagnosed with coeliac disease – he hadn't been quite careful enough to exclude gluten completely while travelling and was getting a small amount of cross  contamination. As he is so sensitive to gluten, it is safer for me to be on a gluten-free diet too, and I feel very well on it!
How was the transition initially?
It wasn't diffi cult. We have always made our own food, including bread, so there wasn't much that we couldn't have. I devised the best possible recipes for bread, pastry and cakes, so that there wasn't anything that Ian couldn't have. I even made my own Yorkshire curd tarts. But we didn't realise how careful he needed to be about cross contamination. He used to take his glutenfree bread to hotels and have it put it in their toaster – an easy way to get 'glutened'.
What advice can you give to someone new to the gluten-free diet?
Get a couple of good recipe books and be prepared to try again if your first attempt fails. Concentrate on the foods that are naturally gluten-free: vegetables, fish, meat and cheese. Find good rice noodles and pasta too, and learn from all the great bloggers out there – they really have excellent advice and ideas.
Do you do lots of experimenting?
Absolutely! My first few loaves of breadwere like bricks, but I kept on trying. Once I really understood the properties of the individual gluten-free flours – rice flour, tapioca flour, teff flour, and so on – I could devise the blends that were best suited to breads or cakes or pastry. Now when I try something for the first time, I start by adapting an old recipe and probably do three or four versions, tweaking each time before I am really happy with it.
How hard is it to shop or eat out on the diet? Is it getting any better?
It is getting much better – all the supermarkets have 'Free From' sections, with a great variety of items. But you often end up having to go to two or three supermarkets to get everything that you want. Also, much of the commercially available gluten-free products can be a bit nutrient poor and high in sugar and additives. They are often not very 'natural', so you wouldn't want to eat too much of them. We find that most restaurants can cater quite easily for a coeliac if you let them know and it is rare now to find a problem with eating out.
What are your tips for gluten-free cooking? Like-for-like substitutes or completely new dishes?
Definitely completely new dishes – just converting original recipes is very hit and miss. Gluten-free fl our is so different and you often need more liquid, more egg and some kind of stabiliser.
What dishes should you avoid attempting to make?
I haven't tried yet to make gluten-free pasta or filo pastry, but I believe they are possible.
What are your essential ingredients?
Doves Farm gluten-free fl our blends, cornflour, teff flour, tapioca flour and xanthan or guar gum are always on my list.
What are your guilty pleasures?
Decent gluten-free 70% dark chocolate and my home-made gluten-free cinnamon buns.
How do your courses work and what can we learn from them?
I aim to empower people. They should leave the course able to make all the basics– bread, cakes, pastry, scones – and have an understanding of the individual flours and how you can blend them. For many people, they have had a few failures and have got scared of trying so I give them back their confidence. Others are so recently diagnosed that they just feel lost in their own kitchen. The courses are great fun, too.

To find out more about Deborah visit the Gluten-Free Baking and Living website, or head over to Facebook and Twitter.
Comments
Tags:
Gluten-Free
,
Interviews