Since launching their first Free-From store in Chester, Holland and Barrett have plenty more planned for the future. We chatted to them to find out all about it…

What were the driving factors for H&B to launch its Free-From store in Chester? 
One of the main drivers for the new Free From proposition was the personal experience of CEO Peter Aldis and fellow Board Director Emma Cockerill, Free From project lead and Director of Sales and Procurement. Both have young children with food allergies. Peter has learned how to cope with a young son with a nut allergy, and Emma discovered her young daughter was allergic to dairy, soya and nut allergies when she went into an anaphylactic shock at just a few months old. 
Emma comments: "The Free From launch is incredibly important to me personally but also to Holland & Barrett as a health food business. I've seen first-hand how serious an allergic reaction can be and I know how difficult it is to cater every day for an allergy diet. Our goal at Holland & Barrett is not only to ensure that everyone around the country has quick and easy access to a wide range of Free From food, but as a leading health food retailer, we also see it as our duty to support the allergy and intolerance community and make sure they have access to as much resource as they need."
CEO Peter Aldis added: "I am one of the two directors on our board that have children with diagnosed complex food allergies, and we have first-hand experience not only of the worry this causes parents, but the very real practical challenges involved in day to day shopping to make sure the food we put on our plates is safe for our children to eat. In addition the speed of growth of Free From has seen it transform from what was once regarded as a nutritional niche into a mainstream shopping option. We already have more high street stores than many of the big supermarkets, and the 50 new concept stores we have planned for the next two years will help ensure we can deliver against our ambition to become the largest Free From retailer in the UK."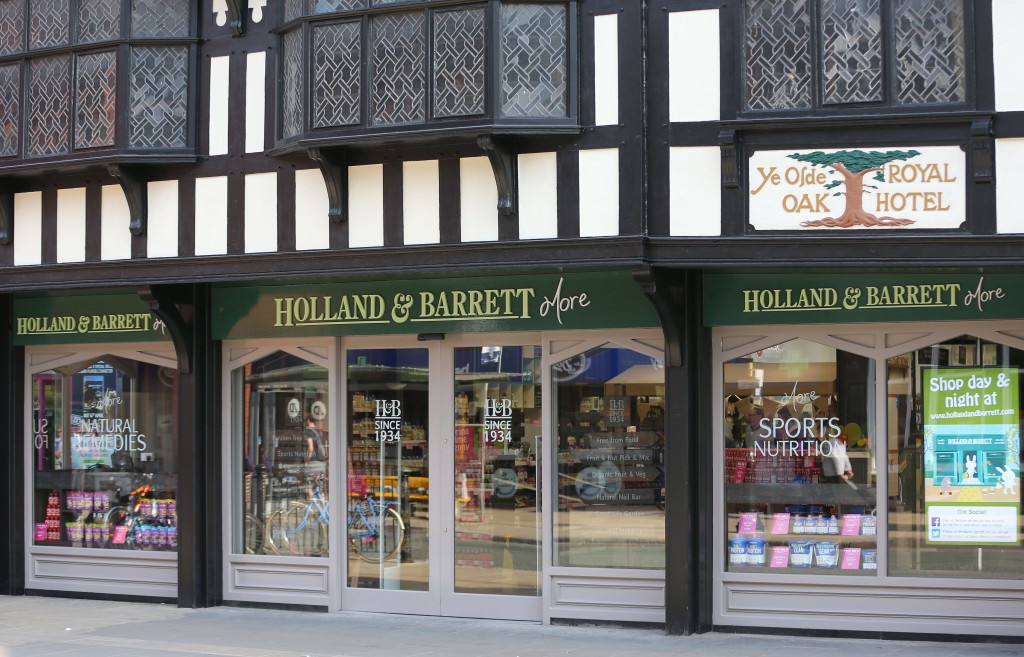 What has the initial response been like to the store?
On the day of the launch, Holland & Barrett hosted a big Free From tea party on Chester high street, to show local residents how great Free-From food tasted and how much choice was available. There was a fantastic buzz around the store on the day and feedback was extremely positive with many people trying Free From foods for the very first time and were very impressed. For allergy sufferers, they were excited to see such a wide range of Free From foods available on their doorstep and also available to order online.
Are there others planned?
Holland & Barrett More is the UK's first concept store with a dedicated Free From food section, offering customers with allergies and intolerance over 700 Free From food products in store and over 1,000 products online (and 3,000 by the end of the year). Holland & Barrett aims to become the UK's largest Free From retailer with its launch of the largest Free From food range available in the UK. The new concept store in Chester will be the first of 50 new Holland & Barrett More stores planned for the next 2 years.
Holland & Barrett's new Free From proposition will help those with food allergies and intolerances access in one place the widest choice of Free From products at competitive prices, with in-store and home delivery options making their shopping experience considerably easier. Customers ordering on the website will be able to search, filter and order by allergen as well as food category.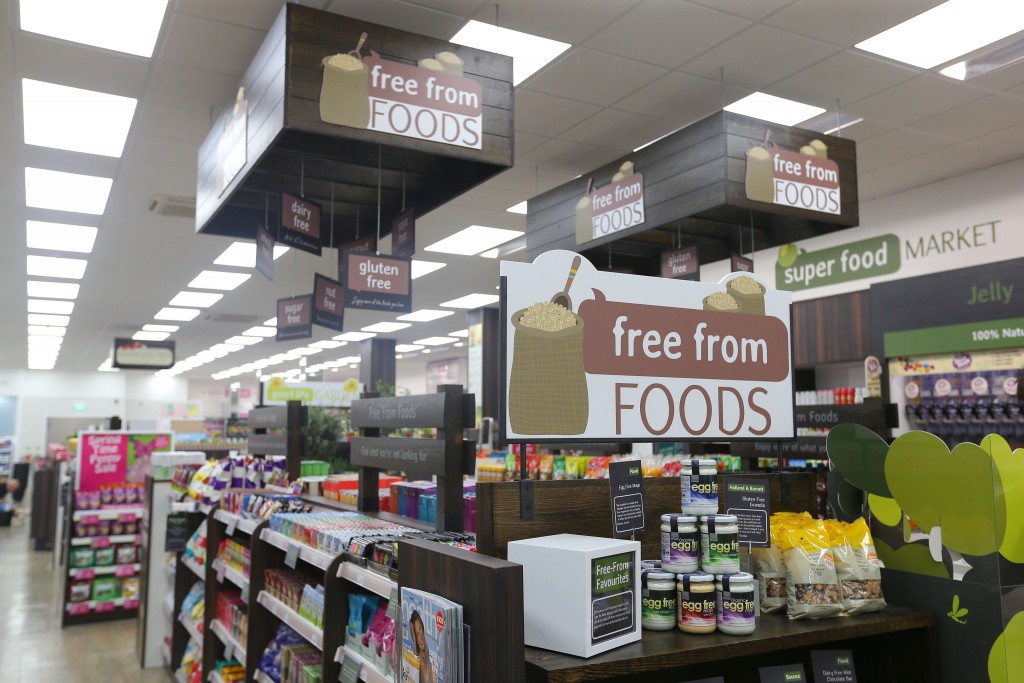 Where are the 3,000 free-from products mostly sourced from? Are they mostly established producers?
The Free From are sourced from all over the country and many are from niche suppliers with personal stories of their own Free From journeys.
Is this a market that H&B envisages is going to continue to grow?
According to Mintel, the UK Free From category continues to show impressive growth, with market values doubling from 2009 to reach £365million in 2014, and forecast to grow by a further 50% by 2019 (to £550 million). One in 10 new food products launched in 2104 were gluten-free, nearly double what it was two years ago. 
Peter Aldis added: "With our heritage and market positioning, this is a natural territory for Holland & Barrett to lead. We are seeing a significant change in consumer trends in this market alongside an explosion of new Free From products, with many of those on our shelves being produced by small British businesses."
A 2014 You Gov survey found that 1 in 5 people in the UK consider themselves to have a food allergy or intolerance, up 5% since a previous survey in 2011.  Some 15% of UK households are avoiding gluten and wheat – more than half on grounds of healthier choice.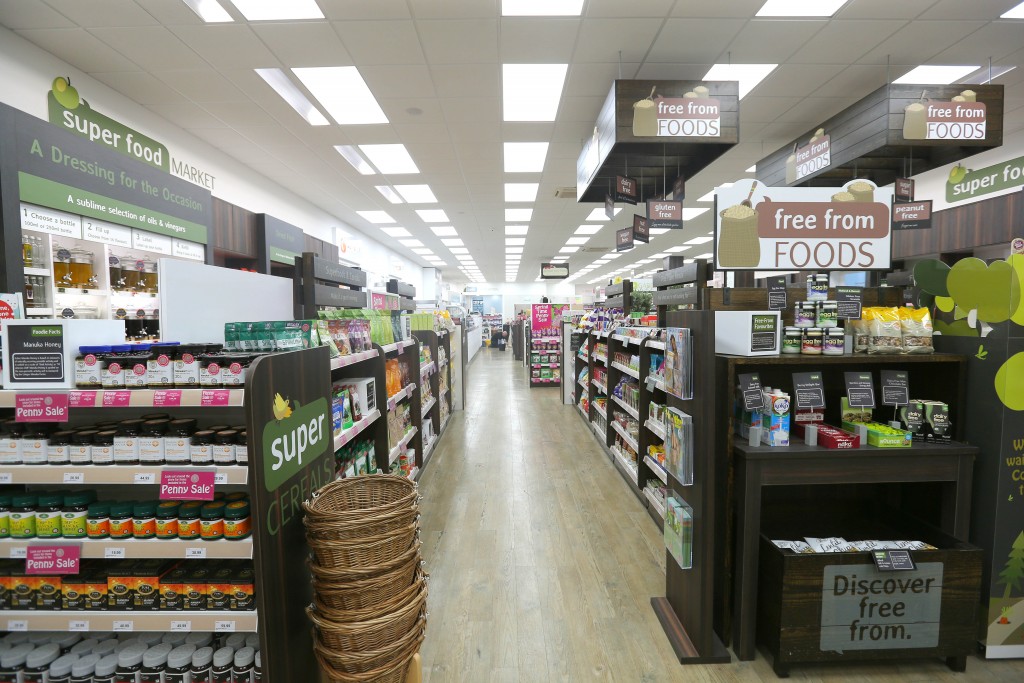 How much information is there out there for the free-from sector? How can the awareness increase?
As part of the Free From launch, Holland & Barrett is partnering with national charity Allergy UK. An estimated 21 million people in Britain suffer from an allergy at some point in their life, yet there is a distinct lack of resources and limited access to specialists across Britain. Allergy UK is focused on campaigning to ensure allergy is not a forgotten disease, as cases continue to rise 5% year on year with half of all affected being children. The leading medical charity provides advice, information and support to people with allergies and food intolerance.
New research from Holland & Barrett also shows that although 53% of the population knows someone living with a food-related allergy or intolerance, 35% of people think sufferers make an unnecessary fuss over food allergy, 61% don't view food intolerance as a serious condition and 24% have no empathy with those with a food allergy or intolerance.
Lindsey McManus, Deputy CEO of Allergy UK says: "A third of households are now affected by food allergy or intolerance, and it is well known that some allergies can be fatal.  What this new research shows is that the public fail to appreciate the much broader extent of food allergy and intolerance, and the impact the conditions have on the lives of sufferers and their families. Our helpline advisors provide much-needed support and information to people trying to manage their conditions, and the demand for our help is rising as our genetics, our living environment, our diets and some of the foods we eat are contributing to noticeable rises year on year in the number of people seeking advice and support"

You can check out some of our free-from tips and free-from guides for information on going gluten-free, starting a vegan diet, baking tips and more. 
Are you excited about the new Holland and Barrett Free-From expansion? Have you visited the new Chester store? We'd love to know what you think! Let us know in the comments or send us a tweet.