Laura Southern is a leading London-based Nutritional Therapist, and a nutritionist for Gosh!. She gained her dipION in Nutritional Therapy after four years training at the renowned Institute for Optimum Nutrition. After nearly a decade working in television production, Laura decided to embark on a career change, one that would combine her love of working with people, helping others and food.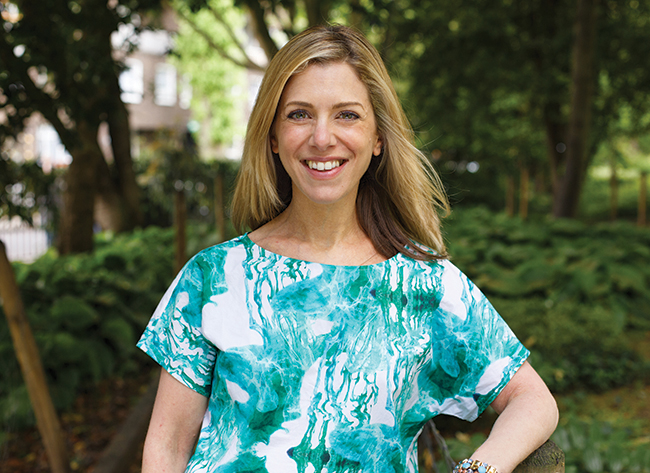 Q What's your free-from Story?
It started as a teenager. I've suffered from severe eczema all my life and I tried all the conventional medicine and a host of alternative therapies to try and cure it.
I went to a nutritionist in my late teens, who got me to remove certain foods from my diet, and that was my light bulb moment! As well as having a profound impact on my skin, it also sparked my interest in nutrition. My eczema is now almost gone, and I control it with food, although I'm only free-from one food now – surprisingly chocolate!
My two young sons have various food allergies and intolerances between them – one has no gluten, and one no dairy or eggs.
Q What's it like being a nutritionist at Gosh!?
It's great! I'm passionate about the products and developments in the range, and it's such a fun, varied role with so many things to do. I get to assist with new product development, create recipe ideas, attend meetings with retailers, devise content for media, and also appear in the Gosh! videos. The team at Gosh! are really inspiring, and I feel very lucky to be working with the brand at such an exciting time.
Q Is there more pressure creating a free-from product?
There is pressure because at Gosh! we're passionate about two things – health and taste. As we are all aware, often with free-from products the two don't always go hand in hand!
So many products are about taking things out, then adding things back in to make them taste, look or feel a particular way, usually to replicate non-free-from food. Too often this means they are full of sugar and/or additives, and therefore lack the nutrition you need.
At Gosh! we start the other way round; we start with ingredients that occur in nature and are therefore 'naturally' free-from – we don't need to take things out, because they're not there in the first place!
Q What makes Gosh! stand out and sing?
Not only is the range free-from the 14 main allergens, but it tastes deliciously different, so it's offering people something completely new.
Q Is it becoming easier being free-from in the UK?
I think it is, but it does depend on what you want to be free-from. For a long time supermarkets have sold gluten-free alternatives for the staples like bread, pasta etc, and now they are increasing their frozen food offerings, along with some ready meals. There is also now a wide variety of dairy substitutes on the market, and not just soya-based, which they once were.
Supermarkets are recognising that the free-from sector is growing at a huge rate, making their free-from shelves much more attractive, stocking wider varieties, and not hiding them away in the corner of the store somewhere, which is how it was up until fairly recently. And for free-from customers dining out, many chain restaurants have also upped their game, so it's now possible to eat out with family and friends who aren't on a restricted diet. So things are improving all the time.
Eventually myself and the team at Gosh!  would like to see free-from as part of the mainstream and not a separate food category.
Q What more can we do to make it even better?
Having said all of the above, I still think there's a long way to go. So many of the free-from offerings in the supermarkets are all about alternatives for cakes and biscuits and are usually crazily high in sugar and additives, so not something to be viewed as a 'staple' as the supermarkets seem to market them. There is a definite focus on alternatives – you can get gluten-free pizzas and fish fingers now, but there is still not enough focus on health and nutrition.
There are all sorts of products which are marketed as 'free-from', often they're only free-from just one or two allergens. For example, a gluten-free bread will contain eggs, or a dairy free-cake will contain soya. We know that many people have numerous allergies or intolerances, so none of these foods would be suitable for them. This is why Gosh! was created, as an inclusive range for all.
There is still so much more to learn. Restaurant owners might be getting better at providing alternative menu items, but staff still need training to fully understand the importance of the issue.
Q What's next?
Sales of Gosh! are exceeding expectations since the launch in May. The great news is that alongside being available at Tesco, Gosh! will be available at Morrisons nationwide from mid-September, and will continue to launch into other retailers.
I am working on product development, which is super exciting, as well as reviewing the great feedback and suggestions we are receiving from Gosh! customers that are contacting us on Facebook and Instagram. It's a really exciting time for Gosh! and a very exciting sector to be a part of!
For more information, visit www.goshfreefrom.co.uk