Take on a sugar-free challenge this January with the latest issue of Free-From Heaven…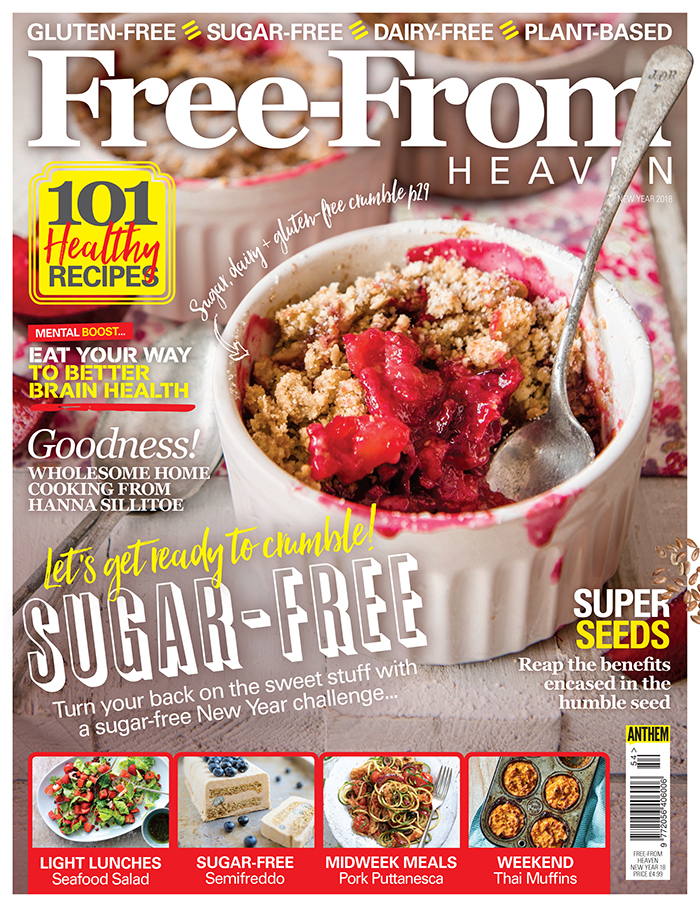 Welcome to the New Year issue of Free-From Heaven, full as always with 101 new seasonal recipes, features, news, interviews, expert advice, nutrition and the latest products. It's often important at the start of a year to set the tone, so this edition we are helping your sweet cravings with almost 100 refined sugar-free recipes to keep you healthy and satisfied.
We also look at how to eat your way to better brain health, look at what is the best diet plan for you put Juvela Gluten-Free in the spotlight, and discover the nutritional power of the humble seed.
Recipe wise, we go soup crazy, enjoy light lunches, weekend treats, magic breakfasts, midweek meals and much more.
Happy New Year everyone!
Pick up your copy of Free-From Heaven at WH Smith, Tesco Asda, Sainsbury's, Morrisons, Waitrose, Marks & Spencer, as well as Hobbycraft and independent newsagents, or order online from us here. You can also download the digital edition here.
Don't forget to visit our social media pages to get involved with your free-from community on Facebook, Twitter, Pinterest and Instagram to join in on all the gossip…