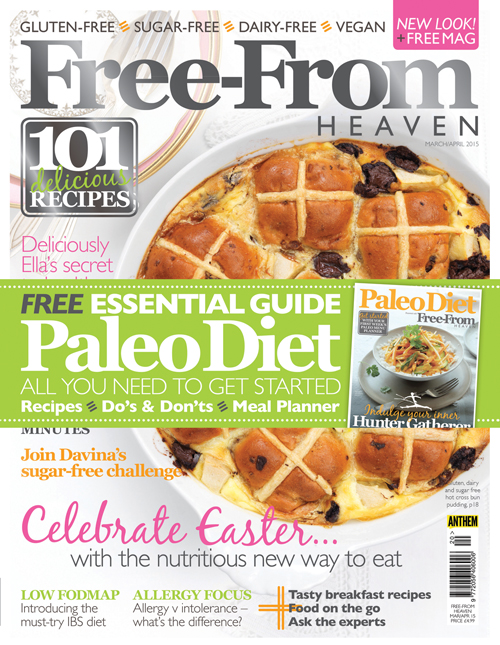 The March/April 2015 issue of Free-From Heaven is the first featuring our all-new design, and is packed full of more than 100 exciting and new free-from recipes.
We have listened to you, our readers, and have introduced several new features that we are sure will make your day. Firstly, we have fielded several requests to include nutritional information for each of our recipes and have now added that facility, complete with traffic light guides to daily recommended values. As well as extra recipes and a new in season spread, we have also included a Q&A section with respected free-from experts, take a look at Davina Mccall's new book Five Weeks To Sugar Free, talk to inspiring chef and author Ella Woodward, receive some top tips from chef Pete Evans and also discover the difference between allergy and intolerance with Allergy Uk's Maureen Jenkins.
Included this month is a free 24-page Paleo supplement, complete with meal planner, information and of course delicious recipes!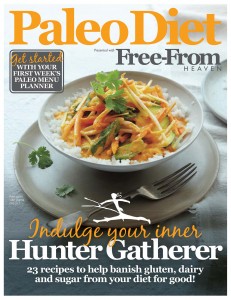 From analysing our reader survey results (please feel free to give us your feedback as well), we have kept with our regular recipe sections but, as is the time of year, we've added in a bumper Easter collection of dishes as well: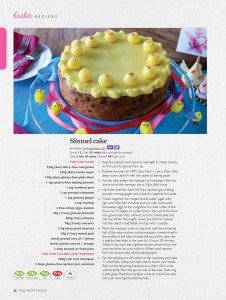 Easter – Whether you are hosting friends and family for a slap-up banquet, or simply keeping it quiet with just one or two of you, Easter brings to the table the promise of spring and the joys this season entails. Lamb, salmon, fresh vegetables, Simnel cake (see photo above), and hot cross buns – there is something here for everyone.
Breakfast – They say it's the most important meal of the day, so get your 16-hour stint off to the perfect start with a healthy boost to your system.
Lunchtime –  Give yourself a midday boot with a nutritional meal on the go. Why not try baked chickpea pancakes, a Mediterranean savoury tart, a spring pizza with a cauliflower base, or a delicious sweetcorn and sun-dried tomato muffin?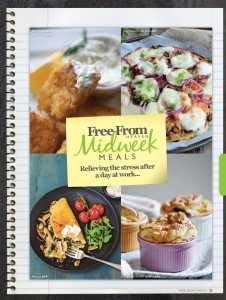 Midweek Meals – It's never easy juggling work, children, chores and other daily duties, let alone having to find time to think up and prepare a sumptuous evening meal, but these recipes take the hassle away from you and provide some sizzling options to satisfy those cravings.
Weekend Recipes – The fun starts here! Delight your loved ones with some simple and yet fantastic free-from dishes that cannot fail to impress – the chicken and red lentil curry is a firm favourite in our household!
Baking Recipes – This bumper section includes trusted family favourites, treats from around the world, simple delights, decadent puddings, indulgent desserts, chocolate galore and sensational sweetness. Need we say more!
Bread Recipes – Of course, baking would not be baking without the smell of a freshly baked loaf of bread in the kitchen. Here we offer up a selection of interesting and wholesome options for you to try.
We also explore the latest free-from goodies on the market, take a close look at energy and goodness bars, keep abreast of all that's going on, including free-from events, new openings, awards and products. Find all this and more in our latest edition of Free-From Heaven. Pick up your copy of Free-From Heaven at Asda, Morrisons, Sainsbury's, Tesco, Tesco Extra, Waitrose, WHSmith and Easons, or order online from us here.
Or get the digital edition with our iTunes App or desktop/Android version here.
Let us know what you think of this issue – head over to the Free-From Heaven Facebook page and  join us for free-from chat, competitions, giveaways and much more. Enjoy!