SPRING SALE – get two years for the price of 1 year!
Finally spring has sprung! We are offering a fantastic deal this spring where you can get a two year subscription to our magazine for the price of one year. Don't miss out on this huge 50% saving off the shop price!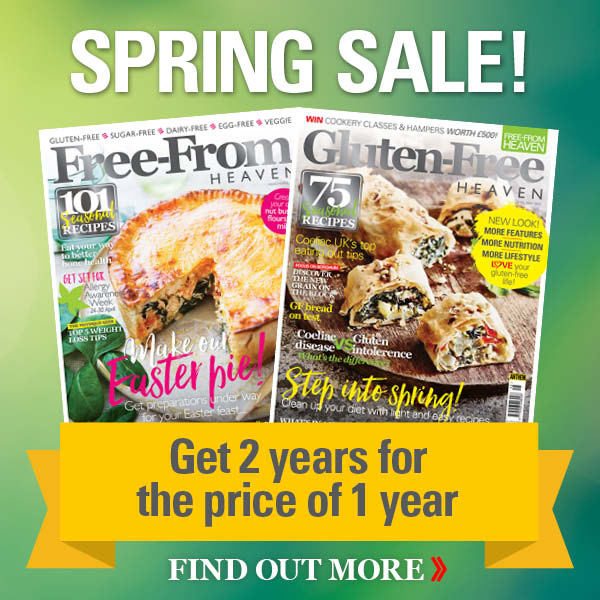 If you fancy subscribing longer-term, you can get two years' worth of the magazine, that's 24 issues, at 50% off the cover price wherever you are in the world. Click here for prices.
Why subscribe to magazine?
This is not just a UK offer! 
You can now pay for your magazine subscription in Euros, US Dollars and Australian Dollars and still get this great 50% saving. Just follow the links below and select your country from the drop down menu.
Subscribe and save today!
Follow this link for USA orders, or click here for UK & Rest of World orders.

**************************************************************************************
Get the Free-From Heaven app!
We also have a fantastic app where you can download the latest issue of Free-From Heaven or Gluten-Free Heaven, or subscribe to the digital edition.
Single issues for £3.99
Subscribers save 27% on the single issue price
Every issue direct to your device the day it goes on sale in the UK
Read your magazines on virtually any device at any time – your subscription will allow you to read your magazines, on your iPad, iPhone, Android device, Kindle Fire, PC and on Windows 8
Go to your App store and search for Free-From Heaven or Gluten-Free Heaven, or go to Pocketmags to order now!
Tags:
Magazine