Free-from chocolate brand NOMO launches in the UK!
Gluten-free, dairy-free, egg-free and nut-free chocolate brand NOMO have landed on UK shores and we're already obsessed with their sweet treats!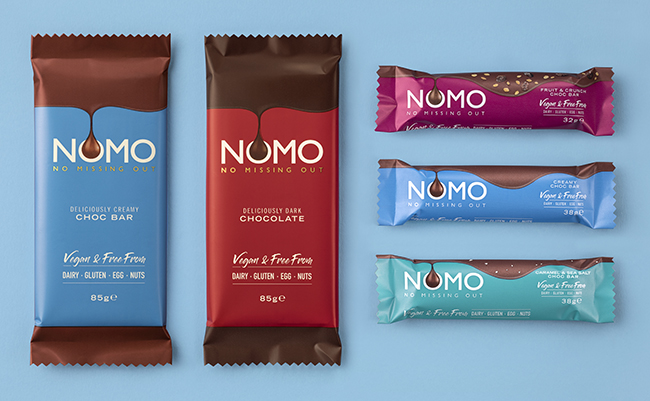 NOMO, who hold the appropriate tagline of 'No Missing Out' that's music to the ears of those of us with food allergies, have brought their range of free-from vegan chocolate to the UK.
Over at Gluten-Free Heaven HQ there's been quite the buzz surrounding these tasty treats – we just can't get enough of them! Perhaps the only disadvantage of the arrival of NOMO on UK shores will be our rapidly increasing waistlines…
Their delicious chocolate is gluten-free, dairy-free, egg-free and nut-free, in an effort to stop food-allergy sufferers from being excluded from enjoying luxury treats.
Four different flavours are now available in Tesco and Holland & Barrett: choose from Creamy Choc, Fruit and Crunch, Caramel and Sea Salt, and Dark. We're big fans of the Fruit and Crunch and Caramel and Sea Salt flavours, though the Creamy Choc and Dark bars are impressively indulgent and milky, too.
NOMO is the brainchild of chocolate-centred brand Kinnerton, who primarily gear their products towards children. The development of NOMO offers them the opportunity to connect with a brand new audience – the free-from community.
Crafted from sustainably-sourced, quality cocoa through expert chocolate production methods in a rural Norfolk factory by a group of dedicated chocolatiers, you can be assured that this chocolate is held to the highest standards.
We only hope that NOMO continues to grow as a brand and further encourages the current boom in the free-from marketplace so that we can safely we're not missing out!
You can find NOMO in Tesco and Holland & Barrett – check websites for current prices.
Tags:
Chocolate
,
Dairy-Free
,
Dairy-Free Diet
,
Gluten-Free
,
Products
,
Vegan