Individuals wanted for Channel 4 health series presented by Davina McCall…
7Wonder Productions are looking for people to take part in a brand new Channel 4 health programme – presented by Davina McCall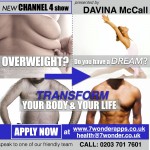 Do you or anyone you know suffer from 
CHRONIC SKIN CONDITIONS
 such as 
PSORIASIS, 
a 
severe ALLERGY or a SLEEP PROBLEM 
that
 affects your everyday life? – 7Wonder Productions can help

Does the condition 
stop you living life
 to the full? Do you feel 
trapped in your body
 and need the 
right medical help
 to get it under control?

Do you have a 
positive attitude and burning ambition
 to achieve an impossible goal, but your body is letting you down?
In each episode, the programme will follow one person's emotional and physical transformation and help raise awareness of either 
psoriasis, severe allergies or sleep problems. The programme
 works with the leading specialists within that field and e
ach episode will follow the medical treatment of a single contributor, whose life has been blighted by one of the above conditions.
Each week the main central story will build to a huge personal challenge for the main contributor. This will test them both physically and mentally, a tailor-made scenario that will push the body to the limit and showcase the medical work that has underpinned their remarkable transformation. 
If you want to get your condition under control and 
transform your life,
 the UK's top health experts and specialists are at hand – get in touch NOW!