Jo's Free-From Dinner Party #2
Recently diagnosed Coeliac and newbie blogger Jo Knowles
is on a mission not to let her gluten and dairy-free diagnosis rule her eating habits, here she shares her experience of hosting her first ever Free From dinner parties. This week she hosts her second party, let's see how it goes…
Round 2. Must stop saying sorry….
Hot on the heels of my first party, I wanted to see if I could replicate its success (and also prove to myself that it wasn't just a fluke or my overly zealous friends giving me large portions of unnecessary compliments. Or both)
And so began the decision making for the all important menu. A recent purchase has been 'Gluten Free Baking' by Michael McCamley and boy, oh boy, are the recipes delicious and relatively simple too. A quick peruse through my old cookbooks and magazines meant I stumbled upon an old favourite of mine, a leg of lamb, which is naturally gluten free. It needed to be prepared in advance, which to me, is a sure-fire winner.
And thus began the menu choice for my second party;
Tian of Salmon & avocado (my own creation)
Roasted leg of lamb with potato dauphinoise, sautéed cabbage and carrots (courtesy of Waitrose Weekend magazine)
Rhubarb and blackberry crumble (Michael McCamley)
A quick trip to my allotment the day before allowed me to gather my all-important herbs for the taste factor. Then I was up with the lark to get my lamb in the oven. In half an hour, I had seared the meat, sautéed off the onions and garlic with my prized herbs and filled my casserole dish with lashings of wine; and popped the whole thing in the oven on a low heat. Then onto preparing the potato dish, with the husband on potato slicing duty (freshly coloured nails, you see. Preparation of the hostess is equally as important as the meal itself) Now I'm not sold on the whole dairy-free alternatives in general, but actually I have a real penchant for Alpro Soya Cream. It tastes, cooks and behaves just like 'normal' cream, but with less fat. Yes ladies, you did hear that correctly. A win-win situation. So once my potatoes were lathered in cream and garlic, they were covered with tinfoil (to prevent a greying of the potatoes) and popped in the fridge.
The dessert was even more convenient, as that could be prepared the day before. It was a new concept to me to oven cook the rhubarb rather than stew it. Top tip – oven cooking it helps retain its shape and keeps the moisture locked in. No soggy 'school-dinner like' rhubarb on offer here. And leave the blackberries raw until cooking time. The result is a burst of fruit flavours that still resemble their original form; ensuring a taste explosion for the eye and the stomach. The topping was simply a mix of gluten-free flour, sugar and flaked almonds to give it some crunch and some butter. Yes, there was butter used in the topping; which is simply a no-no for me; but it needed it for the consistency of the crumble and without it, I feel it wouldn't have kept its shape. I am sure there are alternatives to butter; but as yet, I haven't found one that matches it with taste. But if dairy-free; then simply omit the topping and serve with lashings of the soya cream – still delicious.
And so the guests arrived and the starters were served; accompanied with some rather delightful and newly discovered DS gluten free and dairy free herb crackers.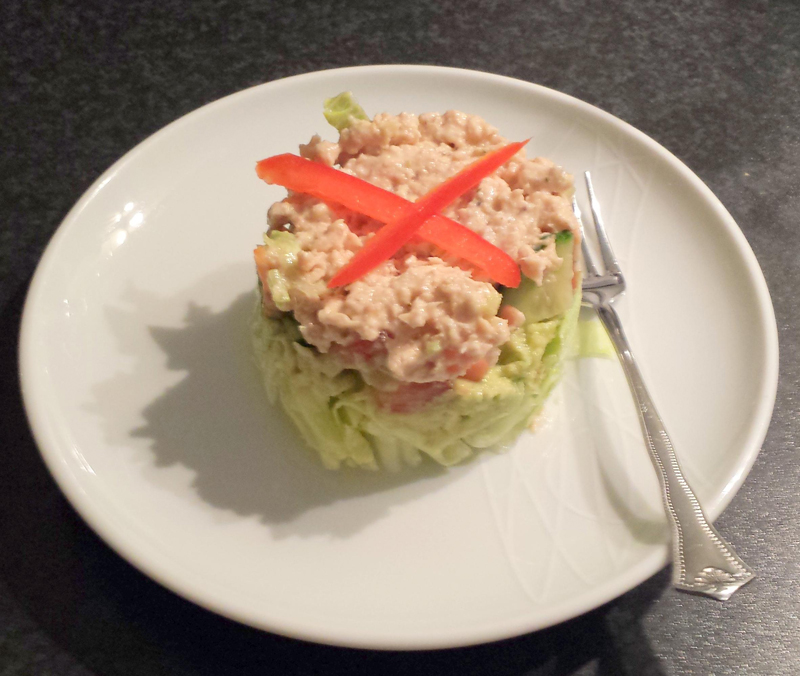 However, before they had even lifted their fish fork to their mouths; I began with the apologies. 'Sorry' for the lack of cheese in a starter; 'sorry' we can't serve it with crunchy bruschetta; 'Sorry' I have 'only' used gluten-free mayonnaise with the salmon. I was silenced pretty quickly and left with empty plates within a few minutes; our guests hungry for the main.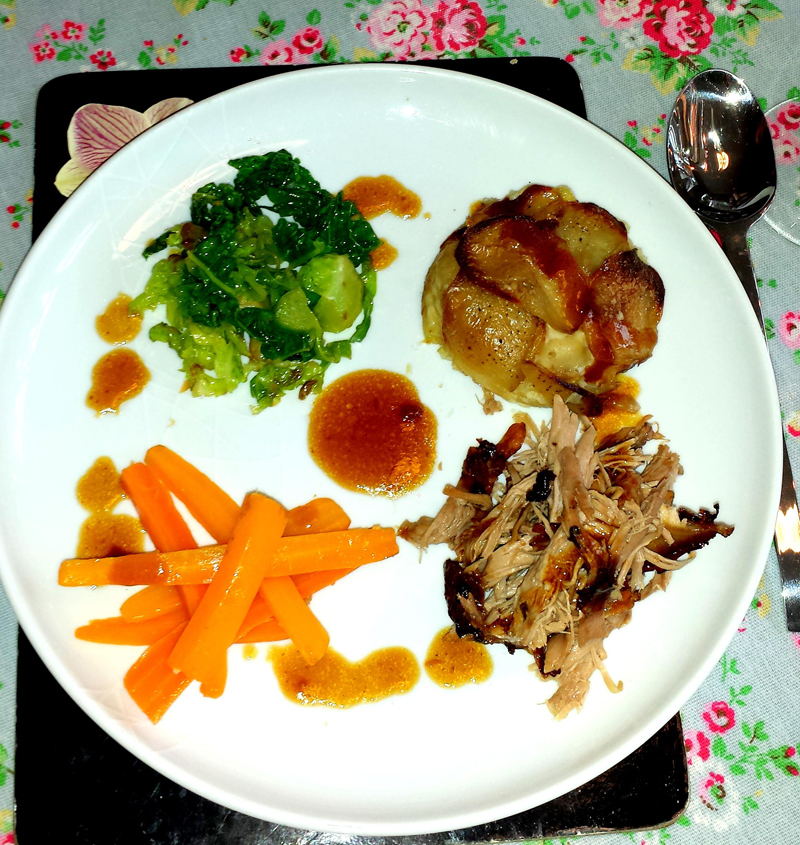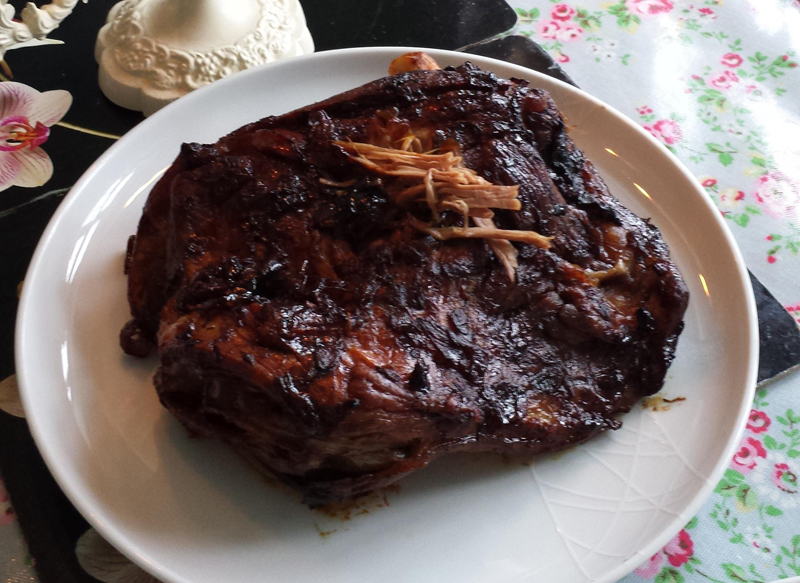 The lamb; after slow roasting for almost twelve hours was, even if I say so myself, a real success. It had a glazed, almost sticky outer coating, but it fell to pieces in a 'melt in the mouth' moment. I rustled up a gravy from the meat juices along with a packet of Kallo Beef gravy granules and served with the accompanying vegetables. As per default; I began with the apologies once more. Again I was shushed pretty quickly and the second helpings helped quieten my inner voice.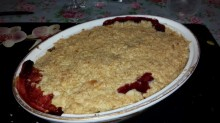 The dessert arrived straight from the oven; the sweet juices spilling over the sides and oozing their way through the crunchy, buttery topping.
My guests joked about the amount of apologies offered; clearly waiting for more; but I stopped and came to my own conclusion. Gluten free cooking does not warrant an apology. Just because I have to omit certain ingredients, does not result in lack-lustre food. If anything, it ensures that the food now offered on my table is created from a passion to please; designed with imagination and thought; and full of new flavours and ingredients.
Note to self: I must stop saying sorry……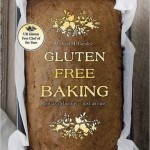 Find 'Gluten Free Baking' by Michael McCamley on Amazon.
Looking for gluten-free recipes to host your own dinner party?
We've got plenty of gluten-free ideas to inspire you, and for even more, grab a copy of the magazine! If you're new to a gluten-free diet and not sure where to start, you might find our beginner's guide handy, with five top tips to going gluten-free.
What are your your tips for hosting free-from dinner parties, let us know in the comments below!
Tags:
Dairy-Free
,
Gluten-Free
,
Your Stories