Jo's Free-From Dinner Party #3
Recently diagnosed Coeliac and newbie blogger Jo Knowles
is on a mission not to let her gluten and dairy-free diagnosis rule her eating habits. We've experienced the ups and the downs of her first Free From dinner parties with her. Here she shares her experience of hosting her third party, let's see how it goes…
Round Three – The One With All The Chocolate
One of my favourite days of the year was celebrated this week, National Chocolate day (7th July.) A day devoted to stuffing your face full of chocolate under the guise that it is a national requirement to do so. Result.
And so, I felt it only necessary to celebrate this by extending it to the weekend. We had a surprise visit from our some of our dear friends from Sweden this weekend, and after over a decade of friendship, a formal dinner party is not on the agenda. Too many parties, sleepovers and late night frolics means that all formalities are out of the window when it comes to dining together and so it was with this in mind that I threw together a more relaxed affair.
Again, I was up with the lark to prepare the Chocolate chilli Con Carne. Yes, I know I have dished this up before at a dinner party, but if it works and tastes good, then why not? My recipe is an adapted version of Melissa Joulwan's and I love it. It hits the button with all my dinner party requirements; it can be prepared in advance, it is totally gluten and dairy free and more importantly, it is a dish where guests can just dig in and help themselves. My key here is to use the best mince you can get hold of. In my humble opinion, I recommend Prince Charles' Duchy Beef. I believe in eating the best quality meat that you can afford and Duchy meat is organic and can be traced to their origin which is a massive selling point to me. I like to know where it is from and how it was treated and raised. Plus it tastes delicious. Using herbs from my allotment, some seasonal vegetables, lashings of red wine and a liberal sprinkling of chilli powder and this one pot dish can be popped in the oven and left simmering for hours. Before you do so, add the magic ingredient – chocolate. I'm not talking about a synthetic chocolate bar here, but chocolate in its original, unprocessed form – cacao. My recommendation here is Willies Cacao Indonesian Black (I purchased mine from my local Waitrose store.) It will melt pretty quickly but give the dish a deep and bitter taste that counteracts the sweet chilli and tomato sauce perfectly.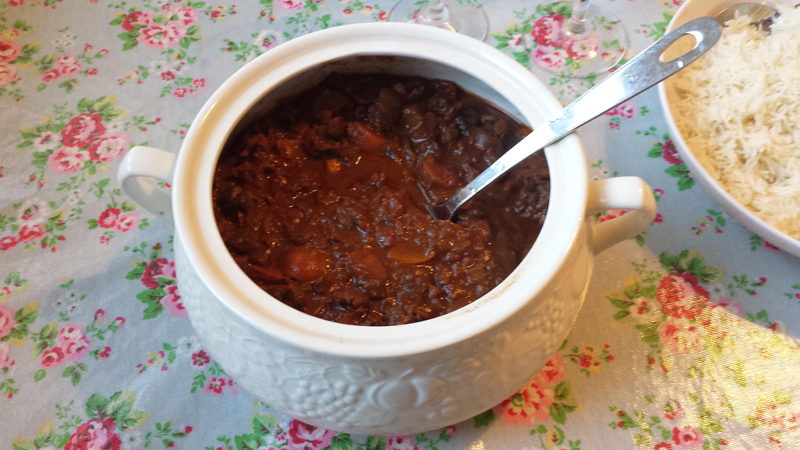 Dessert is another chocolate creation. One of the perks of being a food blogger is that I get sent delicious boxes of goodies asking me to review their products, and this week had me the most excited. I received rather snazzy box from a gluten-free company called Delicious Alchemy which offers pre-made bags of cake and brownie mixes (alongside other delights such as bagged oats etc.) I decided to put their brownie mix to the test and offer it up as dessert. I could not believe the simplicity and ease of it. A couple of eggs and some dairy-free butter added to the bowl, and voila, it's in the oven. To make it mine, I decided to add some dried cranberries and the result was sublime. A crunchy topping, but when the knife broke through it, a gooey molten slice of heaven mixed with sweet bursts of fruit. I quickly threw together an almond brittle, by melting together an equal amount of sugar and salted almonds together. Once cooled, you can let out your pent up emotion by smashing it up with a rolling pin (please cover the brittle up first to avoid any brittle- inflicted injuries) and serve it with the brownie. The result – amazing. Yes, there are many out there that might say I was cheating as it wasn't made from scratch, but I adapted it by adding further ingredients, and in this chaotic and busy world of ours, I see no harm in using a packet mix to give me more time to prepare for my guests. Plus, I see a massive difference in using packet mixes full of preservatives and lists of ingredients a mile long and that are unpronounceable. Delicious Alchemy's packets are far from this.
To conclude, our friends arrived and drinks were poured. Popping out to the kitchen to cook the rice, I offered everything up on the table, slapped down some plates and cutlery and let everyone dig in. There are dinner parties where fine dining is fabulous; where the finest wine glasses are used and the napkins are folded; and there are dinner parties where everyone eats off their laps, while the children are running around and kitchen roll is used to mop up the dregs. This was the latter and it was just perfect…..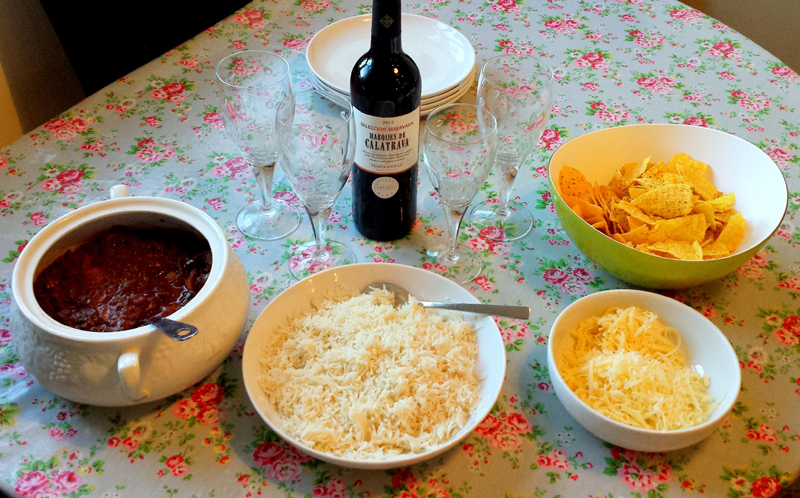 ---
Looking for gluten-free recipes to host your own dinner party? 
We've got plenty of gluten-free ideas to inspire you, and for even more, grab a copy of the magazine! If you're new to a gluten-free diet and not sure where to start, you might find our beginner's guide handy, with five top tips to going gluten-free.
What are your your tips for hosting free-from dinner parties, let us know in the comments below!
Tags:
Dairy-Free
,
Gluten-Free
,
Your Stories