Louise Thompson unveiled as ambassador for Promise Gluten Free, The Impossibly Good Gluten Free Bakery brand
Promise Gluten Free, the impossibly good Gluten Free Bakery brand, has announced health and fitness icon Louise Thompson as its brand ambassador, in a three-month partnership.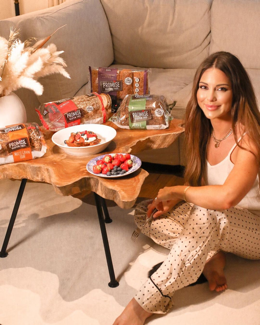 The tie up will see Louise create an array of content including macro-inspired meal plans and recipes, using Promise Gluten Free's nutrient rich, high-in-fibre, low-in-fat and sugar, range of gluten-free breads, to showcase just how easy it is to make the switch to healthy gluten-free bakes, without comprising on taste or texture.
Offering the perfect combination of great taste, soft texture and healthy ingredients that taste just as good as the real thing; Promise Gluten Free gives you the freedom to eat well and live well, whilst maintaining your love for bread.
Speaking about the partnership Louise said "I've teamed up with Promise Gluten Free because I LOVE sharing my food wins with the world. The Promise Gluten Free range really ticks all the boxes for me, my clients, and all those with dietary requirements and intolerances.
"It not only tastes absolutely incredible, but I was also super impressed when I discovered HOW low in fat and sugar the Promise Gluten Free range is, whilst also being gluten free, dairy free, high in fibre and lots of vegan options too.
"I actually have NO idea how they make it taste so good. Promise Gluten Free actually tastes better than your typical bread and I am currently OBSESSED with the Brioche version." 
The 30-year-old was diagnosed with ulcerative colitis two years ago, an inflammatory bowel disease where small ulcers can develop on the colon's lining and can have a drastic impact on energy levels and mood, which affects an estimated 146,00* people in the UK.
Louise adds "Gluten is one protein found in wheat, rye, and barley. Gluten is not only found in common foods like bread and pasta, but is also added to prepared products like condiments, sauces, soups, and proteins.
"Anyone who knows me, knows that one of my (un)guilty pleasures is bread. I love the texture, I love the taste, I love the ease of preparation, the simplicity, the versatility and I don't think anyone should ever have to sacrifice eating bread in order to live a healthy life. Bread is a great building block for lots of healthy meals and it's also a great source of carbohydrate. 
"They say that eating certain foods won't CAUSE ulcerative colitis, but I know for sure that it triggers symptoms for me which can lead to a flare up. For example, when I travelled to Italy a few weeks ago, the food was triggering for me, which is actually one of the reasons I'm now trying to cut out gluten even further from my diet.
"Promise Gluten Free's range of breads give me the option to do that without feeling like I'm making big changes (because let's face it – no one likes making big changes). 
"I know an increasing amount of people that suffer with IBS, (maybe people are finally feeling like they can be more open about these previously taboo conditions,) which can show similar symptoms to Ulcerative Colitis.
"Whether you're looking for a gluten-free bread option due to intolerances or are just on the hunt for a healthier alternative to normal bread, Promise Gluten Free has you covered." 
Louise is a firm believer in a balanced approach to health and fitness and over the past four years has developed a thorough understanding of what a good diet looks like, as well as the concept of energy in vs energy out in order to maintain a healthy physique.
Greta Hammel, Global Chief Marketing Officer, for Promise Gluten Free comments, "We are thrilled to be partnering with Louise, at a time when people are increasingly looking for healthy and gluten-free options. Louise's love for cooking, balanced yet passionate approach to health and fitness, and of course her love for bread, makes Louise a natural fit as our brand ambassador."
With over 50 years of craft baking expertise, the Promise Gluten Free range has been developed using the company's slow and unique bread-making technique, that delivers excellent taste and quality from the family run dedicated Promise Gluten Free bakery in Ireland.
Comments