New gluten-free Mrs Crimble's cakes launched!
Gluten-free sweet treat brand Mrs Crimble's are launching new healthy Lunchbox Loaf Cakes in two delicious flavours!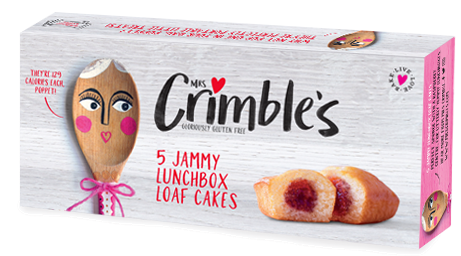 Healthy UK food company Wessanen UK are launching a brand new tasty treat with gluten-free cake-makers Mrs Crimble's.
Mrs Crimble's has always been a gluten-free brand, but this time they're released something a little bit different. The new Lunchbox Loaf Cakes will have a healthy twist – they're a calorie-counted treat that promote a balanced diet whilst still allowing those who avoid gluten the opportunity for a tasty bite of sweetness!
With a deliciously moist and light texture, the Loaf Cakes are great for on-the-go snacking and were created to help adults looking for a portion-packed sweet treat between meals. They're the perfect treat to take to work or beat the morning munchies.
The cakes will be available in both Jammy and Double Choc flavours, with each one weighing in at under 130 calories. The Double Choc flavour are packed with tasty chocolate chips and a gooey chocolatey centre, while the Jammy Loaf Cakes feature a fruity raspberry filling. Yum!
Mrs Crimble's have been dedicated to creating great-tasting free-from treats since 1979 and these new cakes are no exception
They'll retail at £2.50/150g (that's five individually-wrapped cakes) and will launch this week in Tesco's Free From aisle.
Tags:
Gluten-Free Cake
,
Products
,
Supermarkets