NI entrepreneurs in Dragons' Den first!
Gluten-free food producers, Colum McLornan and Claire Hunter of Rule of Crumb see their business go from strength to strength, despite winning and losing a Dragon investment on the latest episode of Dragons' Den.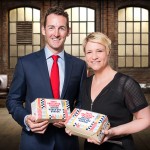 Friends of 25 years, Colum McLornan and Claire Hunter from Belfast and Armoy are no stranger to being at the helm of a successful enterprise. Collectively, they operate the Marine Hotel in Ballycastle and both run their own individual businesses, but it was last night (Sunday, August 9) when they put their professional acumen and friendship under the spotlight on Dragons' Den.
In the fifth episode of the 13th series of the BBC2 show, Colum and Claire pitched for £60,000 for a 15 per cent share of their one-year-old Rule of Crumb gluten-free food business. Stalwart Dragon Deborah Meaden presented the business partners with an offer of £60k for a 40 per cent share but quickly pulled her investment in what the producers say was a first for the show.
Despite walking away with no financial support from the Dragons, Rule of Crumb has not only won three Great Taste Awards 2015 but it has succeeded in securing a presence in some of the UK's top retail outlets including Whole Foods and a number of Eurospars alongside a number of restaurants, airlines, hospitals, schools and a portfolio of of catering outlets via a wholesale outlet. Rule of Crumb products are also due to retail via Ocado next month.
In preparation for demand in the aftermath of Dragons' Den, the pair have also set up an online shop at www.ruleofcrumb.com where coeliacs can purchase from a menu of gluten-free products that cover all three mealtimes; from breakfast cereals to Chicken Kievs, Breaded Fish, Part Baked Bread Rolls to Triple Choc Muffins.
The business, which was born from the hoteliers' recognition of a void in the gluten-free supply chain to restaurants and other catering establishments, got off to a rocky start on Dragons' Den when a preview of their pitch last Sunday showed Dragon and founder of Moonpig.com, Nick Jenkins, describe Rule of Crumb's Part Baked Roll as 'truly horrible' but the King of Crumb, Colum, has the awards to say otherwise.
"Like all businesses on the show, we had to give samples of our products. We baked that bread at 7am but when we met the Dragons it was midday so it was never going to taste as fresh as it was five hours earlier. They were there purely for display," said Colum who is also MD of singles' travel company, Friendship Travel.
"We are actually delighted to say that that three of our products won Great Taste Awards 2015 just last week, one of them being the bread roll Nick found so unsavoury in the den. The general consensus of the Great Taste awards was that we have produced a range of gluten-free products that taste even better than their non gluten-free counterparts so we're very confident about the quality of our line.
"Rule of Crumb is a viable business and both Deborah Meaden and Sarah Willingham saw that potential. There are other businesses out there working in that niche but not on the comprehensive level that we are. We provide a fully rounded offering; one that covers breakfast, lunch, dinner and treats and one that serves both retail and hospitality. We were never going to give away 40 per cent of the business. That was never an option but that may not have come across in the edit last night," he continued.
Claire added that her suggestion that Deborah share her investment with new judge on the block, restaurateur Sarah, was the deal breaker.
"Sarah couldn't make up her mind whether to invest or not so I suggested she worked with Deborah on the venture with the view that the Dragons' investments would be reduced yet we would benefit from double the knowledge but Deborah was offended and threw her toys out of the pram!" she explained.
"We are still going ahead faster and stronger with or without the investment. We wanted the money and the expertise but it was never going to sale at that percentage."
The two-hour pitch was edited into a five-minute slot on the one-hour show when it appeared that the business partners' friendship was on the rocks, a suggestion that both Claire and Colum laugh about today.
"Colum and I met at catering college when we were both 17," continued mother of four, Claire. "We are always looking for a business opportunity which has brought us challenges of epic proportions, challenges that far outweigh what viewers saw last night so the idea that our relationship was ever in question is quite amusing."
Colum added: "We were the first business to ever have a Dragon on board and then lose them. We would never have accepted that investment so nothing changes between Claire and me."
Colum too came under fire when Turkish Dragon, Touker Suleyman refused to invest because the entrepreneur already boasts two successful operations and he doubted Colum's ability to crisis manage while working remotely on his other interests.
"Challenges will always be present in business. I run two very established companies and have built up accomplished teams who are extremely experienced in dealing with commercial trials. We have the technology and communication tools that allow issues to be dealt with promptly anywhere and at anytime," he added.
While Claire admits that the experience was both 'daunting and terrifying', she adds that stepping out of her comfort zone was a challenge she relished: "We have both used this as an experience that we learned a lot from," she added.
This year Rule of Crumb will continue to expand its business internationally after attending the Freefrom Expo in Barcelona and receiving enquiries from various companies throughout Europe.