Ocado reveals three must-try Pancake Day recipes from around the world
Ocado has taken inspiration from cuisines around the world for those looking to try something unique this Pancake Day.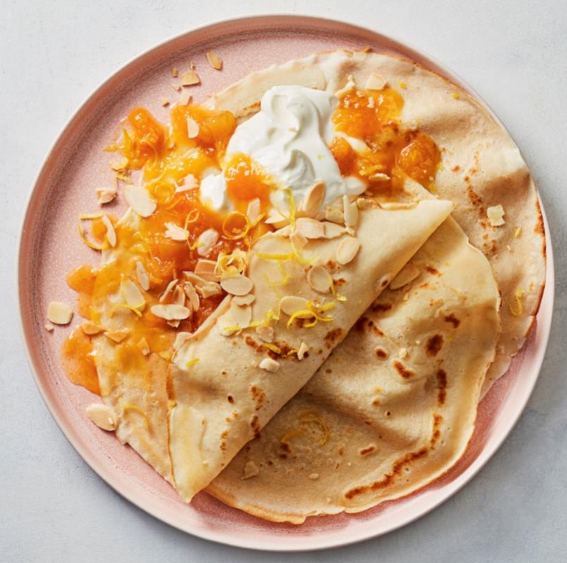 From Japan and Sri Lanka to Vietnam and more, the globally infused sweet and savoury recipes also include gluten-free and vegetarian ideas.
Taking inspiration from across the world, Ocado has worked with chefs to create five delicious recipes, to provide the nation with a go-to menu for this year's Shrove Tuesday.
From jiggly Japanese souffle styles to savoury Sri Lankan rice pancakes bursting with pomegranate juices, plus delicate, fruity French crêpes and sticky, sweet American classics, you can find the recipes below:
Sri Lankan Rice Pancakes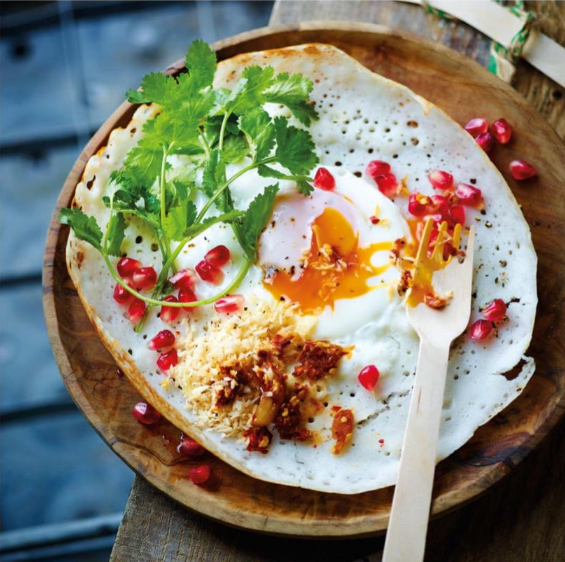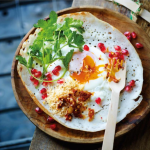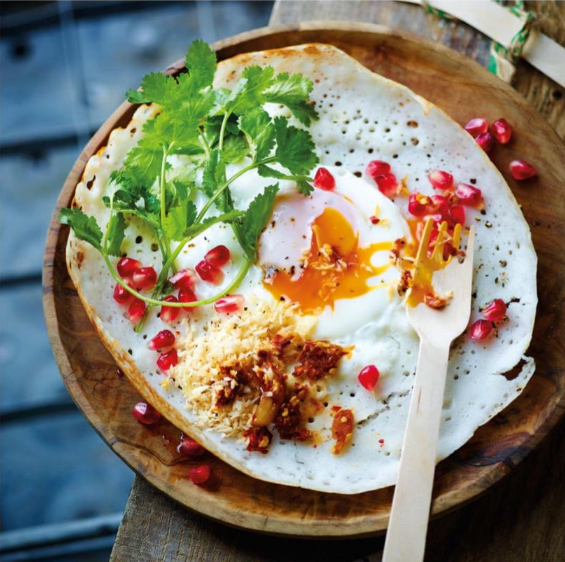 Sri Lankan Rice Pancakes
Also known as hoppers, these fermented, bowl-shaped pancakes are gluten-free.
Ingredients
1

sachet of fast-action yeast

3

tsp

sugar

375

g

rice flour

800

ml

coconut milk

10

g

dried chilli flakes

50

g

onion, for the chilli sambal, plus 1 tbsp finely chopped for the coconut sambal

1/2

tsp

fish sauce, for the chilli sambal, plus ½ tbsp for the coconut sambal

1

lemon

juice

50

g

desiccated coconut

2

limes

juice

4

free-range eggs

a

handful

pomegranate seeds

a

handful

coriander
Instructions
Mix the yeast, sugar, and 2 tsp warm water in a large bowl. Leave it to activate for 10-15 mins until a flossy layer of bubbles appears on top.

Add the rice flour and a pinch of salt to the yeast mixture. Slowly pour in the coconut milk, stirring until it reaches the consistency of thick pancake batter (you may not need all the second tin). When fully mixed, cover it with cling film and leave it to ferment in a warm place for at least 20 min.

While you wait, make the sambals. Put the ingredients for chilli sambal in a food processor and pulse until you get a coarse mixture. Remove into a bowl and repeat for the coconut sambal.

 Be prepared to work quickly when you make the hoppers. Warm a small non-stick wok or frying pan over medium heat, pour in a ladle of the mixture and swirl around to cover the inside of the pan, then break an egg in the middle, place the lid on and cook for 2 mins, or until the egg whites are set but the yolks still runny. The edge of the hopper will be slightly golden and crispy too.

Slide onto a plate. Repeat to make three more and serve with the sambals, pomegranate, and coriander.
Ban Xeo Vietnamese Pancakes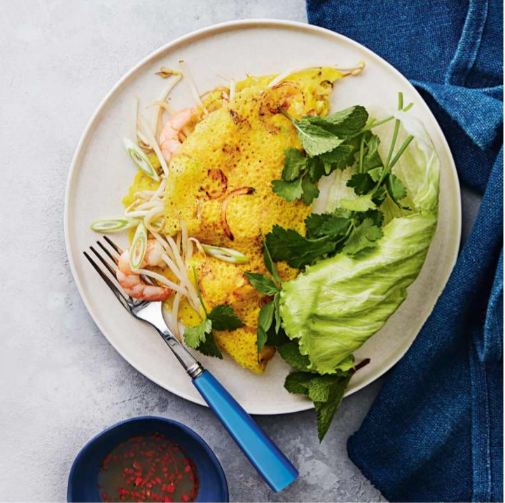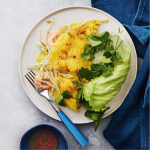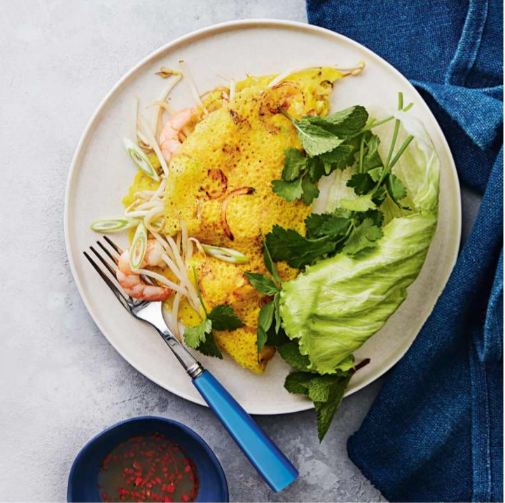 Ban Xeo Vietnamese Pancakes
This Vietnamese-style spicy chilli, chicken and prawn pancake is ideal for those who like their pancakes for dinner as well as dessert. 
Ingredients
125

g

rice flour

1

tbsp

butter

melted, or flavourless oil

1/4

tsp

turmeric

90

ml

coconut milk

250

g

cooked chicken or pork

cut into slices

150

g

raw prawns

shelled

3

small

spring onions, or 1 large

finely sliced on diagonal

100

g

beansprouts

1

tsp

oll

2

tbsp

sugar

1

lime

juice

2

tbsp

gluten-free fish sauce

2

bird's eye chillies

finely diced

1

garlic clove

peeled, chopped

1

butterhead lettuce

1

bunch of mint leaves

1

bunch of coriander leaves

1

onion

peeled, sliced
Instructions
Whisk the batter ingredients together (rice flour, butter, turmeric, salt, 175ml water, coconut milk).

Heat a frying or crepe pan (or a wok) to a high temperature and pour in a tablespoon of oil. When this is hot, ladle in enough of your batter to just cover the base of the pan. Carefully fold 1 tbsp of whisked egg whites into the egg yolk batter and repeat until combined.

After a few minutes, scatter the meat, onion, spring onion, prawns, and beansprouts over half the pancake. Fold half the pancake over, pour another teaspoon or so of oil around the edge of the pancake and cover with an upturned metal bowl or a lid and cook for about 3-4 minutes, until the ingredients start to soften, and the underneath of the crepe has started to turn golden and darker brown in spots.

While the pancake is cooking, mix all the ingredients for the Nuoc Cham dipping sauce (4 tablespoons water, sugar, lime juice, fish sauce, chillies, garlic, flavourless oil) and whisk till the sugar dissolves. Tear the leaves from the lettuce leaving them as large as possible.

Drain the pancake on some kitchen paper and pop it onto a plate; to eat, tear pieces of it off and wrap it up in the lettuce leaves with some of the fresh herbs. Dip into the nuoc cham and enjoy.
Warm Apricot and Cream Crêpes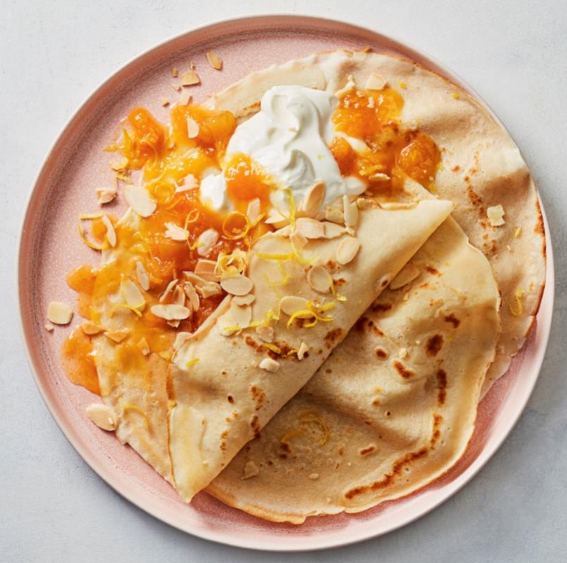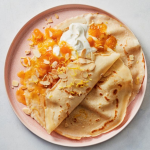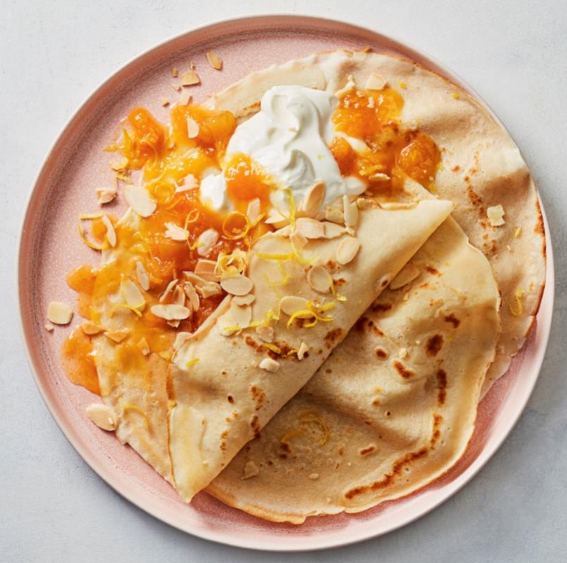 Warm Apricot and Cream Crêpes
These Warm Apricot and Cream Crêpes make a speedy yet showstopping pud. Using ready-made compote is the secret to keeping things quick, but warming it through with ginger, vanilla or cardamom takes the flavour up a notch.
Ingredients
1

tbsp

unsalted butter

for frying

600g

jar

Bonne Maman Apricot Compote (or another flavour)

1/4

tsp

 grated fresh ginger

optional

200

g

flaked almonds

300

ml

double cream

15

g

 caster sugar

100

g

greek yoghurt

1

lemon

zest
Instructions
Wipe a 20cm frying pan with butter or oil using kitchen towel; place on a medium-high heat. Pour in 60ml of the batter, tilting the pan to create a thin layer. Cook for 1-2 mins until the underside is golden. Flip the pancake over; cook for 1-2 mins. Repeat to use up the batter; keep the pancakes warm under foil.

Warm the compote in a pan over a very low heat, adding the ginger, vanilla or cardamom, if using. Meanwhile, toast the almonds in a small pan over a medium heat, until golden.

Put the cream and sugar into a mixing bowl and use an electric whisk to whisk until firm, then gently mix in the greek yoghurt.

 To serve, place a pancake on a plate, spread 2tbsp of the compote over half, then fold over. Dollop some cream on top and scatter with almonds. Finish with lemon zest, if you like.
Tags:
Gluten-Free Breakfast
,
Gluten-Free Recipes
,
Pancake Day
,
Pancakes
,
Recipes