Patlicanli Kebab
These Patlicanli Lamb Kebabs from Niki Behjou are perfect for the barbecue this time of year, the aubergine retaining the moisture to avoid the often dry kebabs we all struggle with!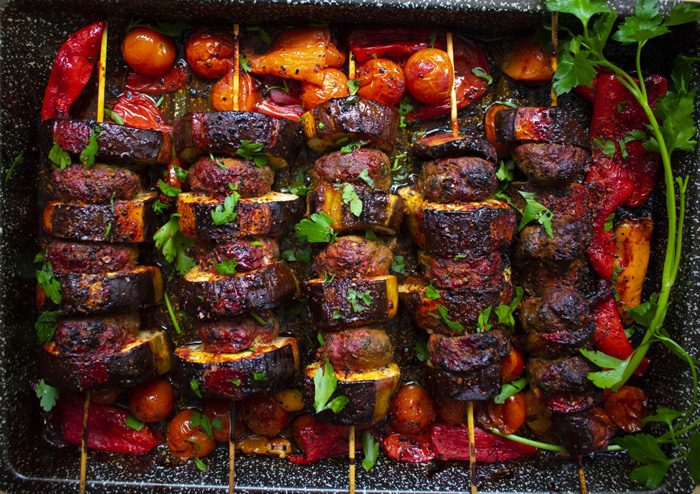 Niki says: "One of my all-time favourite Turkish dishes, sliced aubergine medallions sandwiched between kebab patties. It's sooo yummy and unctuous. The aubergines act as little sponges here, collecting and storing all the beautiful cooking liquid from the flavoured meat and compliments perfectly with the braised tomatoes and peppers. A real crowd pleaser this summer!"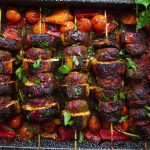 Patlıcanlı Kebabs
Delicious lamb kebabs with delicious aubergine to retain all the moisture
Ingredients
600

g

minced lamb

1

large

onion

peeled, grated

1

tsp

sweet paprika

1

tbsp

ground cumin

1

½

Niki's Turkish Blend

½

tsp

gluten-free baking powder

½

tbsp

sea salt flakes

2

tbsp

tomato purée

2

garlic cloves

peeled and crushed

2

aubergines

thick and long

5

tbsp

olive oil

a

handful

small red peppers or two red bell peppers

sliced into bite-sized chunks

a

punnett

cherry tomatoes

a

small bunch

fresh parsley
Instructions
Soak 4-5 wooden skewers in water for 10 minutes (or use metal skewers). In a bowl, mix the lamb with the onion, spices, baking powder and sea salt. Knead well until completely combined, then divide the mixture into 10- 12 balls (about 50g each). Cut the aubergines widthways into 2cm-thick slices (halve or quarter the slices if large). Brush the meatballs and aubergines with olive oil.

Preheat a grill to high (or heat up the barbecue). Thread a slice of aubergine onto a skewer followed by a meatball, repeat twice then finish with an aubergine slice, pushing to compress the meat between the aubergine. (There should be 3-4 meatballs on each skewer.) Repeat with the remaining 3-4 skewers.

Once this is done, in a small bowl dissolve the tomato purée with a few tablespoons of boiling water and the crushed garlic, pour this into your baking tray. Place your skewers on top and arrange the red peppers and cherry tomatoes around the skewers so they act as a border.

Put under the hot grill and cook for 15-20 minutes (checking on them halfway) until the aubergine starts to feel soft and the kebabs are golden and cooked through, the juices run clear and there are no pink bits in the middle. Serve immediately with a fresh scattering of chopped parsley and Niki's Turkish Blend. 
Tags:
Gluten-Free Lunch
,
Gluten-Free Recipes
,
Recipes