10 tasty new products from The Allergy & Free-From Show
At the beginning of July, we headed down to The Allergy & Free-From Show to spend the weekend checking out all of the exciting new free-from products on offer, and were overwhelmed by the amount of delicious new edible products on offer. So here's our pick of the tastiest treats that tickled our tastebuds from the event!
Wellaby's Simple Bakes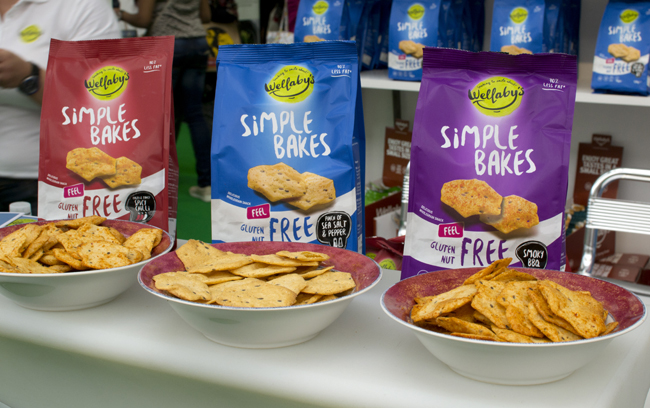 Simple Bakes are a brand new range of delicious, moreish, savoury snacks that everyone can enjoy because they are also free from most common allergens, including gluten. The new, light and crispy wholegrain snacks go against the historically 'hard textured' and 'bland flavours' that are often associated with gluten free snacks with a simple focus on moreish texture and great taste. They make a great alternative to crisps and savoury biscuits for health conscious eaters as they are lower in calories and fat than potato crisps.
And you can rest assured that their products are free from cross contamination as Wellaby's make all of their products in a dedicated gluten-free facility, and conduct constant lab tests to ensure they never become contaminated with unwanted ingredients.
Wellaby's Simple Bakes range is gluten, nut and egg free and they contain no dairy. For more information, please visit www.wellabys.com.
Free-ist scrumptious sugar-free treats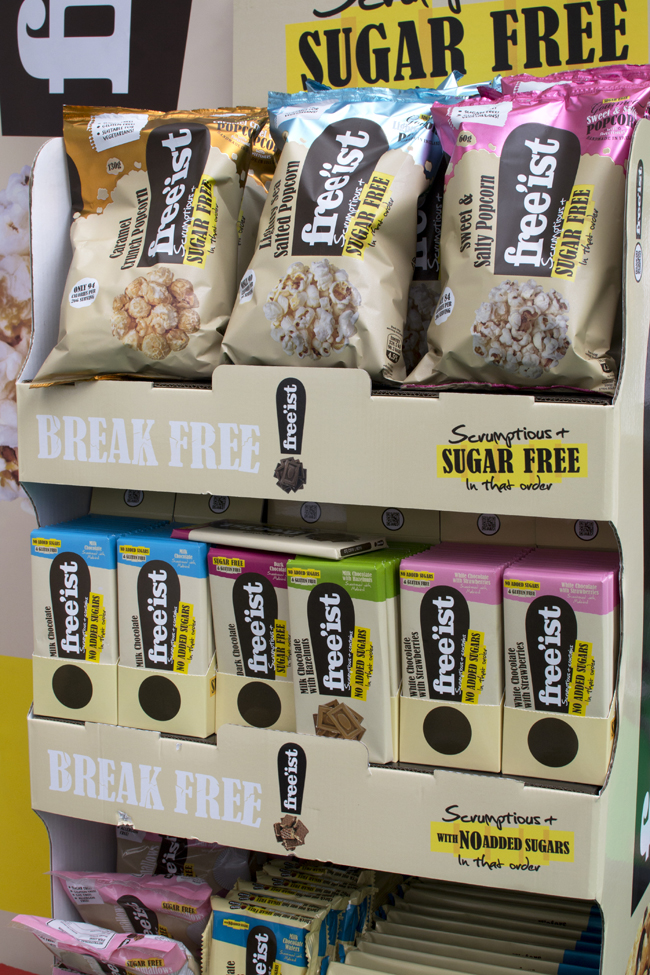 Truly scrumptious sweet treats that contain no added sugar which don't scrimp on taste? Pinch us, we must be dreaming! But luckily this is no dream, as thanks to Free'ist, traditionally sugar-laden foods are back on the menu! From chocolate bars, biscuits and popcorn to fruit jams and marshmallows, we couldn't believe our eyes (or tastebuds!) when we stumbled across Free'ist at the show.
The Free'ist range includes:
Four Popcorns – Caramel Crunch, Sweet & Salty, Lightly Sea Salted, &, Nacho Cheese;
Four Chocolate Bars – Milk Choc, Dark Choc, Hazelnut Choc, &, White Strawberry Choc;
Four Cookies – Choc Chip, Choc Striped Peanut, Coconut, &, Hazelnut;
Three Jams – Strawberry, Marmalade, &, Raspberry;
Two Wafers – Chocolate Wafer Bars, &, Chocolate Wafer Sticks;
Two Breakfast Biscuits – Cereal and Milk, &, Hazelnut and Chocolate;
One Marshmallow – Sugar Free Marshmallows
For more information, please visit www.freeist.co.uk
Delicious Alchemy's Wonderfully Nutty Granola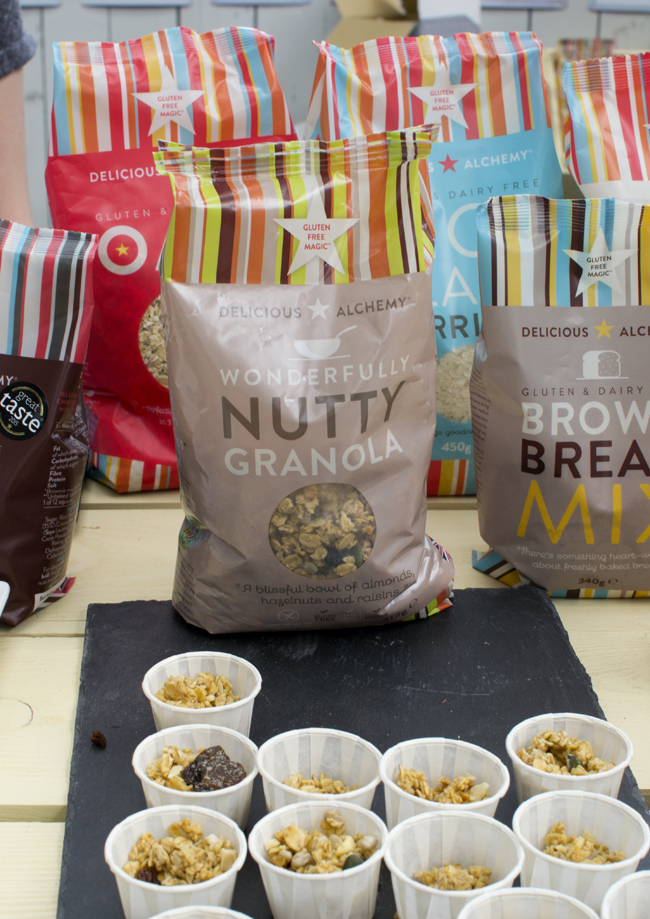 Wake me up before you go go, and preferably with a great big bowl of Delicious Alchemy's Wonderfully Nutty Granola! We all know that breakfast is the most important meal of the day, so why not get your day off the best start with this gluten-free granola? Packed with almonds, hazelnuts, pumpkin seeds and raisins, these tasty, honey-toasted clusters of gluten free oaty nuttiness are made with Delicious Alchemy's very own gluten-free oats. This granola is high in fibre, making this ideal if you fancy a tasty, energy-packed and healthy gluten-free start to the day, and it tastes delicious with some nice creamy, cold almond milk.
For more information, please visit www.deliciousalchemy.com
Nestle's Go Free Rice Pops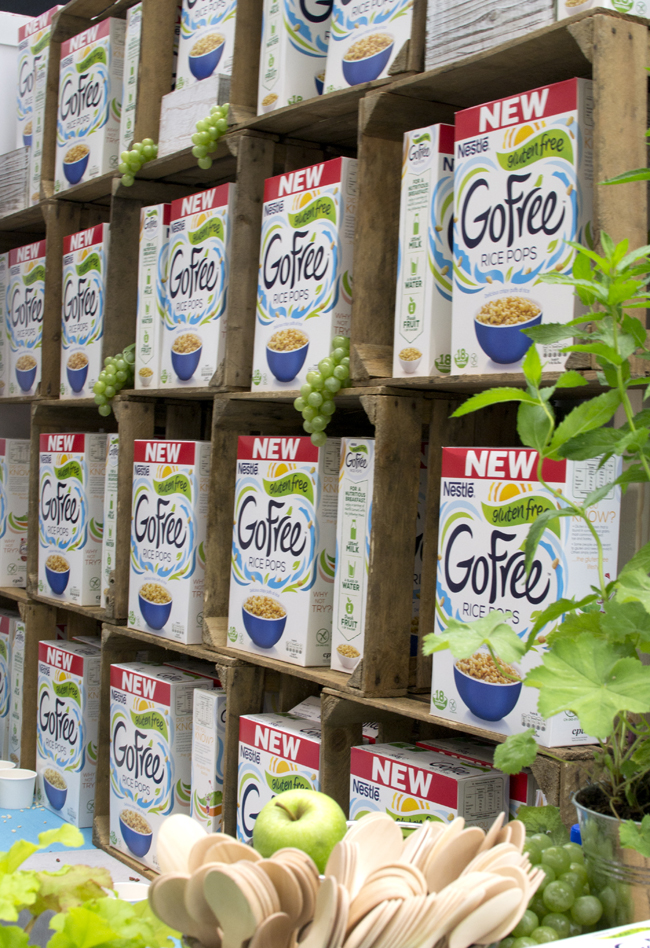 If you've been searching for the perfect gluten-free rice pops to bring back a hint of nostalgia to breakfast time, or to make some tasty rice crispy treats with, then look no further than Nestle's Go Free Rice Pops! Their range includes both plain rice pops, and their delicious chocolate flavoured Coco Rice too, so they can be enjoyed by children and adults alike, and are delicious served with fresh fruit.
For more information, please visit www.nestle-cereals.com
Profusion's gluten-free pasta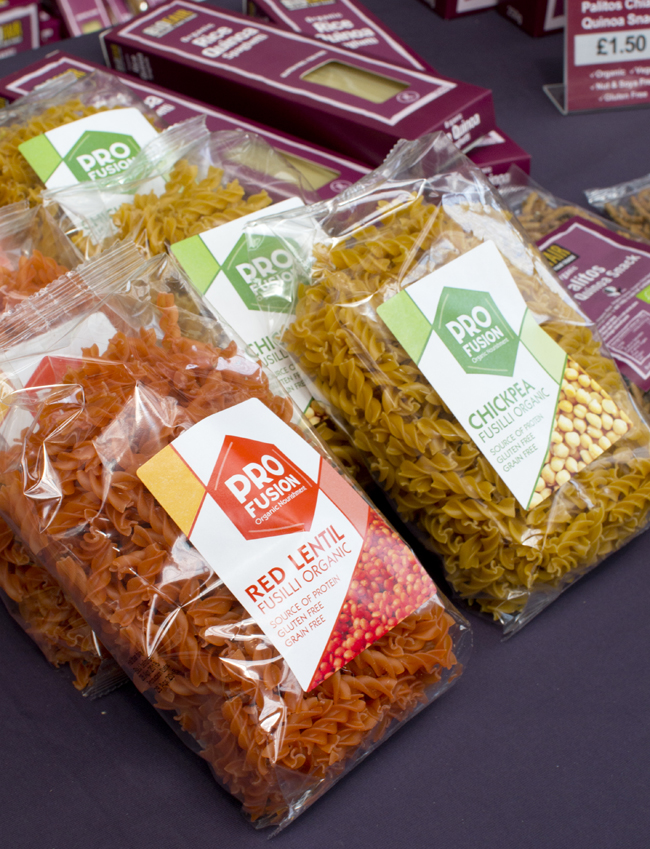 Pasta is no longer off-limits for gluten-free diners thanks to Profusion! And not only is Profusion's pasta range completely gluten-free, they're also a great source of protein to keep you feeling fuller and more satisfied for longer. And as if that wasn't enough, they're also a good source of fibre, for a fulfilling and tasty alternative to traditional wheat pasta without the starchy carbs!
For more information, please visit www.profusionorganic.co.uk
Pure vegetable pots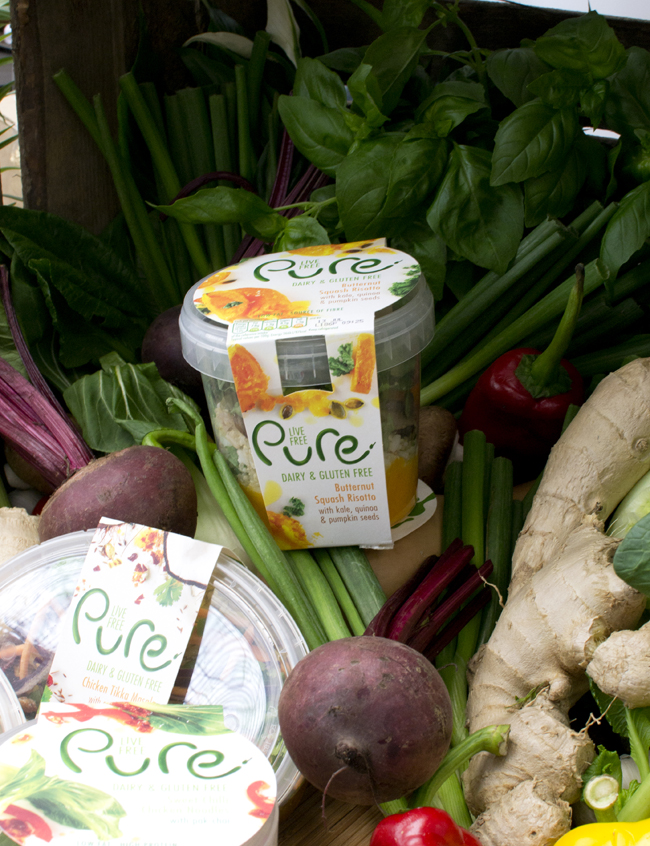 At last, lunchtime treats you can get excited about! Loaded with fresh goodness, Pure's wholesome pots are BURSTING with vibrant colours and fierce flavours, for a quick, healthy and satisfying lunch on-the-go that proves ready-meals don't have to be unhealthy.
Their range includes:
Spicy Singapore chicken noodles with carrots and beansprouts
Chicken and prawn paella with quiona, red peppers and peas
Sweet chilli chicken noodles with pak choi
Roasted butternut squash risotto with kale, quiona and pumpkin seeds
For more information, please visit www.purefreefrom.co.uk
Dean's gluten-free all butter shortbread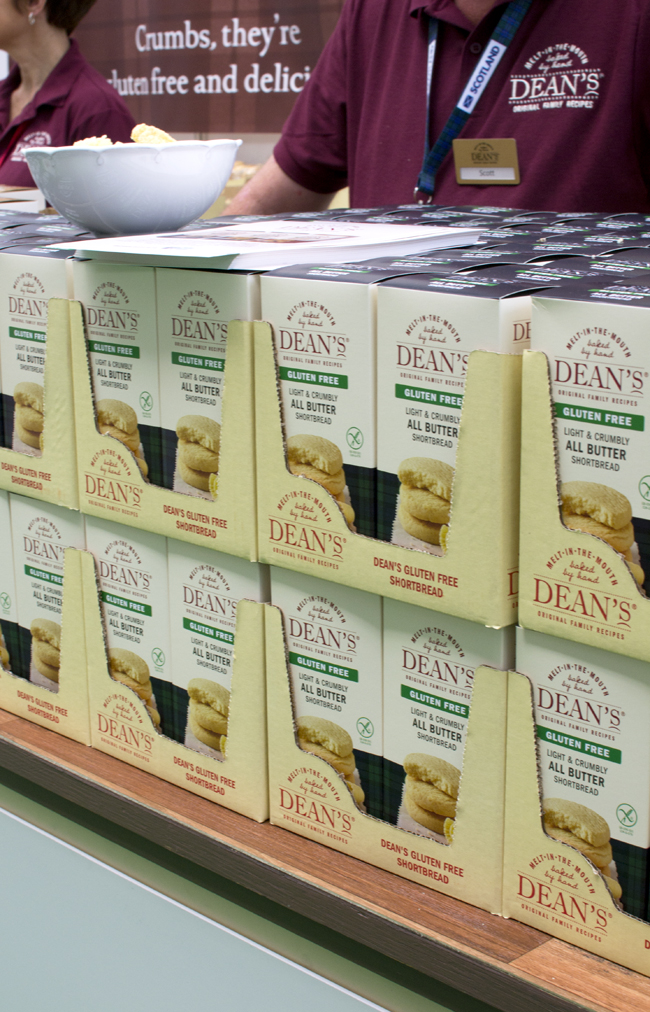 Elevenses just got interesting again with Dean's crumbly, gluten-free, melt-in-your mouth all butter shortbread! The new range, which is certified by Coeliac UK, is available in three varieties – all butter, choc chip and choc chip & stem ginger, and will appeal not only to coeliac sufferers, but also to those following a wheat free diet too. It's so good, we're almost embarrassed to tell you how many of these we scoffed at the show!
For more information, please visit www.deans.co.uk
Schär Salti Crackers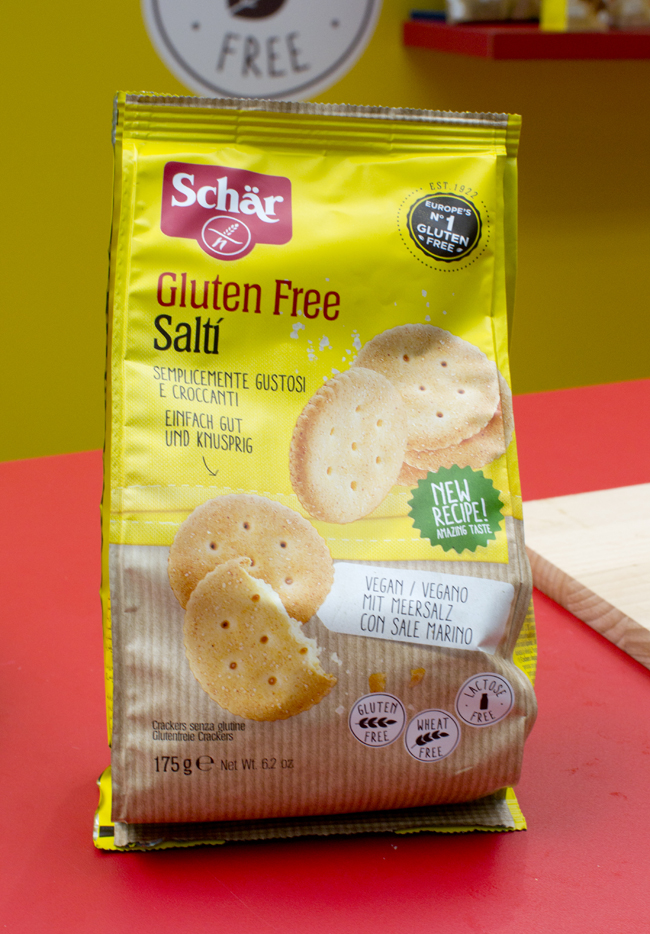 Cheese and cracker fans rejoice, for Schär have bought you the ultimate cracker in the form of their gluten and lactose free Salti Crackers (which taste delicious straight from the bag too we must say!). These delicious gluten and wheat free salted mini crackers are perfect as a savoury snack to share with friends with cheese or dips, or to simply eat on the go.
For more information, please visit www.schaer.com/en
Rule of Crumb's gluten-free profiteroles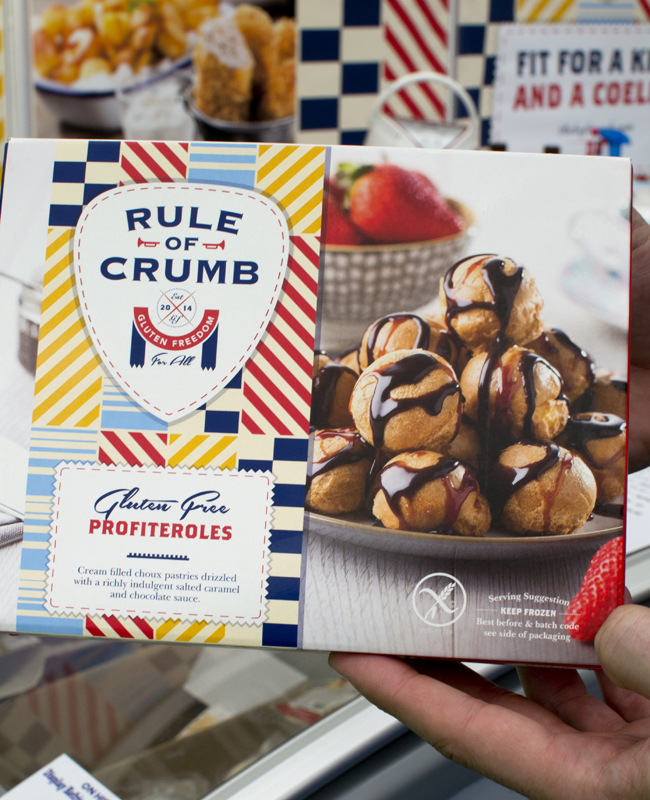 Rule of Crumb's amazing gluten-free profiteroles had us doing a very happy dance in the middle of The Allergy & Free-From Show, as they are absolutely delicious and taste just like the real deal – hooray! Their cream filled choux pastries drizzled with a richly indulgent salted caramel and chocolate sauce are light, fluffy and full of sweet, delicious cream, and make for the ultimate decadent pudding! They're so good in fact, that they even won the 'New Product of the Year' award at the 2016 Irish Freefrom Awards in Dublin.
For more information, please visit www.ruleofcrumb.com
Wow Cake Company's gluten-free baking mixes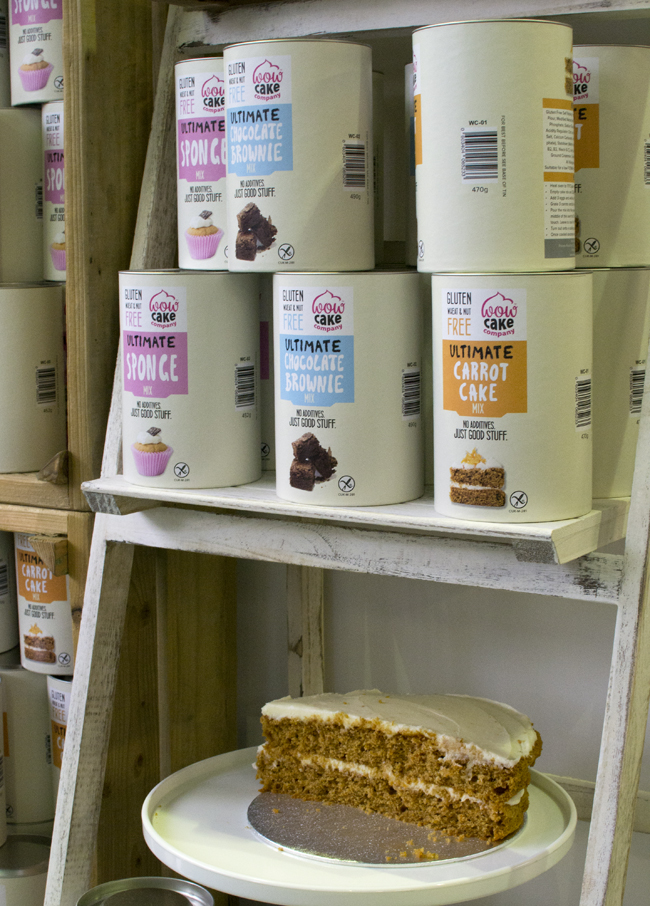 If you're a big fan of cakes and bakes (and let's face it, who isn't!), but you've not quite mastered the art of baking yet, then you'll love the Wow Cake Company's gluten and wheat free baking kits!
The mixes make tasty, light and fluffy cakes and even better, they're all:
• Natural – NO additives
• Gluten Free
• Nut Free
• Wheat Free
• Vegetarian
• Low FODmap
All the mixes take around 30 minutes to cook in the oven, meaning you can create fresh delicious cakes in under an hour, and all of their mixes have been certified by Coeliac UK. And there's no need to worry about these cakes being dry and crumbly like many other gluten-free offerings on the market, as once baked, the cakes are light, fluffy, moist and a taste sensation!
You can purchase the WOW Cake Company's baking mixes online here.
Missed the show in London? Don't worry because there's another show in Liverpool from the 5-6th November!

Tags:
Features