The 12 best free-from snack bars
When time is tight, snack bars can make a great on-the-go option, but they're not all created equal. Christine Bailey runs down 12 of the best on the market…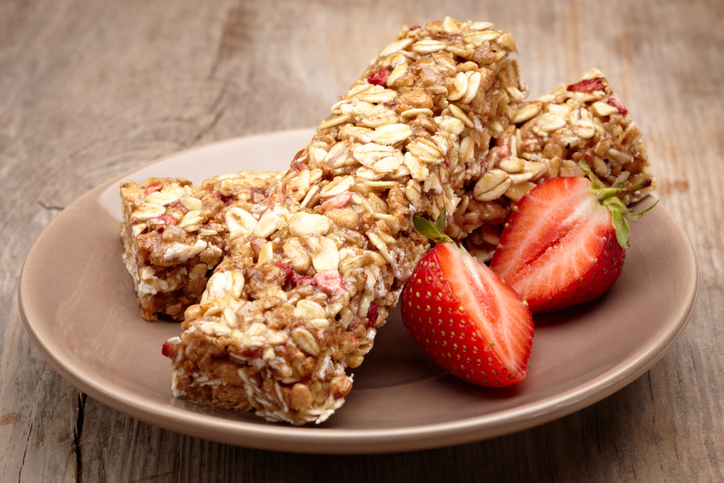 There's a new wealth of health bars on the market. But how do you pick one that will actually deliver, next time you're craving a bite between meals? While fresh wholefoods are always your best bet – especially when it comes to avoiding allergens – snack bars can be a convenient and easy grab-and-go option.
Tips for selecting bars
Here are five ways to help you pick a bar that's right for you:
Check the sugar content
Often, bars hide their sugar content behind healthier-sounding words, like brown rice syrup, agave syrup, honey, molasses or even dried fruit. These are all forms of sugar. If one of these ingredients is the first or second ingredient on the label, the chances are the sugar content will be high – in some cases higher than a standard chocolate bar. 'Low' sugar is considered to be less than 5g sugar per 100g. Beware of labels stating no added sugar: although no sugar is added, there may be naturally occurring sugar in the product (such as from dried fruits).
Get a fibre boost
Check the fibre content on the back of the pack label. If you're choosing between two similar products and one has more fibre, choose that – fibre will help stabilise blood sugar levels, support digestion and help you feel fuller for longer. Ideally choose a bar with at least 2-5g of fibre per bar.
Look at the portion size
Snack bars vary in their sizes. If you are trying to lose weight, or maintain a healthy one, it's a good idea to reduce your portions so you may want to select smaller bars. Ideally for a snack look for between 100-200kcal in total, unless you are very active. Don't kid yourself that you will only eat half of a large bar – it's better simply to stick to smaller ones if you are watching your weight.
Protein Power
The benefits of choosing a bar with a higher protein level is that they are more satisfying and will help balance your blood sugar levels, meaning that you feel more energised. For a satisfying snack, try to find at least 5-6g of protein per bar.
Ingredient list
When it comes to allergens, the simpler the ingredient list the better. If the ingredients list is a) unpronounceable and b) takes you a long time to read, it's not for you. The longer the label, the more likely it will contain unnecessary fillers and additives.
The delicious dozen: 12 of the best bars & their pros and cons
The Fitness Favourite
Quest Bars – Strawberry Cheesecake

Quest bars have a huge 20g protein per bar, making them a fitness favourite. They contain whey, but by using erythritol and stevia to sweeten are very low in sugar.
Nutrition 170kcal | Fat 7g | Protein 20g | Salt 0.4g | Carbs 23g | Sugar 2g | Fibre 13g
GF
Popular with Children
Nakd Bars Berry Delight

Nakd bars contain dried fruit, meaning high sugar, so these should be kept as a treat. But the ingredient list is short, and they're small enough to satisfy without blowing your diet.
Nutrition 135kcal | Fat 5.2g | Protein 3g | Salt <0.1g | Carbs 18.2g | Sugar 16.6g | Fibre 2.2g
GF DF
Handy for Fitness Fans
Snack Pack by Acti-Snack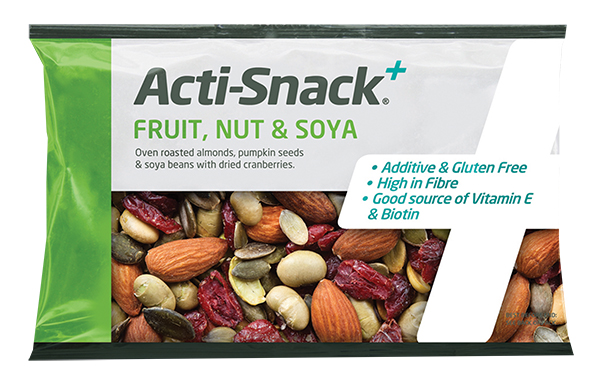 OK, they're not actually bars, but these handy packs are a great gluten- and dairy-free grab-and-go option. The Fruit, Nut & Soya mix pictured packs a protein punch.
Nutrition 195kcal | Fat 12g | Protein 10.4g | Salt <0.1g | Carbs 13.5g | Sugar 8.6g | Fibre 4g
GF DF
A Free-From Flapjack Option
Mrs Crimbles Apricot and Sultana Bar

This oaty, sugary bar combines dried apricots and sultanas with gluten-free oats. With 150 calories per bar it will give you an energy boost without being too calorific.
Nutrition 150kcal | Fat 1.2g | Protein 2g | Salt 0.1g | Carbs 32g | Sugar 15g | Fibre 2.9g
GF DF
Berry Boost
Creative Nature Goji Goodness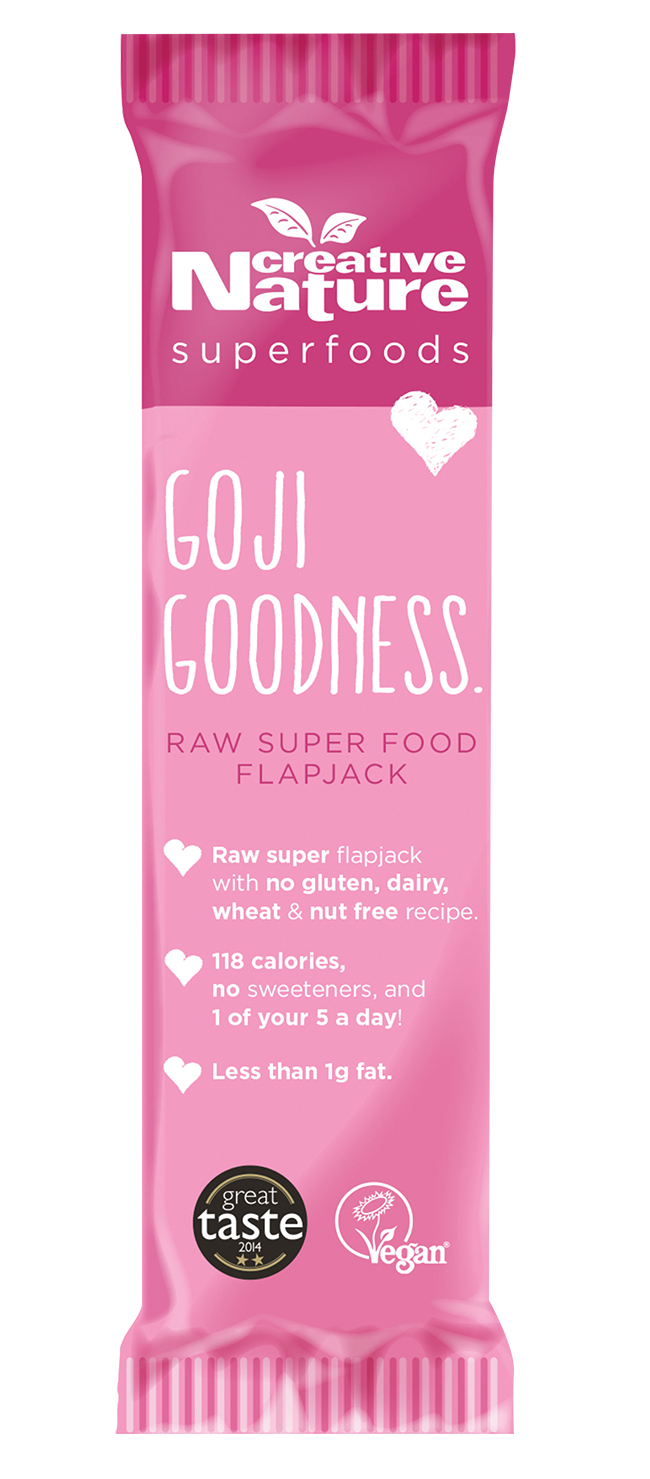 A smaller, lower-calorie bar that's low in fats but relatively high in sugar and carbs. Gluten-free oats, dried fruits and natural flavourings mean a simple ingredient list.
Nutrition 118kcal | Fat 0.7g | Protein 1.8g | Salt 0.1g | Carbs 25.1g | Sugar 18g | Fibre 1.8g
GF DF
Good for a Protein Boost
Bounce Coconut and Lemon Protein Crush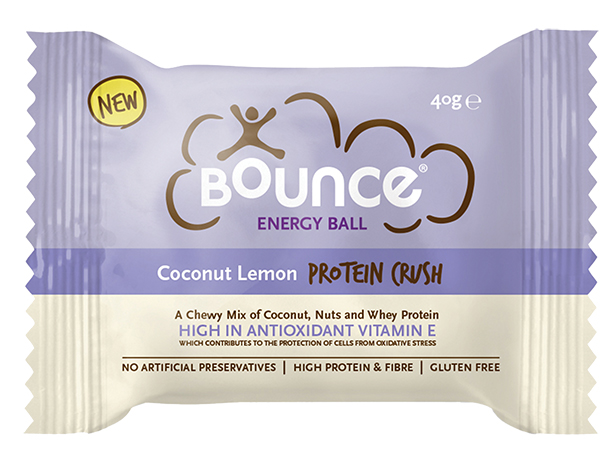 This chewy, crunchy, coconut, cashew and whey protein mix will keep your energy up. It's sweetened with agave nectar, and has a lowish sugar content, but isn't dairy-free.
Nutrition 173kcal | Fat 6g | Protein 9g | Salt 0.2g | carbs 21g | Sugar 8g | Fibre 2.6g
GF 
The Paleo Option
Primal Pantry Mixed Berry Paleo Protein Bar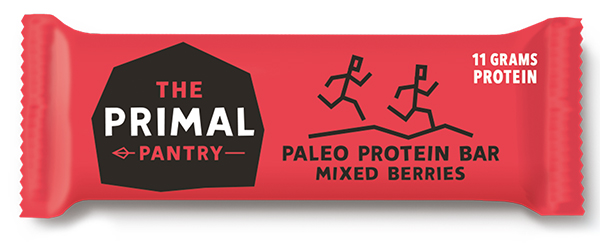 This oat-free, grain-free bar is ideal for paleo-dieters. The sugar content is one of the highest, but they are packed with protein and a decent amount of fibre.
Nutrition 189kcal | Fat 5g | Protein 11g | Salt <0.1g | Carbs 22g | Sugar 22g | Fibre 5g
GF DF
The Nutty Option
9 Bar Original Nutty*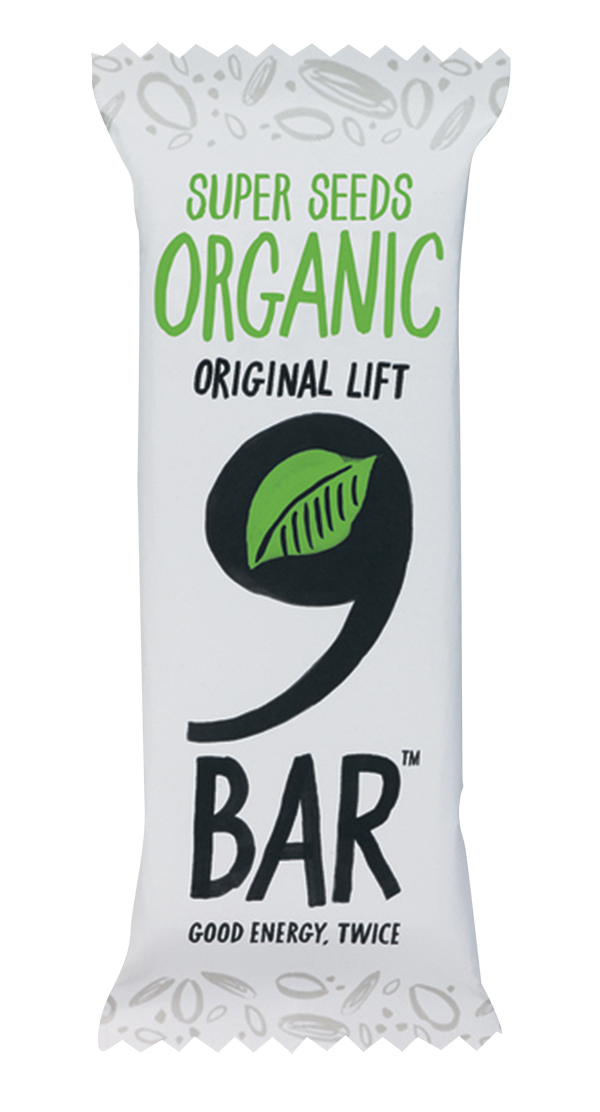 These sizeable bars are a good breakfast option.  They're fairly calorific but also tend to contain more protein and fats (from nuts and seeds) to keep you sustained longer.
Nutrition 280kcal | Fat 21g | Protein 8.1g | Salt 0.13g | Carbs 12.8g | Sugar 9.6g |
GF DF
Healthy Chocolate Fix
Kind Dark Chocolate Nuts & Sea Salt

One of the best bars for protein and fibre, and low in sugar. The combination of fats, protein and fibre makes this a sustaining choice and great for chocolate cravings.
Nutrition 199kcal | Fat 15g | Protein 5.7g | Salt 0.3g | Carbs 16g | Sugar 5.3g | Fibre 7.1g
GF DF
A Dose of Green Superfoods
Aduna Moringa Green Superleaf Energy Bar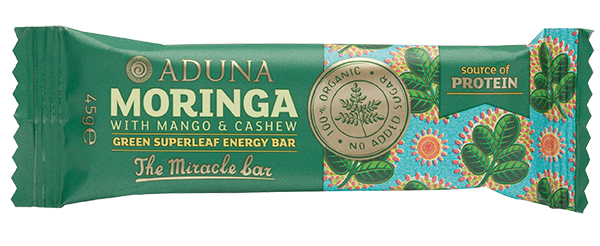 A great combination for green superfood lovers: moringa powder with dried mango and cashews. It's high in natural sugars, but the use of rice protein keeps it dairy free.
Nutrition 162kcal | Fat 4.6g | Protein 5.3g | Salt <0.1g | Carbs 23.9g | Sugar 17.7g | Fibre 1.9g
GF DF
An Organic Option
Beond Organic Bars by Pulsin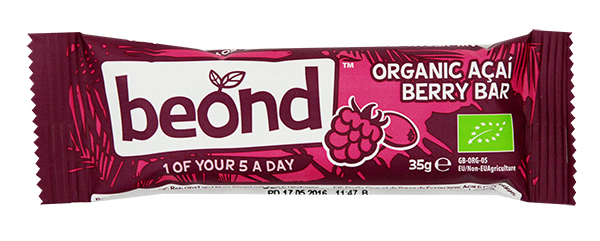 Beond bars come in six flavours and are ideal for kids or if you're looking for a lighter bite. Similar to Nakd bars, they have a short ingredient list but are high in natural sugars.
Nutrition 166kcal | Fat 6.7g | Protein 3g | Salt <0.1g | Carbs 16.4g | Sugar 14.2g | Fibre 1.7g
GF DF
Tropical Snack
Get Fruity Bars – Marvellous Mango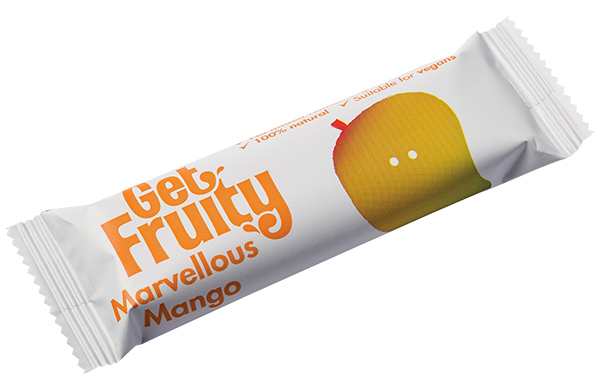 A smaller bar with simple ingredients that may be a good choice for kids. They are still high in natural sugars, but slightly lower than the Nakd bars and Beond options.
Nutrition 135kcal | Fat 4.5g | Protein 2.1g | Salt <0.1g | Carbs 20.6g | Sugar 11.2g | Fibre 2g
GF DF
Tags:
Features
,
Gluten-Free Snacks