Cambodia: Where wheat doesn't grow and cows don't make milk
Ambra Torelli travels the globe and discovers that, in some cuisines, being intolerant is just not an issue…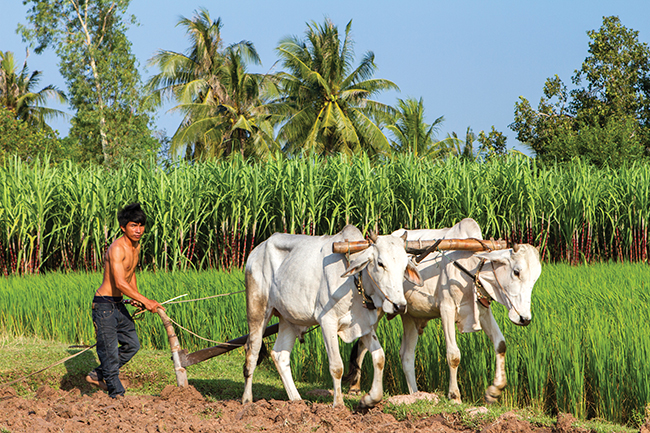 As we stop on the side of the road to buy a fresh young coconut from a colourful fruit stand, a darling little girl (she must be five or six) comes up to me. She hands me a bag of homemade cookies and asks me where I'm from.
We are in the middle of the Cambodian jungle, and I am impressed she can speak English so well.
"Eeet-a-ly, – she mumbles – is that where London is?" Her eyes shine with lively curiosity, making up for the dullness of her creased sleeveless dress.
She lives in a stilt house, with no electricity and a post-WWII TV activated by a battery, but she's already eager to discover the world outside of Asia, and in a second language too!
I buy her baked treats, thin crispy florentines scattered with sesame seeds and, while sitting on my knees right next to her, I list the main cities of Italy on the tip of my fingers.
Allergen-free
She listens carefully, and as I give her a hug before getting back in my car, she starts counting cheerfully on her little hand: "Rome, Venice, London, Milan!" I wave from the window.
"You know you are totally fine eating those cookies, right?" Pisith Theam, the Executive Chef of the Park Hyatt in Siem Reap, revives in me that approach to eating that's usually lost for all those dealing with food allergies.
"People in the villages have no access to wheat or dairy – all they have here is rice, coconut and palm sugar. Remember what I told you?"
Little did I know about Cambodia (and Cambodian food) before I got there to visit Angkor Wat, one of the seven wonders of the world. But during my very first breakfast in Siem Reap, Chef Pisith, who was already aware of my food restrictions, surprised me with a feast of local gluten and dairy-free rice desserts, and I pleasantly discovered that traditional Khmer food is naturally free-from two of the most common allergens, gluten and dairy.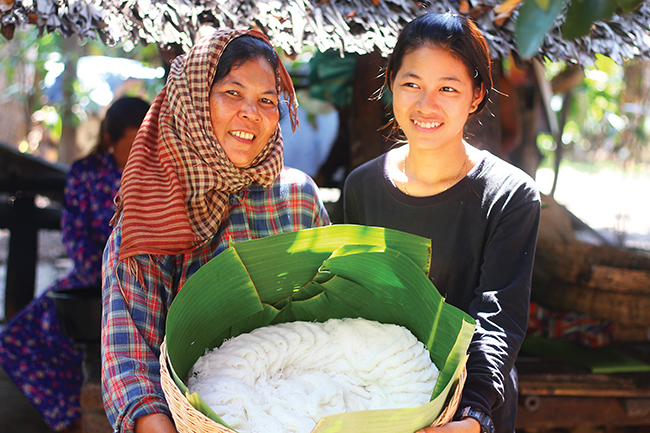 I grabbed a couple of akors (spongy steamed rice balls) and, while dunking them in a pandan leaf and coconut milk dipping sauce, I chatted with the chef. "It's really easy for Cambodian food to be gluten and dairy-free as here we don't grow any wheat and mostly, when we talk about flour, we refer to rice flour," he says.
Also, as one might expect in a tropical country scattered with palm trees, coconut milk here is a staple. "Our cows are too skinny to produce milk. They are mainly used to work in the rice fields and the only dairy you can find in Cambodia is imported from other countries. You'll never find butter, milk or cheese in a traditional Khmer recipe, as those ingredients are simply not our staples".
School day
I am fascinated by learning about how the different climate and local traditions can affect the entire culinary fashion of a country. "All of the families in our villages make their own coconut milk just by grating and straining coconut pulp. And many of them make their own palm fruit sugar too, simply by boiling the sap they collect from the palm fruit trees in their backyard".
As a result, most of the Cambodian baked goods are absolutely fine for those with gluten and dairy issues, like their 'ginger cookies', the 'akors', the 'num poum' (typical rice and coconut waffles that are sold in every school), or their 'root puddings' made with taro, cassava, pumpkin or banana.
In the past few days, I already had a chance to try them all. And now, as we are driving towards one of the villages around Siem Reap to visit a family that hand-make rice noodles, I even get to taste the homemade 'Num Tong Morn' that the little girl gave me, a delicious crunchy treat made of rice, eggs, coconut and sesame.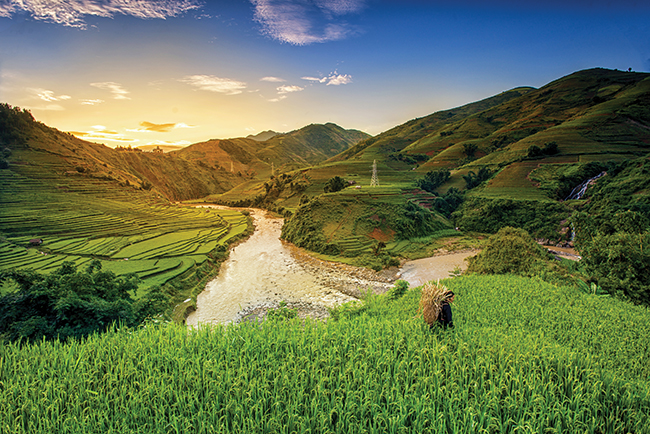 Sticking to tradition
A few cookies later, we arrive at our destination: a muddy backyard, with plucked chickens running around and three generation of women tirelessly turning ears of rice into noodles, through a process that probably hasn't changed in the last 200 years.
Forget about the fancy prices of our store-bought gluten-free pasta. All these seven women make from selling their daily production of naturally gluten-free noodles (30kg) is £7.50.
After 9 hours of grinding and pounding fermented rice, they shape their freshly-made noodles into a beautiful, flower-like spiral, place it in a large basket and deliver it to their nearby food stands, where they serve Nom Ban Chok to half of the village.
Food journey
This typical Cambodian breakfast consists of a delectable curry noodle soup topped with shredded banana leaf, beansprouts, diced cucumber, long beans, holy basil and lemongrass, and Chef Pisith shared his authentic recipe with me, together with that for his green mango salad and the sweet Akor.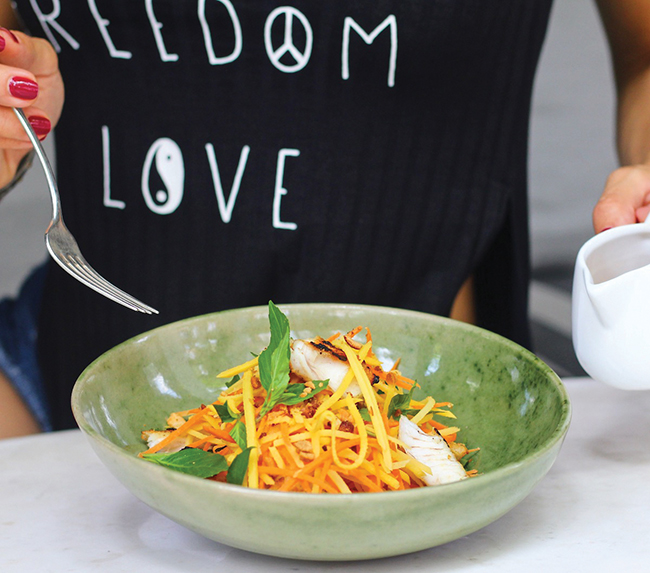 Rather than establishing a polished cooking class at the Park Hyatt, Chef Pisith wanted to organize an authentic food journey in the villages, not only to show the staples on which the locals thrive, but also to raise awareness on the conditions in which Cambodian families live, showing all the efforts they make to produce local ingredients that often keep kids away from school, especially girls, as boys are believed to have 'more chances' to find a better job.

I am blown away when I am told that it costs 12p an hour in Cambodia to learn maths and English with a private teacher. Simply by buying some of their gluten-free noodles for the price we are used to paying in the Western world would allow these girls to get an education and break free from the rice mill.
I stock up on local products that most likely won't fit in my luggage, but buying gluten-free has never felt so good.
---
About the author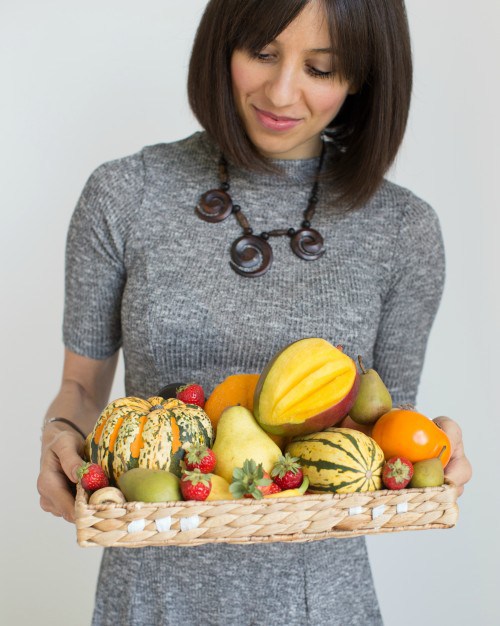 Ambra is an Italian chef who is here to give you the recipe for being a healthier, sexier and more satisfied you… whilst still indulging everyday! Her goal is to show you how you can indulge in the most delicious food while drastically improving you health, getting skinnier and looking gorgeous! You can find more of her delicious recipes on her blog, or you can get in touch with her on Facebook, Twitter or Instagram.
Tags:
Features