Kirsty Henshaw, owner of free-from brand Kirsty's, gives us her top tips on creating a healthy meal plan to keep our bodies in tip-top condition…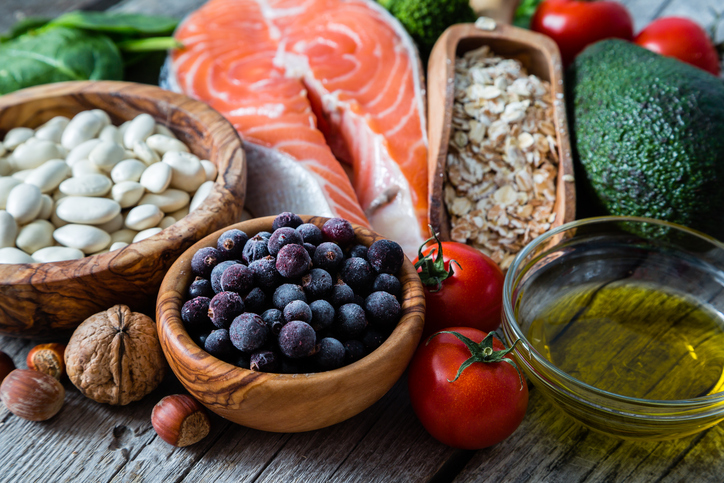 Putting together a standard meal plan can be precarious at the best of times, especially when you have to consider free-from options and other family members' likes and dislikes. Whether you're a busy parent whose child may have developed a food allergy, or a young adult that has been coping with food allergies all of your life and you need some inspiration, we'll get you there.
We've done the hard work for you and have come up with a 7-day plan complete with ideas for brunch, lunch, dinner and even a snack. We hope you can adapt the ideas for other meals while also providing you with a good base of healthy, free-from recipes. If you stick to it, it should help you shift some of that leftover Christmas weight too, while still abiding by your allergies and intolerances.
Let's start with the most important meal of the day – breakfast! Skipping it may play havoc with your blood sugar levels for the rest of the day and make you want to consume more calories than you normally would. It can also make you crave certain types of sugary and starchy foods to give your body the 'quick fix' it needs to keep your energy levels up; this will explain those urges to raid the vending machines mid-morning. It's important to try to stick to a low-glycemic index diet. This involves avoiding foods with refined grains and sugars such as breads, grains, pastas and cereals.
Breakfast
We've chosen some varied and exotic free-from ideas that should get you out of that morning meal slump and make you never want to skip breakfast again:
Poached eggs on sweet potato hash browns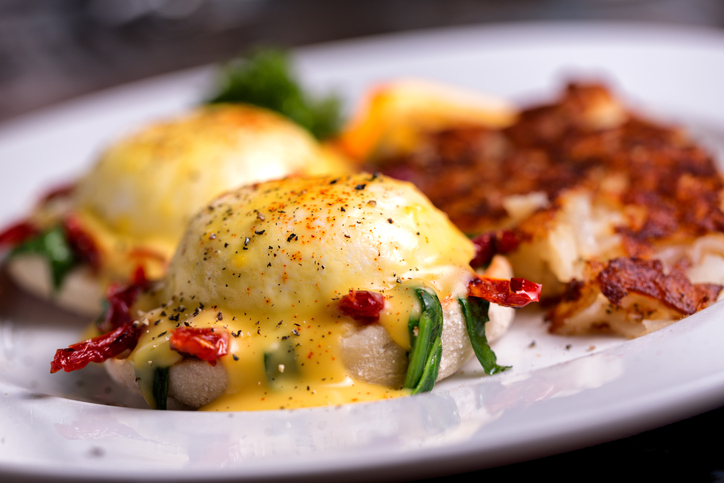 First make a creamy horseradish sauce. Place a

small amount of finely chopped horseradish

,

60ml (2fl oz) soured cream

and a squeeze of

lemon juice

in a small bowl and stir to combine. Set aside.
Place

1 large grated sweet potato

,

2 eggs

and some

salt and pepper

in a bowl and mix well to combine. Cook the mixture on each side for a few minutes.
Poach

2 more eggs

in a pan with a dash of

white wine vinegar

.
Top the hash browns with

steamed asparagus spears

and the poached eggs, then spoon over the creamy horseradish sauce to serve.
Other ideas:
Lunch
When it comes to lunch, it's never wise to eat a huge carb-based meal, as it can make you feel sluggish and lethargic, especially if you have work to get back to. It's best to keep it light and full of protein, where possible. We suggest a lot of fish and lean meat like chicken with a variety of vegetables/salads or soups. Here's some choices that will keep you fuelled throughout the day:
Chicken Pad Thai salad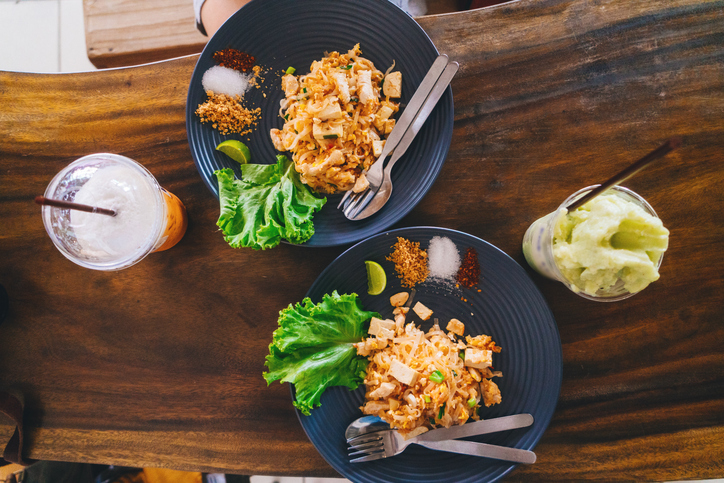 Start by turning some

carrots and cucumber

into noodles/ribbons using a spiralizer or vegetable peeler.
Pop them into a large bowl then use a pair of scissors to snip some

spring onions

over the top. Add your choice of protein – choose from

shredded chicken/beef/duck/prawns/tofu or boiled eggs

.
Snip some

coriander

and add to the mix along with some

torn fresh mint leaves

and some

roughly chopped peanuts

.
To make a dressing, peel

1 garlic clove

and add to a jar with the

juice of 1 lime

,

3 tbsp sesame oil

,

3 tbsp soy sauce

,

1 tbsp fish sauce

,

1 tbsp chilli flakes

and

1 tbsp hone

y. Shake well and pour over the salad.
Other ideas:
• Quinoa roasted vegetable salad
• Spinach quiche cups and salad
• Dairy-free cream of broccoli soup with courgette bread
• Butternut squash and lentil Moroccan stew
Dinner

The trick to creating a tasty free-from evening meal that is filling and tasty is by getting creative with vegetables and trying a variety of new ones. Again, keeping the meat lean will also help in your new 'healthier eating' venture. Swapping traditional carbs like white potatoes for sweet potato or root vegetables should fill you up and can be a welcome change to the starchy staples. Our chosen evening meals have been inspired by varying European and Asian cuisines, with a
free-from twist, of course:
Mussels with sweet potato chips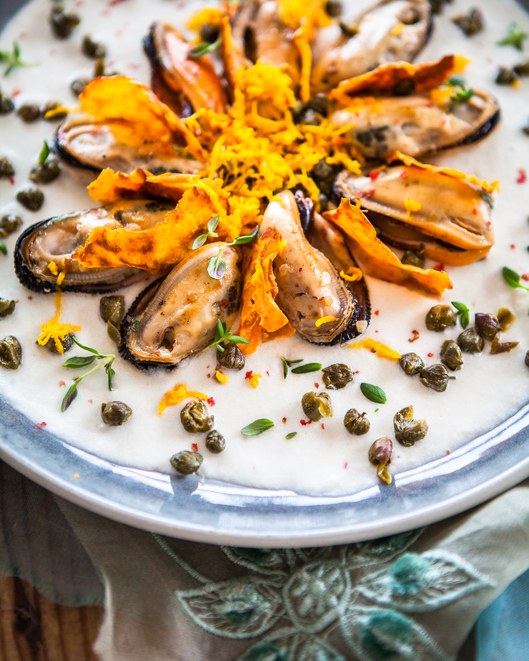 Chop

two sweet potatoes

into wedges and place on a lined baking tray.
Mist with low-fat spray, sprinkle with some

mild chilli powder

and toss well.
Meanwhile, prepare

500g (1lb 1oz) mussels

by scrubbing well under cold running water, removing any beards and barnacles.
Stir-fry

a small piece of ginger

,

chopped garlic

,

chillies

and

lemongrass

then tip in the prepared mussels,

soy sauce

and

125ml (4fl oz) cold water

.
Cover and cook for 5 minutes. Garnish with

chopped coriander

and serve with the sweet potato chips.
Other ideas:
• Meatballs with rainbow vegetti
• Shepherds pie with greens
• Roast chicken, with roasted root vegetables and fresh salad
• Malaysian butternut squash curry
• Thai steamed mussels with sweet potato chips and vegetables
• Thai chilli chicken noodles snack
If you are the sort of person who likes to eat little and often, healthy snacks are going to be your best friend. They are great to keep you going before or after a workout; or perhaps you have a sweet tooth and crave an evening treat?
Luckily, there are lots of options out there that are both nutritious and free-from gluten, wheat and dairy. Did we mention they are extremely tasty too? What's even better? You can make them all at home and it's a great activity for you and your friends or the kids to do together. Why not pop them in the kids lunch box too? At least you will know what's gone into these snacks!
Asparagus and tomato frittata slices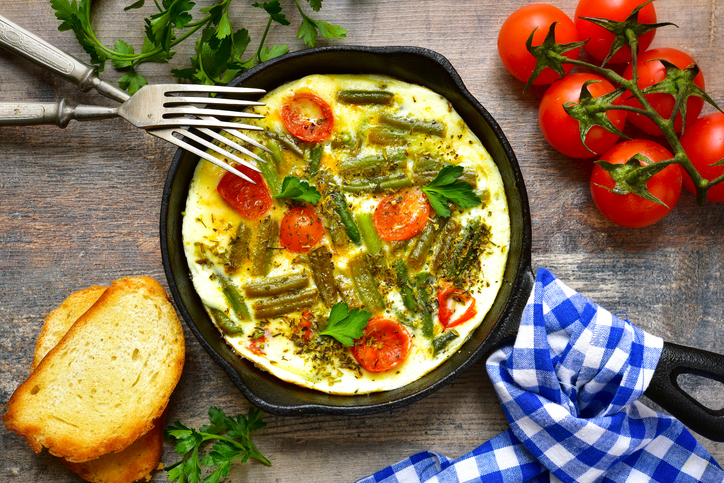 Heat a little

olive oil

in a frying pan over a medium heat, then add some

chopped shallots

,

grated carrot

and

red pepper

.
Sauté for 5 minutes, until tender, then add some

asparagus pieces

and

spinach

and sauté for another few minutes.
Transfer the vegetables to a greased baking tin and top with a

handful of halved cherry tomatoes

.
Pour

6 beaten eggs

over the mixture and pop it into the oven for 25 minutes until puffed, golden and set in the middle. Slice into pieces and serve hot alongside a salad for a delicious meal.
Other ideas:

• Raspberry chocolates
• Banana and date flapjacks
• Coconut cookies
• Cherry oat bars
• No-bake chia energy bites
• Coconut rice treats
Exercise
By making these swaps in your diet, you should start to feel more energetic and you may feel like you have more energy for exercise regimes. But, what if you're
a busy parent and you don't have time to go to the gym? Don't worry, there are plenty of workouts you can do at home using only your body weight and a chair or your stairs.
The 'seven-minute workout'  consists of high intensity interval training (sometimes referred to as HIIT) that has proven to work effectively and is easier to stick to as it takes so little time and no equipment; you can just clear your living room floor and get started. You can even get the kids involved!
So, whether you are trying to improve your diet, lose weight or simply source some free-from recipes, these ideas have you covered. For those who find it tedious getting the time to make free-from meals from scratch every single day of the week, there's Kirsty's. All of our meals are free-from gluten, wheat and dairy and did we mention, they're delicious? All that's left now, is to stick to the plan!