Chill out: Dairy-free ice-cream taste test
See what we at Free-From Heaven HQ thought of a selection of the latest dairy-free ice creams to hit the freezers…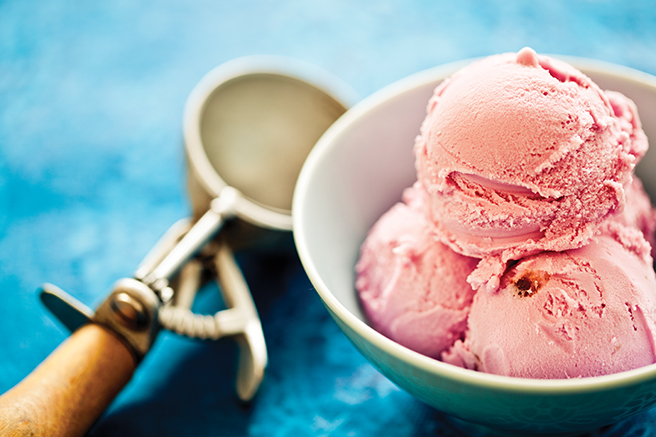 Nothing quite says summer like an ice cream – that is a fact and is undisputed. The dairy-free varieties have come on leaps and bounds over the past couple of years and they are often a real option for those who are quite happy with a glass of regular milk, such is their quality. We thought we'd put a few on test to see how good they really were. As with anything though, we fought like kittens during testing so can only truly advise that you make your own minds up. But hopefully this will help in some small way!
Almond Dream – 

Mint Chocolate Chip Ice Cream
Price: 472ml tub from £4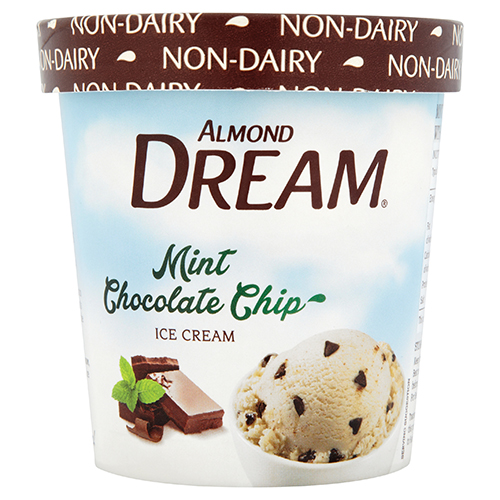 If you're chasing a creamy texture, then this might just be the one for you (providing you also like mint) as it certainly delivers on that front. However, we did find we were searching a bit for the chocolate and there were mutterings of 'grainy' from some, whereas others were quick to sing the praises of the subtleness of the mint and the creamy sweetness of the almonds, from which this ice cream is derived. All things considered, this was melt-in-the-mouth!
Verdict: ★★★★
Almond Dream – 

Velvety Vanilla Ice Cream
Price: 472ml tub from £4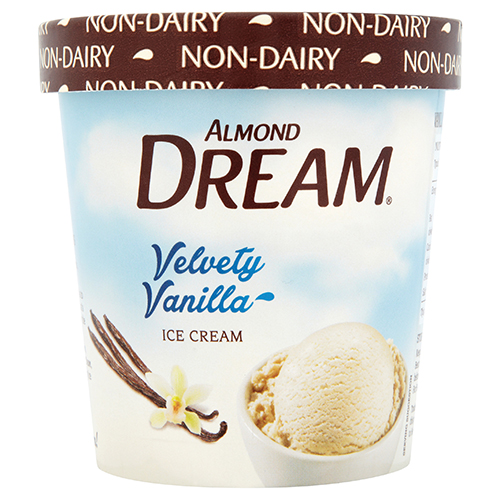 Okay, you can pick up pretty much any flavour of ice cream nowadays (Champagne and truffles anyone?), but for a versatile, tasty and traditional option look no further. This had fabulous flecks of vanilla and all agreed it would work well with a hot pudding just as well as it does on its own. The texture is perfect and its moorish qualities are just what you are looking for (and expect) from an ice cream. Suitable for vegans, this is our favourite bar none!
Verdict: ★★★★★
Almond Dream – 

Salted Caramel Ice Cream
Price: 472ml tub from £4
This is a flavour combination very popular at the moment in all sorts of foodstuffs. We know it's 'salted caramel', but there might have been just a little too much salt for some. It had an intense flavour, which made it stand out from the crowd, but it is difficult to please everyone with this combination –  you either want salted caramel or you don't – it's not a flavour that you take or leave. Personally, I thought it was lovely and I could go back for more any day of the week!
Verdict: ★★★
Jollyum – 
Double Chocolate Frozen Dessert
Price: 500ml tub for £5.89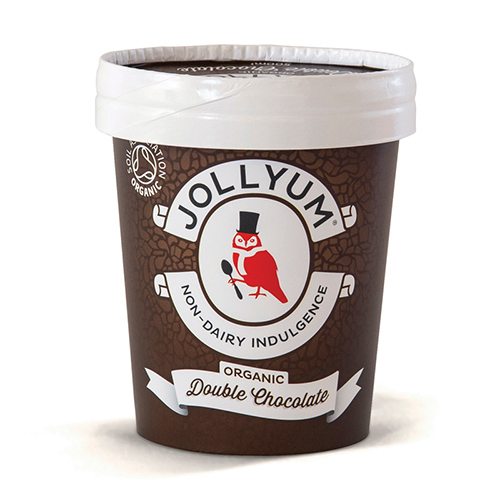 We really enjoyed the texture of this dessert and the strong dark colour made it very inviting to the eye. However, the taste rather let this one down. It was quite bitter and the after-taste was that of cocoa powder rather than a smooth decadent chocolate that we were hoping for – almost like a cheap store-branded choice. This would be fine were it not for the price, which at £5.89 a tub you would expect better. However, not all tastes are the same so try for yourself.
Verdict: ★★★
Jollyum – 
Passion Fruit and Chocolate Frozen Dessert
Price: 500ml tub for £5.89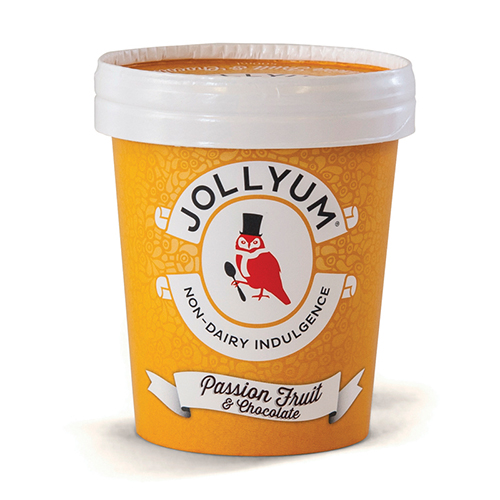 This refreshing sorbet dessert was hugely anticipated due to the unusual combination of ingredients – and it didn't disappoint. We loved the texture, taste and, all bar one of us, thought the marriage was perfect. You could imagine sitting on a desert island and ploughing through the whole tub (a cocktail in the other hand of course!) The only downside would be the price. Again, at £5.89 a tub this really is only for special occasions, unless of course you forgo a cocktail or two!
Verdict: ★★★★★
Booja Booja – Caramel Pecan Praline
Price: 500ml tub for £6.99
If we could give this ice-cream 10 stars we would've! In fact, we were fighting over who got the last scoop of this delectable vegan ice-cream in the office! What's most surprising about this ice-cream is that it's made with just seven natural and healthy ingredients, but it certainly doesn't taste like a healthy alternative! It's perfectly smooth, creamy and melts-in-your-mouth, without the icy texture that some dairy-free ice-creams are prone to. The delicate vanilla flavour is perfectly complemented by the generous swirl of salted caramel pecan praline. A must-try!
Verdict: ★★★★★
Perfect World – 
Mint Chocolate Chip Ice Cream
Price: 500ml tub for £3.99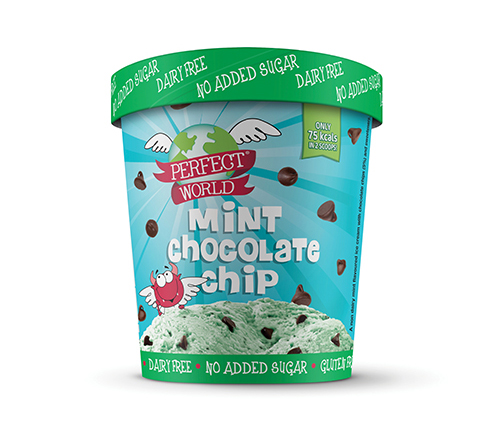 Put up in comparison with Almond Dream's offering, this one came second best, but only because it split the crowd. There was a good amount of chocolate, the taste was great and there was a decent splattering of mint throughout. However, as a complete ice cream, it just didn't quite cut the mustard for everyone. It was more in the sorbet fold than down the traditional ice cream route, but this is definitely one you should try as you may well love it (I did)!
www.perfectworldicecream.co.uk
Verdict: ★★★
Perfect World – 

Caramel Pecan Ice Cream
Price: 500ml tub for £3.99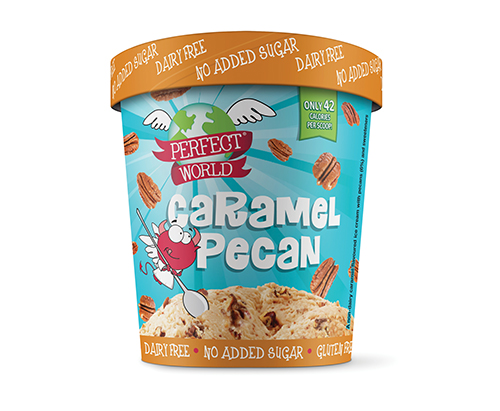 With a great initial taste and hit of pecans, this really did do what it said on the tub – the price is reasonable too. We likened this to a frozen mousse texture-wise – light and airy – which was a nice change and the extra hit of caramel was pleasing. An extra bonus point came from the fact that there is no added sugar, although vegans beware, it does contain eggs. But as a substitute for regular ice cream with a nutty flavour, this certainly tops the bill. A must try!
www.perfectworldicecream.co.uk
Verdict: ★★★★
Tags:
Features
,
Taste Test