Your Gluten-Free Christmas Guide
Take the stress out of Christmas with helpful hints and must-have recipes in this gluten-free Christmas guide from Coeliac UK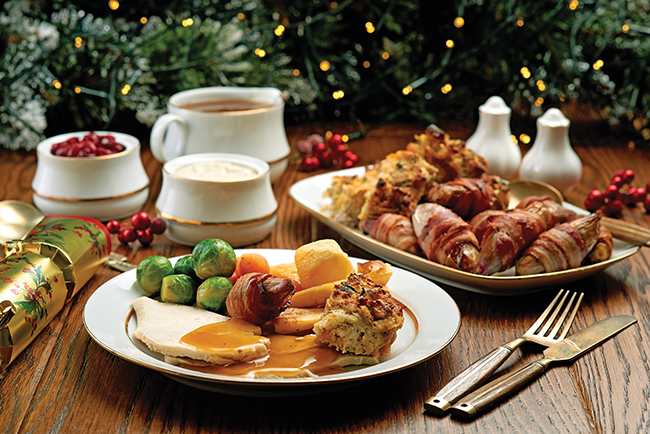 Easy gluten-free recipes to get you through the festive season
With so much of the festive season focused around food and entertaining, being gluten-free can be less than joyful. However, Coeliac UK, the national charity for people who need to live gluten-free, has made it easy with an array of festive recipes to take you from Christmas dinner through to New Year's Eve.
These delicious and easy recipes are available on Coeliac UK's Home of gluten-free recipes at www.coeliac.org.uk/recipes.
Making shopping easier
Each year, Coeliac UK takes the hassle out of shopping for festive products that are also gluten-free with its Christmas list. The list is available on its website and checked by its expert team to ensure all the products are gluten-free. Visit www.coeliac.org.uk/christmaslist.
Alcoholic beverages – what is and isn't gluten-free
Alcohol is usually a part of festive celebrations and Coeliac UK advises that champagne and wine are gluten-free, as are all spirits, sherry, port and liqueurs. Even when a cereal that contains gluten is used as an ingredient, all spirits are distilled during the manufacturing process, removing any trace of gluten.
Most beers, lagers, stouts and ales contain varying amounts of gluten and are not suitable for a gluten-free diet. Coeliac UK has a list of specially manufactured gluten-free beers, lagers and ales in its Food and Drink Directory and Gluten free food checker app, available to members, visit www.coeliac.org.uk/glutenfreefoodchecker.
Beware the invisibles
At parties, it can be tricky to know if the canapés are safe to eat unless your host or hostess can provide the ingredients information. If you're playing it safe and sticking to cheese and nuts such as roast almonds, cashews and Brazils, make sure to check if the flavouring on the nuts are gluten-free.
It can be easy to overindulge at this time of year, so to help maintain a healthy, balanced diet and manage your alcohol intake visit www.coeliac.org.uk/keepinghealthy. 
Joining Coeliac UK is easy and, for only £2 a month, you get expert information and resources on shopping, cooking and eating out gluten-free. Visit www.coeliac.org.uk/join for more information.
Festive Gluten-Free Recipes
Meat gravy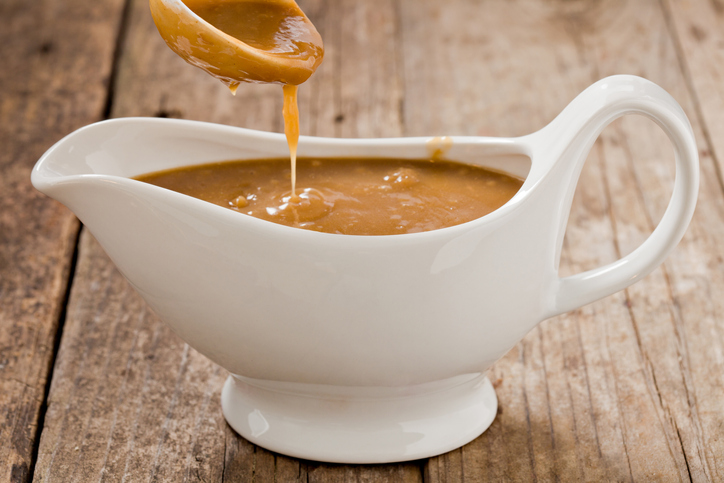 Pan juice from the meat
500ml (18fl oz) stock, made up from a gluten-free stock cube
2 tbsp cornflour
1 tbsp cold water
gravy browning (optional)
Remove the meat from your roasting tin and take off any excess fat, leaving the juices with a little of the fat still in the roasting dish. Place the roasting dish on the hob, add the made-up stock, heat and stir well, making sure you have scraped all the lovely cooked bits from the sides and bottom of the pan.

Mix the cornflour and cold water in a separate bowl and stir well, then tip it straight into the roasting pan and mix really well.
Bring to a gentle simmer. It's then ready to sieve and serve. Add gravy browning for colour if you wish.
Pork and apricot stuffing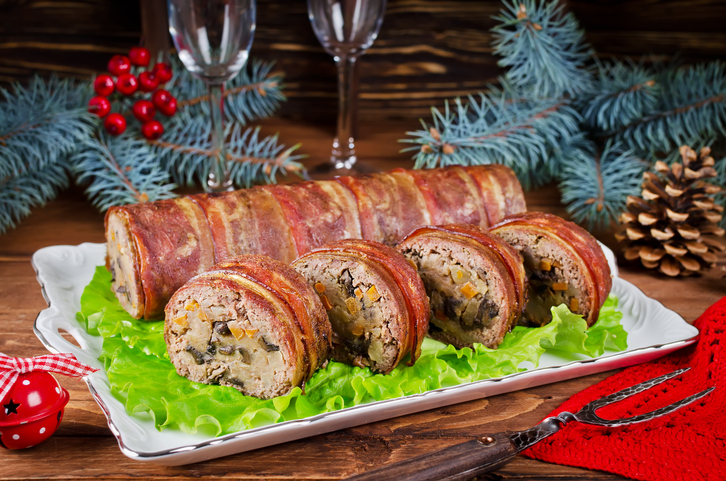 1 tbsp olive oil
1 onion, finely diced
1 apple, grated
10g (

¼

oz) fresh sage, chopped
200g (7oz) gluten-free sausage-meat or 3 sausages (skin removed)
100g (3

½

oz) gluten-free bread, crumbed
75g (2

¾

oz) dried apricots, chopped
1 free-range egg
grated zest of 1 lemon; salt and pepper
Preheat the oven to 190ºC/Gas Mark 5 and oil a baking dish.

Heat the oil in a frying pan over a medium heat, add the onion and sauté for 5-10 minutes, or until soft.

Add the grated apple and sage, and season with salt and pepper. Cook for a further 3-4 minutes, then remove from the heat and leave to cool.
When the apple mixture is completely cool, place in a bowl and add all the remaining ingredients.
Mix together until combined, then press into the baking dish and bake for 45 minutes.
Bread sauce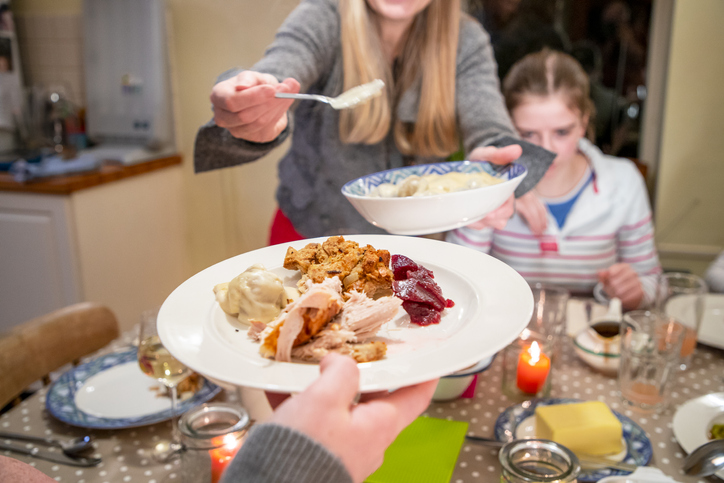 600ml (20fl oz) milk
50g (1

¾

oz) butter
1 onion, peeled, roughly chopped
6 cloves
6 peppercorns
2 garlic cloves, peeled
1 bay leaf
3 thyme sprigs
125g (4

½

oz) white gluten-free breadcrumbs
¼ tsp nutmeg
Simmer the milk, butter, onion, cloves, peppercorns, garlic and herbs in a pan for 20 minutes. Strain and return the liquid to the pan.
Add the breadcrumbs and simmer for 3-4 minutes. Add the nutmeg, season and serve.
This sauce can be made up to 3 days in advance and heated up on the hob or microwave for 3 minutes.
Cranberry sauce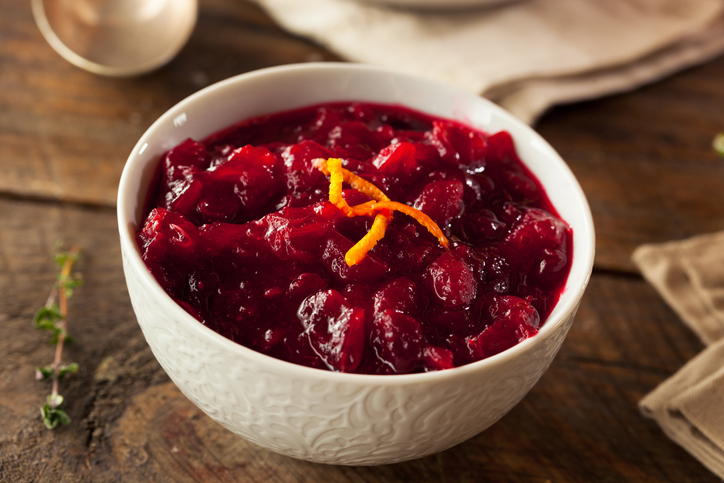 200g (7oz) fresh or frozen cranberries
75g (2

¾

oz) sugar
75ml (2

¾

fl oz) orange juice
juice of 1 lemon
½ tsp cinnamon
Place all the ingredients into a pan and bring to a gentle simmer, stirring occasionally. Cook for 5-10 minutes, or until the cranberries are soft.
Transfer to a bowl and leave to cool. The mixture will thicken as it cools.
Roasted shallots in a bacon blanket
12 small banana shallots, peeled
16 slices of streaky bacon
1 tsp fresh sage or rosemary, chopped
freshly ground black pepper
Preheat the oven to 160°C/Gas Mark 3.
Trim off the end of the shallots, leaving the root intact. Place in a pan of water and bring to the boil, then simmer for
3 minutes, just to soften. Remove from the water and leave to cool.
Place the bacon slices on a tray, and sprinkle with the herbs and pepper.
When the shallots are cold, place each one on a slice of bacon and roll-up the shallot in the bacon – quite loosely as the bacon will shrink as it cooks. You can secure the bacon with a cocktail stick if you wish – if not make sure the end of the bacon is underneath so it does not unravel. Roast in the oven until the bacon is crispy.
Recipes courtesy of Coeliac UK home economist, Louise Wagstaffe. Photography by James Kennedy.
Tags:
Christmas
,
Features
,
Gluten-Free Christmas
,
Guides