Halloween is fast becoming a popular tradition in the UK, so why not join in the fun with some of these suggestions from Claire Latham?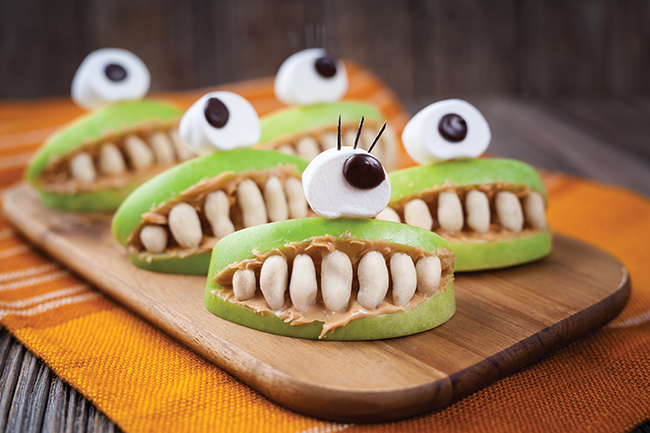 Once a Celtic festival that has become increasingly Americanised, there are certain traditions that are observed each year such as dressing up and eating sweets that originate from its' Celtic roots. While Halloween has a way to go before it reaches the dizzying heights shown over the pond in America, there is no escaping the fact that October 31st is becoming a popular date in the UK calendar. Each year sees an increase in the availability of Halloween-themed products available in shops, and kids go beside themselves with the prospect of an impending sugar overload. Our house is no different and, while I was a little sceptical at first, I soon realised that having an opportunity to dress up, have a little fun and eat a few sweet treats as the nights close in could only be a good thing. As a result, I now find myself the proud owner of a box full of Halloween decorations.
This time of year sees a run of exciting activities such as Bonfire Night, Christmas and various family birthdays, but what I love about Halloween is that you can do as much or as little as you please. At our house we like to put some decorations up, have some friends over for a Halloween tea, before popping out for some trick or treating at other friends' houses. We've done this for a few years now and my box of goodies, decorations and ideas are steadily growing. But don't worry if this is new to you. Here's how to get started if this is your first Halloween:
A little bit of research
Supermarkets are a great resource and full of different items. Each year the options seem to increase in terms of outfits or decorations, but in terms of gluten-free food there is very little available. This isn't a problem however, as it is really easy to make your own party spread which allows you to offer a range of goodies for your little (and not so little) monsters. I love to search the internet for inspiration from sites such as Eats Amazing, Netmums and Mumsnet which have some fantastic ideas such as meringue ghosts, Halloween popcorn and monster bagels.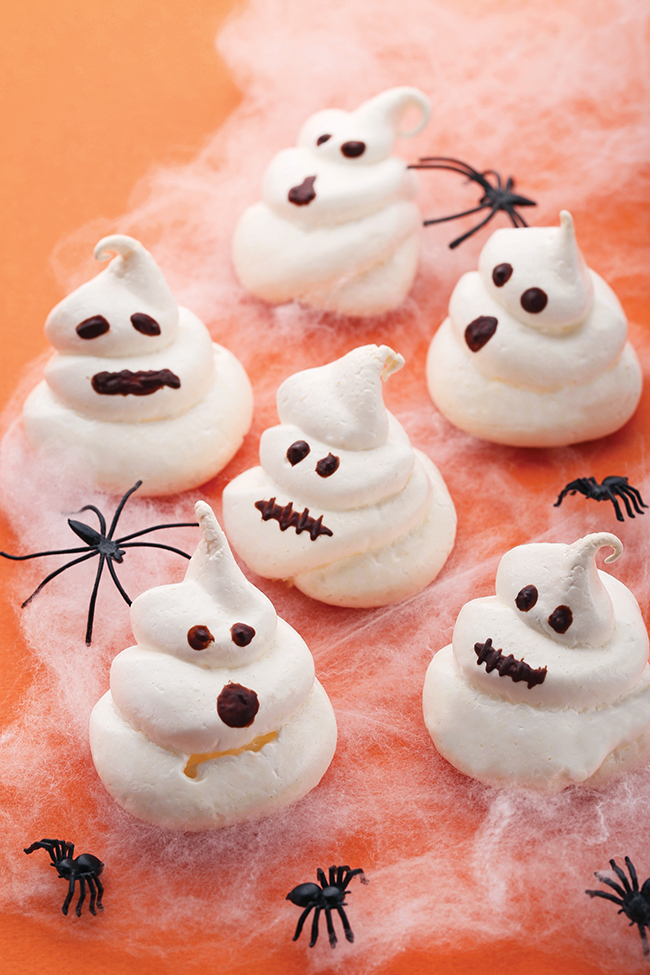 Create a bag of decorations…
And be creative with your ideas. I tend to focus on the table and decorate where the guests will eat, before adding a few fun items such as ghosts and spiders around the house. Chop up black bin liners to make tablecloths and get hold of some toy cobwebs to drape around the food. Shops such as Tiger have some brilliant and affordable options which can be kept for the following year, allowing you to build up a box of goodies that can be reused each time, but don't forget to make things if crafting is your thing.
Don't forget the fruit!
The internet has a great selection of spooky recipes using fruit. Things such as grapes with meringue eyes (find these in the baking section in the supermarket), unpeeled satsumas with pumpkin faces drawn on them, or bananas dipped in white chocolate to make ghosts all are great fun and are relatively easy to make. The kids won't even notice that they are eating something relatively healthy! Another great idea is to make labels shaped as tombstones to identify plates of food. A bowl of 'bats' bogeys' (grapes) always raises a snigger with children and adults alike.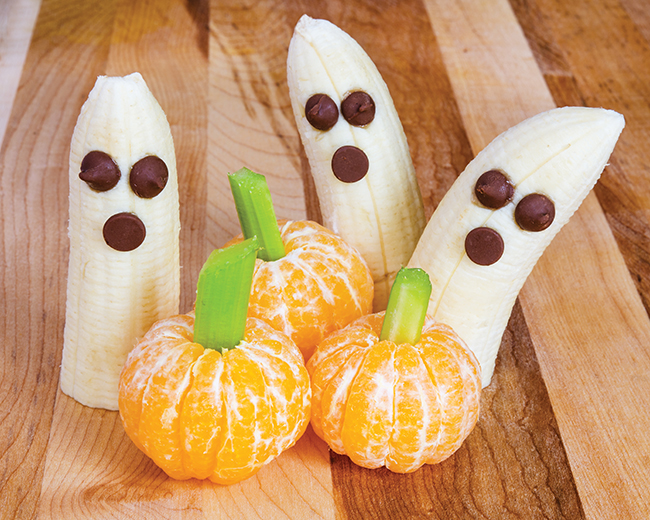 Remember the classics
There are certain party-food items that are enduringly popular. Gluten-free pizza and sandwiches can be turned into something spooky such as mummies or bats, or invite the guests to make their own in return for a prize for the best idea. Biscuits and crisps can be placed into bowls and Halloween sweets and chocolates are often gluten-free, just remember to check the labels first. Chocolate eyeballs are a must in our house for children and adults alike.
Trick or treating
Where we live, people are kind enough to make their own cakes and biscuits, which of course is not great if you can't eat them! We stick to the rule of only taking the items in packets, allowing us to check the ingredients and politely decline the rest.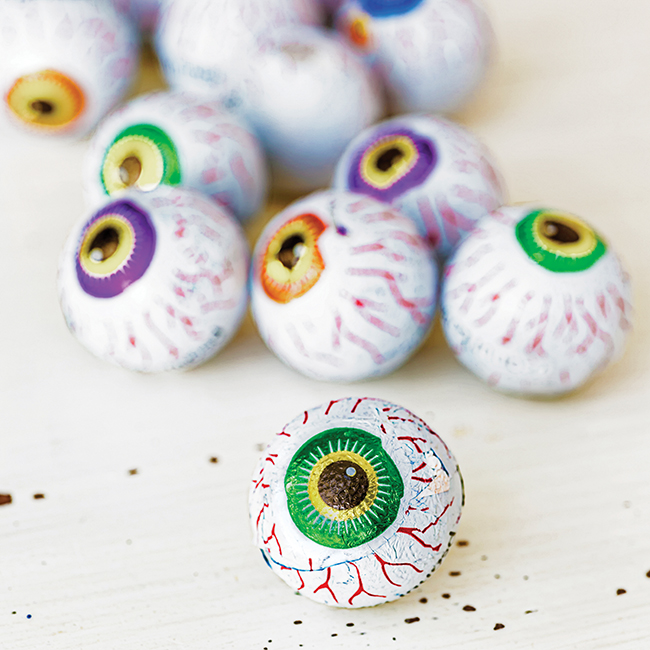 Think convenience
The last thing any parent needs is to pick up their overexcited offspring from school after a day's work and then start catering for a party. Have food that can be popped into the oven easily, opened and arranged on a plate or that can be made in advance if needed. A little preparation can make a huge difference in how quickly the children are fed and you can relax!
And finally, turn out the lights, scatter a few (plastic) eyeballs about and let the fun commence.
---
About the author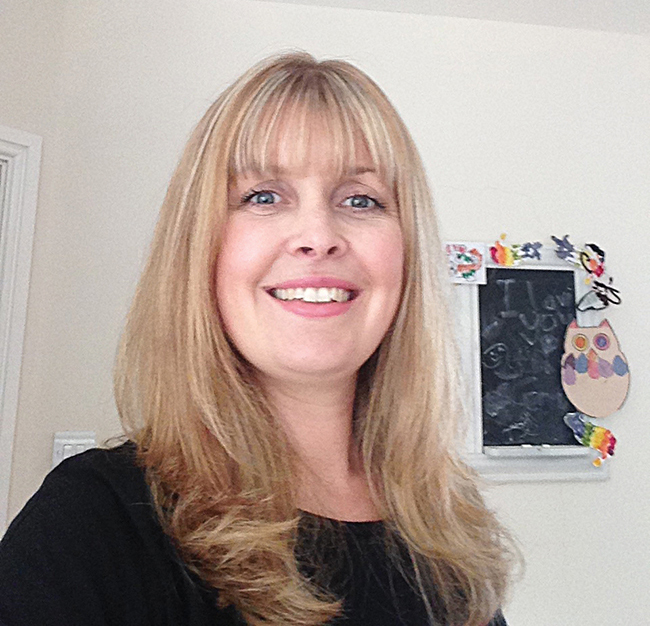 Claire Latham is a freelance writer and mother who specialises in gluten-intolerance. You can find her at www.glutenfreekids.co.uk